Ad blocker interference detected!
Wikia is a free-to-use site that makes money from advertising. We have a modified experience for viewers using ad blockers

Wikia is not accessible if you've made further modifications. Remove the custom ad blocker rule(s) and the page will load as expected.
Zigzagoon did not originate from fanon, and more information can be found on their respective wiki(s). You may read more about it on the following wiki(s):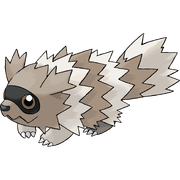 Zigzagoon is the Tiny Racoon Pokémon. It evolves into Linoone at Level 20. It is the 12th in the Hoenn Dex and weighs up at 38.6 lbs. Since Zigzagoon have a keen sense of smell, they are curious with it's Pickup ability. Zigzagoon are found fairly commonly in grassy fields and wooded areas.
Gallery