Ad blocker interference detected!
Wikia is a free-to-use site that makes money from advertising. We have a modified experience for viewers using ad blockers

Wikia is not accessible if you've made further modifications. Remove the custom ad blocker rule(s) and the page will load as expected.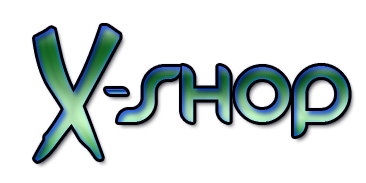 XShop (also known as Cross Shop) is the Zeta Nebula's digital game service, which can be accessed through the system itself, as well smartphone and PC devices, as long as the user has registered his account in the console itself. The XShop allows players to buy the latest games as well to download new applications. XShop also has the Developer's Showcase subsection, which works like Early Access for indie and big studios to release early versions of the game to people to them to check out and let them comment on the game's progress. The XShop's major feature is cloud-based gaming, allowing for players to "stream" Zeta Nebula games on their smartphones and PCs. Players can utilize the Zeta Nebula controller or map the controls for other kinds of controllers, all types of controllers are supported by the XShop service.
List of purchasble software
Applications
| Title | Type | Release Date | Notes |
| --- | --- | --- | --- |
| | Subscription based anime streaming | 2017 | |
| | Online video streaming | 2017 | Players can stream their Zeta Nebula games utilizing Twitch. |
| | Video sharing | 2017 | Players can upload their playthrough of Zeta Nebula games utilizing Vimeo. |
| | Video sharing | 2017 | Players can upload their playthrough of Zeta Nebula games utilizing YouTube. |
| | Video, music and photo organizer and streaming | 2017 | |
| | Video streaming | 2017 | |
| | BBC streaming service | 2017 | |
Games
| Title | Genre | Release Date | Notes |
| --- | --- | --- | --- |
| | Simulation - RPG | 2017 | |
| | Simulation - Management | 2017 | |
| | Sports - Racing | 2017 | |
| | RPG | 2017 | |
| | Beat 'em up - RPG | 2017 | |
| | FPS | 2017 | |
| | Run 'n gun - Platform | 2017 | |
| | Third-person shooter - Survival horror | 2017 | |
| | Platformer - Action | 2017 | |
| | Visual novel - Adventure | 2017 | |
| | Sandbox - Adventure | 2017 | |
| | Survival horror - Adventure | 2017 | |
| Super Smash Bros. Melee HD | Fighting | 2017 | |
| | FPS | 2017 | |
| | Fighting | 2017 | |
| | FPS | 2017 | |
| | Shoot 'em up | 2017 | |
| | Shoot 'em up | 2017 | |
| | Platformer | 2017 | |
| | Platformer | 2017 | |
| | Platformer - Action | 2017 | |
| | Strategy - Management | 2017 | |
| | Platformer - Puzzle | 2017 | |
| | Beat 'em up | 2017 | |
| | Survival horror - Adventure | 2017 | |
| | Action - Beat 'em up | 2017 | |
| | Adventure - Platformer | 2017 | |
| | Platformer - Adventure | 2017 | |
| | Third-person shooter | 2017 | |
| | Third-person shooter | 2017 | |
| | Shooter - Platformer | 2017 | |
| | Run 'n gun - Platformer | 2017 | |
| | Action - RPG | 2017 | |
| | Platformer | 2017 | |
| | Arcade shooter | 2017 | |
| | Arcade shooter | 2017 | |
| | Survival horror - Adventure | 2017 | |
| | Survival horror - Adventure | 2017 | |
| | Racing | 2017 | |
| | Racing | 2017 | |
| | FPS - Adventure | 2017 | |
| | Puzzle - Platform | 2017 | |
| | Sandbox - Platform | 2017 | |
| | FPS - Action | 2017 | |
| | FPS - Action | 2017 | |
| | Adventure | 2017 | |
| Amy vs The Future | RPG | 2017 | |
| Masses | Fighting | 2017 | |
| Herodads: Showering Force | Action - Shower | 2017 | |
| Bowie: Savior of Stitchonia | Platformer | 2017 | |
| | Hack 'n' slash | 2017 | |
| | Sports | 2017 | |
| | Action adventure | 2017 | |
| | Fighting | 2017 | |
| | Platformer | 2017 | |