Developer(s)
Lone Planet Productions
Stardust Citadel
Manufacturer(s)
Stardust Citadel
Foxconn
Product Family
Zeta
Console Type
Home console
Generation
9th Generation
Online Connectivity
Available, both through Wi-Fi and Wired connections.
Release Date(s)
July 23, 2017


July 24, 2017
July 25, 2017
July 30, 2017

Units sold
TBA
Best selling game
TBA
Media
Blu-Ray
DVD
CD
CPU
Intel Core i7-6700K
GPU
MSI GTX 980 Ti Gaming 6G
System on Chip
AMD Phenom II
Feature(s)
1080p 60fps, cloud-based gaming, Oculus Rift support, interconnectivity with smartphones and PCs, off TV play, open source.
The Zeta Nebula is a fan console originally created by Lone Planet Productions, under the codename N3BULA. However, the rights to the console were sold to Stardust Citadel, whom put the console under development in 2016 and set a release date for 2017. The Zeta Nebula is meant to be a simple video game console with it being dedicated for games-only, with it's own programming language, meant to be easy to understand, allowing to established video game developers to make games faster and to allow indie game developers to port their games to the system.
It comes with it's own operating system, which has been designed for easy and fast use, with the designers using modern smartphones as a base. The operative system allows to multiple applications to run at once, allowing to players to utilize other applications like Music Player to work while they play a game or utilize another application. Players can connect the system with their Android devices and modern televisions with internet connections, allowing them to play Zeta Nebula games through cloud gaming streaming.
The system's specifications are based upon modern gaming computers, which allows the system to stay up-to-date with the current capabilities for gaming. It is a 9th generation system and a competitor to Toroko's V² and Illusion Works's Pacifico.
Games
Any page that has [[Category:Zeta Nebula Games]] on them will be added here automatically.
Software
NebulaOS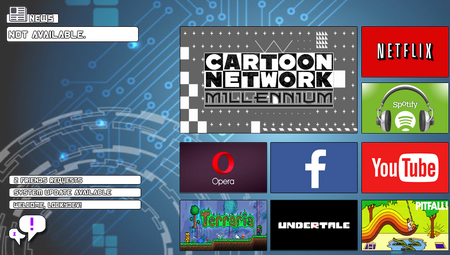 The NebulaOS is the Zeta Nebula's operating system, made for easy understanding and fast use. It features a section for Quick Selection, in which the players put their favorite apps on display, so it makes them access their favorite applications easier. The main screen of the OS also features a messages section, that informs the user of possible system updates, friend requests and application notifications. By pressing the Menu button, the player can go to the Applications Screen, which showcases all the downloaded applications and games, similar to the Wii's OS.
XShop
See more here.
XShop (also known as Cross Shop) is the Zeta Nebula's digital game service, which can be accessed through the system itself, as well smartphone and PC devices, as long as the user has registered his account in the console itself. The XShop allows players to buy the latest games as well to download new applications. XShop also has the Developer's Showcase subsection, which works like Early Access for indie and big studios to release early versions of the game to people to them to check out and let them comment on the game's progress.
The XShop's major feature is cloud-based gaming, allowing for players to "stream" Zeta Nebula games on their smartphones and PCs. Players can utilize the Zeta Nebula controller or map the controls for other kinds of controllers, all types of controllers are supported by the XShop service.
Gallery
Ad blocker interference detected!
Wikia is a free-to-use site that makes money from advertising. We have a modified experience for viewers using ad blockers

Wikia is not accessible if you've made further modifications. Remove the custom ad blocker rule(s) and the page will load as expected.