Zero Suit Samus did not originate from fanon, and more information can be found on their respective wiki(s). You may read more about it on the following wiki(s):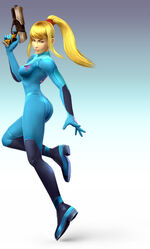 Zero Suit Samus (often called Zamus or shortened as ZSS) is Samus Aran without her Power Suit on. Without her Power Suit, Samus wears a Blue skin-tight leotard. Zero Suit Samus is much more agile and swift without her Power Suit, as she does not have to carry as much weight around. Zero Suit Samus also yields a gun that can turn into a laser whip.
Appearances
Zero Suit Samus made her official Super Smash Bros. debut in Super Smash Bros. Brawl. However, she is not a new playable character on her own, but rather, she is Samus' alternate form, similar to Princess Zelda and Sheik. She was meant to be in Super Smash Bros. Adventure, however, she was taken out when Classic Mode was announced to have been removed. She appears in Super Duper Smash Bros. as a returning veteran. In this game, Samus and Zero Suit Samus can both be played at the same time, since they have separate parts on the character selection screen. Her final smash is to regain her power suit.
Main article: Zero Suit Samus (Calamity)
Zero Suit Samus returns in Super Smash Bros. Calamity, being a separate character like she was in the previous game. Zero Suit Samus has a new design, but loses her Jet Boots from Super Smash Bros. for Nintendo 3DS/Wii U, so she retains her Super Smash Bros. Brawl moveset, though her moveset has been tweaked, with her down aerial being a stomp and her Final Smash being changed to Crystal Flash, generating an energy field to rapidly damage her opponents. She also has some new costumes, one of them based on her appearance in Metroid Fusion, one based on her Justin Bailey design and one based on her retro appearance.
amiibo
| | | |
| --- | --- | --- |
| | An amiibo figure of Zero Suit Samus exists! For more info about this amiibo, see this page. | |
Gallery