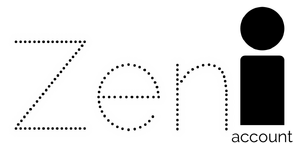 Zen Account is a service made by Zen Studios for Zen OS. It's a way to keep an online backup of things such as bought games, a way to have multiple accounts on a single console, as well as a way to download games and play online. It's also used to download updates for the system, and if an user is registered as a beta tester, they can download betas of updates and games.
It's currently fully working on Zen OS.
You can either make an account when you setup Zen OS, or you can make it online at zenstudios.com/account. To make the account you will need to make an username, add your name, use a valid e-mail, and put your birthday. If you're under 13, you will get a Kids account.
Kid accounts

Zen Account Kids is a variant of Zen Account. It works exactly the same, except that the user not able to apply for beta testing and they're not allowed to buy games (they can only download free ones). Assuming that the birthday date that the user added is correct, as soon as the user becomes 13 they will get a Happy Birthday notification and a notice that their account has been upgraded to a normal Zen Account.
Ad blocker interference detected!
Wikia is a free-to-use site that makes money from advertising. We have a modified experience for viewers using ad blockers

Wikia is not accessible if you've made further modifications. Remove the custom ad blocker rule(s) and the page will load as expected.