Zen

Zen the purple doctor as he appears in Indigo Guy: Project Z.E.R.O.

Full Name
Zen
Current Age
37
Date of Birth
12 October 1974
Gender
Male
Location
Z.E.R.O.
Main Weapon(s)
Vacuum-Gun
Ability/ies
Become the true form.
First Appearance
Project Z.E.R.O.
Zen is the main villain of
Indigo Guy: Project Z.E.R.O.
, he's the evil doctor of them all, he has a Vacuum-Gun that it will make stronger.
Appearances
Zen appears as in this game, he lives in Z.E.R.O, the factory.
True Form
Zen has an ability to transform into a, big, monstrous, frightful monster named "Wayala-Zaa-Wayalanin". He has a giant body, three heads, still two hands and three legs to combine a evil monster.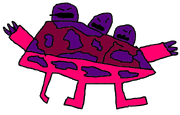 Ad blocker interference detected!
Wikia is a free-to-use site that makes money from advertising. We have a modified experience for viewers using ad blockers

Wikia is not accessible if you've made further modifications. Remove the custom ad blocker rule(s) and the page will load as expected.