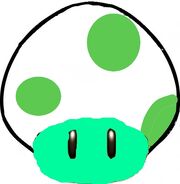 About
The Yoshshroom, or Yoshi Power, can be picked up by Mario. when he touches it, he becomes a White yoshi with a red mario hat. He can eat other things, use powers (Fire, Ice, Rock, Cloud, And Flying) by picking thrm up. Moshi (as he is called now) can turn back to Mario whenever he wants.
Apearances
Super Mario Bros. Omega
SMBO: The Attack of Ludwig
Super Mario Ocean Adventures
Yoshi's Island: The Koopalings are here!
http://i1209.photobucket.com/albums/cc387/Orangedude95/Yoshroom.png