Yoshi's Story is a stage in Super Smash Bros. Global Apocalypse and the only stage in representation of the Yoshi universe. It is actually the stage Surprise!! from Yoshi's Story.
Description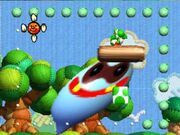 | | |
| --- | --- |
| Universe | Yoshi |
| Home Stage to | Yoshi |
| Availability | Starter |
| Size | Medium |
The stage is actually an exact replica of Surprise!!, a level found in Yoshi's Story. It is a medium sized stage. The stage consists of a series of trees, which form a platform above them with their leaves and branches. There are also some scattered clouds which serve as mid-air platforms. The red sun can also be seen in the background. Players can also go underneath the treetops, a shady, grassy platform where the trees are supported, similarly to Spear Pillar. The level also retains its original graphics from Yoshi's Story, book-like graphics. The stage features hazads such as Shy Guys and Wigglers.
Music Played
Bolded ones must be unlocked.
Ad blocker interference detected!
Wikia is a free-to-use site that makes money from advertising. We have a modified experience for viewers using ad blockers

Wikia is not accessible if you've made further modifications. Remove the custom ad blocker rule(s) and the page will load as expected.