Yoshi's Journey
Platform(s)
PC
Please do not edit this unless you are a developer of Dynamite Productions or there are spelling errors to fix.
Yoshi's Journey
Developer(s)
Dynamite Productions
Publisher(s)
Platform(s)
Wii U
Release Date(s)
Spring 2012
Mode(s)
Single player, Multiplayer
Age Rating(s)
Genre(s)
3D Platformer
Yoshi's Journey is an 2D platformer RPG fangame by Dynamite Productions made in RPG maker. The player plays as Yoshi and is in a linear open world, but enemies still wander around and Yoshi must stop them. The main boss and antagonist is Frazer. Yoshi also meets his friends to help him go on his long journey to stop Frazer. This game is set to be released in Spring 2012. (Not for Wii U, I don't know why it says that, it is a 2D spirte rpg game)
Characters
Good
more characters to come
Bad
more characters to come
Gallery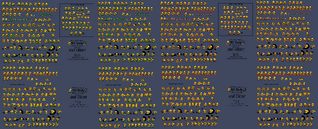 Ad blocker interference detected!
Wikia is a free-to-use site that makes money from advertising. We have a modified experience for viewers using ad blockers

Wikia is not accessible if you've made further modifications. Remove the custom ad blocker rule(s) and the page will load as expected.