Yoshi did not originate from fanon, and more information can be found on their respective wiki(s). You may read more about it on the following wiki(s):
Yoshi
Full Name
T. Yoshisaur Munchakoopas
ヨッシー
Current Age
Unknown
Gender
Male
Species
Yoshi (or Dinosaur)
Location
Yoshi's Island
Align
Good
Current Status
Alive
Class
Hero
Affiliation(s)
Dino Island
Family and Relations
Yoshi (species)
Princess Cherry
Birdo
Baby Mario
Mario
Rosalina (girlfriend)
Main Weapon(s)
Tongue
Eggs
Ability/ies
Flutter Kick
Voice Actor(s)
Kazumi Totaka (current; Yoshi's Story-present)
Frank Welker (Super Mario Bros. Film)
Andrew Sabiston (English; Super Mario World TV Show)
First Appearance
Super Mario World (1990)
Latest Appearance
Mario Tennis Aces (2018)
— Yoshi, Super Mario World TV show.
Yoshi is an energetic dinosaur of the species of the same name, known to assist Mario on many of his adventures. He debuted in Super Mario World for the Super Nintendo Entertainment System, the console that would later introduce the Yoshi spinoff series. Yoshi appears to be in a relationship with Birdo, as they are often partnered together in games in the Mario Kart and Mario Party series.
Game Appearances
Yoshi appears as a playable character in Super Paper Bros. along with two other Yoshis, Oshi and Goshi.
Yoshi appears in Paper Bleck, as a playable character. In Raven Road, you saw Yoshi. He'll join you after you give him a Egg Cake, a recipe of a Yoshi Egg and Flour.
Baby Bowser's Back!
Yoshi is the main character in Yoshi's Island 2. He has to go defeat Baby Bowser and rescue Baby Peach, with the help of Boshi, the Rexs and Birdos, Baby Mario, Baby Luigi, Baby Wario, and Baby Toad.
Mario's Batter-Up Baseball
Yoshi is a playable character in Mario's Batter-Up Baseball. Here are his stats: *Team name: Yoshi Eggs *Alternative colorations: Red, blue, yellow, cyan, pink *Speed: 8/10 *Batting: 5/10 *Pitching: 5/10 *Fielding: 7/10 *Good chemistry with: Mario, Birdo, Baby Mario, Baby Luigi, Baby Peach, Baby Daisy, Baby DK, Baby Wario, Baby Waluigi, Green Mii
Pikachu's Final Destiny
In Pikachu's Final Destiny, Yoshis appear in Tropical Rainforest. Their colors have Green, Red, Blue, Yellow, Cyan, Orange, Pink, Purple, Black and White. Some Yoshis also can be seen running away from Mewtwo's chaos.
RenarioExtreme series
Yoshi appears as cameos in some of the RenarioExtreme series games. He also appears in the Chinese anime Renan!, where he and the other Yoshis are working in a Chinese farm.
In this game, Yoshi is one of the four main playable protagonists. In Chapter 7, Yoshi appears as an optional boss, depending on which team the player chose. In chapter 11, Yoshi dies trying to save Dinosaur Land from an erupting volcano. But when the heroes are defeated by Kamek in Kamella's Castle, Yoshi returns from the Underwhere with fire powers. After Yoshi defeats Kamek, he reunites with Mario, Luigi and Bowser.
Yoshi's Stats (M&L:YS)
HP
1900
POW
94
DEF
64
Speed
110
LVL
36
Fire?
normal
Burn?
normal
Dizzy?
normal
Stat Down?
normal
Sudden KO?
immune
EXP
1000
Coins
500
Drops
1-Up Super x 3, TNT Drumstick x 1
Location
Glory Pit
The Super Saga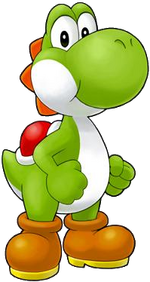 Yoshi is playable in
Super Mario Legends
. He is an unlockable character during Chapter 4.
Mario Guitar World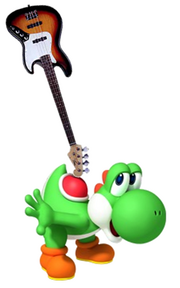 In
Mario Guitar World
, it has been confirmed that Yoshi will be the 3rd boss in story mode on amateur. If he is beaten you will unlock the character Yoshi as well as other features.
NRL Captain
Yoshi appears as the captain of the Yoshi eggs team on the Wii multiplayer game Mario Rugby League. His team specializes in speed and his special move is to turn the ball into an egg which he can throw to the end of the field.
Singalong Superstar!
Yoshi appears in every game in the Mario Singalong! Series. He first appears in Mario Singalong Superstar!, then in a full horse costume Mario Singalong Country!, subsequently as a member of the boys team in Mario Singalong Boys vs Girls!, reappearing in Mario Singalong Disney! where he becomes friends with Pluto, a NPC and he appeared in Mario Singalong Rocks!, Mario Singalong Down Under! and Mario Singalong Legends!
Kidnapped!
Yoshi is captured by King Boo and Bowser comes to the rescue.
Yoshi appears as a default character on Mario's team. He has high speed and batting, but low pitching. Red and Blue Yoshis are also playable. They share most of the same stats, but Red Yoshi has better pitching, and Blue Yoshi is slower but more powerful.
Yoshi appears with the other colours of Yoshi in this game. Yoshi is a starter and a captain character.
Yoshi appears as a main playable character. Yoshi has new friends in the game and Boshi.
In this DS game, Yoshi sets off with Mario, Luigi, and Peach to save Birdo from Bowser's submarine. Yoshi encounters 8 worlds and bosses. Will he be able to take on the challenge? We'll find out!......
Adventuring with Jerry
In the upcoming game, (Name pending) Yoshi journeys with Jerry, one of Luigi's Partners to stop Mr. L and other villains. Along the way, he develops a strong friendship with Jerry and defends his love, Birdo. He has a strong array of attacks and, though unable to talk, is very energetic.
Pikachu's Final Destiny 2
Yoshi will have a bigger role in Pikachu's Final Destiny 2, where Pikachu and company can ride on him and his other species.
Tucker and Toad meet Yoshi in World 2 after they save him from a Chain Chomp that was chasing him. In the game, Yoshi is playable, as well as ride-able, making him a unique character. Unlike the other characters, he can ground pound and eat enemies rather than pick them up. He can also gain power-ups in the game. His coloring in the final version of the game is lighter than what it was when an image was posted. In the game, he develops a strong bond with Tucker and the two become great friends.
Super Princess Peach: Mushroom Kingdom's Drought
In Super Princess Peach: Mushroom Kingdom's Drought, Yoshi becomes a playable character in World 6- Yoshi's Island. In this game, after eating thee fruits, Yoshi can lay an egg. He can throw the egg at switches to activate bridges, lights, and other things that will help progress through the game.
In Toad Land 2: Toad to the Rescue, Wario kidnaps Yoshi, and Toad solve the mysteries of the castle and save Yoshi.
At the end, Wario and Waluigi falls into the lava pit and Yoshi is rescued.
In Toad Land 3, Toad and his best friend Yoshi forming a pair of heroes for defeating Wario and Waluigi for stealing the toys for the Toadsworth's Toy Company.
In the ending, Toad and Yoshi keeps all the toys back to the toy company and Wario and Waluigi are last seen arrested for his crimes. Scared out of wits, He angrily swears revenge on Toad.
In this game, Yoshi and his best friend Toad moved into a new modern house themed to various modern day themes, including a lobby themed to a 5 star hotel lobby, living room themed to Mushroom City, dining + kitchen rooms themed to high class restaurants, etc. Yoshi and Toad went to the very top to find out how the attic looks like (which was themed to a Jazz restaurant) which they also found a rusty, creepy, and old treasure chest. They open it which suddenly unleashes 998 dark spirits. Now it's up to Yoshi and Toad.
Super Sloppy Bros.
In Super Sloppy Bros., Bowser kidnaps Yoshi, along with Peach, and stores him in his World 1 castle. However, different colored Yoshis can be obtained before rescuing Yoshi, but adult Yoshis don't hatch from the Yoshi eggs, Yoshi babies do. The only way to get an adult Yoshi is to feed a baby Yoshi five babies, or a star. After Yoshi is rescued, green baby Yoshis can hatch from Yoshi Eggs.
Yoshi appears here as a playable character recruited in Level 2.
Yoshi appears in this game just like he does in other games: as a mount. There are different Yoshi colors, and they have different abilities. It is revealed that Yoshi serves the Yoshi King, who is his brother.
Yoshi attacks Mario after the plumber is turned into a Koopa.
Super Mario Hover Race
Yoshi is one of the racers in Super Mario Hover Race.
Mario Kart 8 Wii U
Yoshi appears as a playable character in Mario Kart 8 Wii U. His special move is Triple Yoshi Egg.
Stats:
Speed: 3
Acceleration: 3.75
Drift 2.5
Handling: 3.25
Off-Road: 2.5
Mario Kart Wii 2.0
Yoshi appears as a playable character in Mario Kart Wii 2.0.
Yoshi is Luigi's partner in the game. He helps Luigi and Firey defeat Dr. Vendings.
Yoshi to the rescue: Yoshi ends up in a strange house that has Yoshi and other characters like Koopa Troopa and Bowser and Miles "Tails" Prower locked up by a strange and mysterious evil bird. Yoshi can use guns in this level so can Koopa Troopa and Miles "Tails" Prower and other characters. But the evil bird has built an army of army men and are trying to get rid of Yoshi forever. Can Yoshi defeat the evil bird and save his friends? (This game has music on it like the Garden theme from Sarge's Heroes, the Backyard theme from Sarge's Heroes and other themes from Mario and Sonic games.)
Super Yoshi Babies
Yoshi was the main hero of Super Yoshi Babies.
Super Mario Bros. V
Yoshi appears in Super Mario Bros. V for the same purpose as in Super Mario World but this time Yoshi's change color by drinking potions gotten from Purple Toad Houses and gets abilities so far the confirmed colors besides green are red, & blue
Yoshi appears in this animated movie as sidekick of Mario, as always. 
Yoshi appears in this crossover game as a Gym Leader who specializes in Bug-type Pokémon. He is in the third gym, but he's the second leader to be challenged. After being defeated, he'll give the Egg Badge, $3,500.00 and TM83 (Infestation) as prizes. With the Egg Badge in hand, Yoshi tells to the player that he/she now have the Egg Power (and now Birdo can be challenged). If the player uses one of certain amiibo, he will give $4,200.00 instead of usual $3,500.00.
Lumoshi's Cookies: War
Yoshi appears as a playable fighter in Lumoshi's Cookies: War.
The entire Yoshi race appears in the Wii U/3DS title, but only on Yoshi's Island as NPCs. When the four heroes arrive on the island, a Yoshi informs them that the inhabitants are suffering from a poisonous substance that has infected the waters and is being emitted from the invasive Piranha Plants, and tasks them with defeating all of the plants and cleansing the bodies of the infected. This mission is completely optional however. In addition, four members of the Yoshi clan (one green, one red, one blue, and one yellow) decide to team up with the plumbers as a power-up, and can grant them new abilities. Compared to their appearance in Yoshi's Island, Yoshis are much more resilient, no longer flinching when hit, and doubling the defense of those who ride them. They can also use their tongues to ingest fruit that matches the favorite color of their rider, grapple onto hooks, poles, and ledges, and pull levers. They can even press switches by stepping on them while being ridden. Besides these new abilities, Yoshis can still toss eggs (though they can only hold one at a time) and flutter-jump, and perform different tasks depending on who their rider is.
Yoshi appears as the main playable character in Yoshi's Quest. He controls very similarly to his appearance in Super Mario Sunshine, of course with his iconic Egg Lay and Egg Throw included. In the game's story, Kamek steals the Yoshi Eggs from Yoshi's Island during the Egg Festival. Yoshi decides to set off to Koopa Island in order to find all the eggs and bring them back before the Egg Festival. Unlike other games in the Yoshi's Island series, Yoshi is the only playable member of his species, not counting Boshi in the game's extra mode.
Main article: Yoshi (Calamity)
Yoshi makes a returning appearance in Super Smash Bros. Calamity as a veteran character. Yoshi retains his Super Smash Bros. Brawl moveset while keeping his Super Smash Bros. for Nintendo 3DS/Wii U aesthetics, but he now has a new up aerial, a new up special, Yoshi's Wings and a new Final Smash, Mega Eggdozer. He also has two new palette swaps and a new alternate costume based on his appearance in Yoshi's Woolly World.
Mario Hoops 3-On-3 Deluxe
Yoshi appears in Mario Hoops 3-On-3 Switch (mainly known as Mario Hoops 3-On-3 Deluxe) as a playable character. He is an All-Around character type and his special move is Flutter Dunk. He is a starter character. His default partner is Birdo. His team name is the Yoshi Munchers.
Yoshi is a returning veteran in SSBUF. He confirmed to appear on May 25, 2018 along side the rest of the original 8. He appears along side his yarn form.
| Type | Name | Type | Name |
| --- | --- | --- | --- |
| Universe | Yoshi | Full Name | T. Yoshisaur Munchakoopa |
| Home Stage | Yoshi's Island | Main Track | Yoshi's Island Melody |
| Alt. Track | The Grand Finale | Neutral Special | Egg Lay |
| Side Special | Egg Toss | UP Special | High Jump |
| Down Special | Yoshi Bomb | Final Smash | Super Dragon |
| On Screen Appearance | Pops out of a Yoshi Egg | Boxing Ring Name | He has his own island and everyting |
| Number of Palettes | 18 | Availability | Starter |
amiibo
Yoshi has had a plethora of amiibo fashioned after them. They have amiibo from the Smash and Mario series, as well as their own line of Yarn Yoshi amiibo. See here for more.
Gallery
Yarn Yoshi
Navigation Templates
Mario Kart: Double Dash The Sequel
Starting Characters
Mario, Luigi, Peach, Daisy, Yoshi, Birdo, Toad, Toadette, Koopa, Paratroopa
Goomba, Paragoomba, Shy Guy, Fly Guy, Wario, Waluigi, Rosalina and Luma, Pauline, Mowz, Bandit.
Unlockable Characters
Baby Mario, Baby Luigi, Baby Peach, Baby Daisy, Bowser, Bowser Jr., Donkey Kong, Diddy Kong
King Boo, Petey Piranha, Dixie Kong, Funky Kong, Dry Bones, Dry Bowser, Noki, Pianta
Lakitu, Honey Queen, Hammer Bro., Blooper, Bullet Bill, Banzai Bill, Mii Kart Outift, Mii Bike Outfit
Nitro Courses
Mushroom Cup: Mario's Rainbow Castle, Shroom Circuit, Rainbow Road, Bowser's Fortress, Mariachi Mole Mine.
Flower Cup: Luigi's Mansion II, Koopa's Seaside Bonanza, Shroom Woods, Mowz's Hideout, Paratroopa Party.
Star Cup: Bowser Jr's Castle, DK's Jungle Hijinks, Bullet Bill Highway, Funky Kong Circuit, Music Mania.
Special Cup: Peach's Palace, Fly Guy Isle, Mosh Pit Playroom, Rainbow Road 2, Heatwave House
Hammer Cup: C'est Defino, Rio de Janeiro, Biddybud Dash, Bomb-omb Brigade Prix, Kalimari Railway
Retro Courses
Shell Cup: NDS Luigi's Mansion, 3DS Music Park, N64 Kalimari Desert, GCN Dino Dino Jungle, ARC Mario Beach.
Banana Cup: GBA Shy Guy Beach, GCN Sherbet Land, Wii Dry Dry Ruins, 3DS Koopa City, ARC Yoshi Park 1.
Leaf Cup: Wii Grumble Volcano, GBA Vanilla Lake, NDS Cheep Cheep Beach, GCN Mushroom Bridge, ARC Waluigi Stadium.
Lightning Cup: SNES Rainbow Road, N64 Toad Turnpike, GBA Sky Garden, Wii Wario's Gold Mine, ARC Banana Ruins.
Mega 'Shroom Cup: N64 Choco Mountain, 3DS Maka Wuhu, GCN Luigi Circuit, Wii Rainbow City, ARC Diamond City.
Battle Courses
Nitro: Theatre Stage, Chocolate Cake, Isle Defino, Nintendo Wii, Nintendo 3DS
Retro: Wii Delfino Pier, GCN Pipe Plaza, NDS Tart Top, N64 Double Deck, GBA Battle Course 2
Playable Characters
| Default | Unlockable |
| --- | --- |
| | |
| Alternate Characters | Echo Fighters |
| | |
Assist Characters
| Default | Unlockable | Pokémon |
| --- | --- | --- |
| | | |
Obstacles
Other Characters
Alolan Grimer · Amul · Ann Takamaki · Big Urchin · Blizzy · Bravoman · Buzz-Buzz · Cutiefly · Don-chan · Dragoneel · Fierce Deity · Gil · Happy Mask Salesman · Judge · King · Kissy · K.K. Slider · Litwick · Lloyd · Mappy · Mareanie · Mii · Missile · Morgana · Perry · Pidgit · Pooka · Rabbid Luigi · Rabbid Yoshi · Red Baron · Ribbon · Rowlet · Runner · Ryuji Sakamoto · Sandy · Smasher · Rusty Slugger · Servbot · Sima Zhao · Swanna · Tarosuke · Timmy Nook · Toadsworth · Tommy Nook · Tron Bonne · Valkyrie · Wonder Momo · Ziggy
Collectibles

Trophies

Stickers

Boolossus · Boo Mario · Bowser · Captain Toad · Cat Peach · Chain Chomp · Cloud Mario · Fire Mario · F.L.U.D.D. · Koopa Clown Car · Mario · Penguin Mario · Peach · Propeller Mario · Rock Mario · Toad · Toadette · Waluigi
Birdo · Boo Buddies · Blooper · E. Gadd · Fuzzy · Metal Form · Waluigi · Whomp

Candy Kong · Lord Fredrik

9-Volt

Ball and Chain · Deku Leaf · Majora's Mask · Mipha

Abra · Drifloon · Spinarak

Katrina · Mr. Resetti

Arachnus

Noddy · Prank

Mr. Chicken

Back Shield · Centurion · Eggplant Wizard

Giga Mac · Glass Joe · Little Mac · Von Kaiser

Louie

Lin Lee Koo

Franklin Badge · Negative Man

Apollo Justice · Franziska von Karma · Miles Edgeworth · Larry Butz · Judge · Phoenix Wright

Dr. Wright · Hammer Slam Bowser
Devil · F-Type · Rusty Slugger