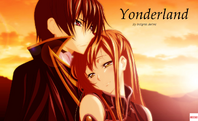 Yonderland
Developer(s)
Insignia
Publisher(s)
Nintendo
Platform(s)
Wii X

Wii U

3DS

Release Date(s)
25.4.16
Mode(s)
Multiplayer

Single Player

Online Multiplay

Age Rating(s)
PEGI 12

ESRB E10+

Genre(s)
Platform
Media Included
3DS Cartridge

Wii X Compadisc

Wii U Disc
This article is about the Anime game, for the British Sitcom click here .
Please do not edit if you are NOT  Viva Fin Yata or Geoboy08.
Corrections and Minor changes are accepted. Finlay (talk) 19:44, January 8, 2014 (UTC)
Yonderland is a 2016 indie game made and developed by Insignia (Anime) Productions, premiering worldwide on 25.4.16: the same day as ANZAC Day in Australia, and the day that the Toko console will be released. The game is based around two main characters: Misuni and Lizimu as they conquer creatures and beyond in a parallel universe, discovered in their garden beneath the old pine tree.
Plot
Misuni and Lizimu are two ordinary children from the small township of Casashima, when they find a mystic portal buried beneath the sacred pine tree in there garden. Not knowing where it would lead them they walked through, however Misuni was very timid and did not want to go in, however after some persuasion from Lizimu, she went in. Inside the portal the pair saw right in front of them an old shioto shrine, where the old kings and queens of Japina were buried, reluctantly they walked-in. They found 7 people holding torches dancing around an open fire, on whom they spied on, after the coronation had ended the two darted up the stairs towards the door where they found a selfless guard, guarding the shrine door, eventually they get past by going out the roof of the shrine.
LEVEL 1 SHINTO JUNGLE
In scene two after getting through the Jungle the pair see the ancient Niziziaz tribe standing before them, who after a conversation, takes them both hostage.
LEVEL 2 NIZIZIAZ TRIBAL PALACE
After escaping the hands of the Niziziaz tribe, the pair encounter  a humongous waterfall, and a shining blue crystal shimmering beneath it, after 2 attempts to get to the crystal a huge trap door opens beneath them and they both fall down into what seems to be a temple dedicated to the sacred shioto leader Caaer, who seemed to be an egret or ibis. After they got up and dusted themselves off an axe fell down from the hole from which they fell down and hit the bedrock with a large bang. Before long an entire group of axes fell down, almost slicing the two children into many slices but luckily the made a mad escape. They eventually got lost in the labyrinth of Caaer, where they found another enormous blue crystal. Curious Lizimu examined the crystal with a close eye and found blood splattered down the right side, and soon they release they were in a death trap, too the left was 2 skeletons and to the right an old prison cell.
LEVEL 3 CAAER LABYRINTH
After they escape the Labyrinth, they reach a huge monument, of a tree! Puzzled, Lizimu touched the cold wood and her hand slowly imprinted on to the wood. After the strange encounter, Misuni touched it with his finger which also imprinted on to the wood. After a minute puzzling over the monument they left wondering what that means and what it has the capability of doing. Out of the blue an enemy soldier from the Nikota Moloria army walked past, slowly the pair crept backwards, but tripped over a branch of a Dugan Tree, and the NM soldier chased after them in a flash.
LEVEL 4 NASHUINE MOUNTAIN
LEVEL 5 NASHUINE MOUNTAIN PEAK
After reaching the top of Nashuine Mountain the two decided to find shelter as night fall was near. They ventured out to find fruit when they saw a mysterious Yokai, sitting on a log. Frightened, they hid behind an Agro Agro tree and watched it, it seemed to look like a Kijimuna yokai (This may lead to confirm that the game is set on the island of Okinawa). After speaking to it the Kijimuna decided to help them find the fruit before nightfall.
LEVEL 6 OSHAWONA FRUIT FIELDS
Once they collected the fruit they made a lovely Turung-Goo-Fruit soup but the smell attracted other nearby Yokai and the pair made friends with the Yokai. There is many Kijimuna, some Aondon and a collection of other Yokai, all over at the little site the two were camping at. 
LEVEL 7 INIKUNA PLAINS
At sunrise the pair went and discover hundreds of new Yokai.
LEVEL 8 YOKAI CAVE 1
LEVEL 9 YOKAI CAVE 2
LEVEL 10 YOKAI ISLAND
After days of exploring Misuni and Lizimu settled down at a Yokai camp and fried some Langcuchi fruit over the open fire and soon fell fast asleep. At morning-call they woke up in a fairly modern building laying down on what seemed to be a woodern table. Soon a strange creature came over and greeted them with great pleasure, the creature continued saying this is our house of Yokai. The humongous building seemed to be endless. The creature said that the house is endless, except for one part- corridor 31. 
LEVEL 11 LEROK CORRIDOR
LEVEL 12 HALIBUNI CORRIDOR
LEVEL 13 CORRIDOR 13
While making their exit from the Yokai Halimui House, the two saw the same tree monument they saw earlier. They turned around to say goodbye to the Yokai Halimui House, it was not there! All that was left was one Yokai, named Bakenoko who told the two that the tree totem represented the fact that this land is the home of the tree. Where trees first originated. They also got told that the land was called the Ohiru Hunnimi Island in the Nova Gallasusa Galaxy, which existed 30,000,000,000,000,000,000,000,000,000,000,000 miles away from Earth. 
LEVEL 14 COLLOSUS ISLAND
LEVEL 15 ALOHASTRISIA GALAXY
LEVEL 16 SUNIBUTO ISLAND
After getting to Sunibuto Island with Bakenoko and discovered a Burishi Grande Portal they decided that it was time to go back to Japan.
LEVEL 17 PORTAL TO EARTH1
LEVEL 18 PORTAL TO EARTH2
Characters
In Yonderland there is 2 playable characters and many non-playable characters. Many of the characters in Yonderland are Yokai and are from Japanese Fantasy. Some of the characters bare resemblence to some of the Nintendo Anime characters, like Imigin, looks quite like Ash from Pokemon. All Characters are either from the game or from the movie. Note: (M) = Movie Only (G) = Game Only and (G+M) = Game and Movie Appearences.
Japanese Characters
Azimu- Azimu is a school boy in Kobe High School, not much is known about his look or characteristics. (M)
Bianca- Bianca is Lizimu's best friend, who attends Kobe High School, along with Lizimu. (M)
Oshawon- Oshawon is another student at Kobe High School. He lives in a house with his Gran, who turns out to be a Yokai Caller. (M)
Bifalli- Bifalli is an Austrian Exchange Student who goes to Kobe High School. (M)
Makoto- Makoto is Bifalli's bully, she is very aggresive and in the first scene Bianca is seen standing up to Makoto and telling her that she should leave Bifalli alone. (M)
Lizimu- Lizimu is Misuni's younger sister. She is very shy and has a very big appetite. She is one of the two playable characters, in the game: Yonderland. (G+M)
Misuni- Misuni is the main character in the game. He is very social and has many friends. He also has high hopes for being an explorer in the future. (G+M)
Anutte- Anutte is Oshawon's Gran, she is a yokai caller and has 1 Grandson- Oshawon. (M)
Yokai (G)
Major
Onibaba, Misute, Kijimuuna, Satori, Bakenoko, Aondon
Featuring
Konjaku Hyakk Shui,  Suushi Yako, Watatsumi
Collosusian Characters
Alaniac- Alaniac is a Xhosan-Speaking character that sells himself off as a gold merchant. (M)
Nasiano- Nasiano is a characters who's house is featured in Yonderland: The Tides of Galaxies. His appearance is unknown and so are his statistics. (M)
Oxallabouthette- Oxallabouthette -better known as Obehey- is a character who sells wine in the Collosus Market. (G+M)
Javhisillian Characters
Jumba- Jumba is an alien-dog-type figure in the city of Jikikra, he is part of the Javhisil Council and requested to ban Earthine's special dish; Cake al lo la Eyeballs.
The Javhisillian Koopompany Members- The JKM are the most important people in Javhisil and work together to make Javhisil a better place.
Other Major Characters
Infinite House Owner- The Owner of the Infinite house is said to be a Chamonkey but legend has it he really is a British Student who owns chains of Infinite Houses all over the Nova Gallasusa Galaxy.
Levels
There is 18 Levels in Yonderland. Below is the list of all of them.
Ad blocker interference detected!
Wikia is a free-to-use site that makes money from advertising. We have a modified experience for viewers using ad blockers

Wikia is not accessible if you've made further modifications. Remove the custom ad blocker rule(s) and the page will load as expected.