Ad blocker interference detected!
Wikia is a free-to-use site that makes money from advertising. We have a modified experience for viewers using ad blockers

Wikia is not accessible if you've made further modifications. Remove the custom ad blocker rule(s) and the page will load as expected.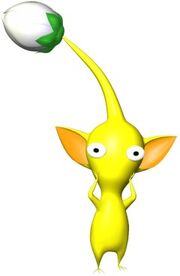 Yellow Pikmins are the second Pikmin Olimar discovers. They can be thrown higher and are invincible to electricity. They are also the only Pikmin with ears.
Yellow Pikmin are more useful (and less sacraficey) in Pikmin 2 than the first game.
In the strategy game Smash Tactics, Yellow Pikmin can be trained by the Hocotate faction, and throw exploding rocks at enemy units, making them effective against ranged attackers. They are trained at the Candypop Bud.