Wuhu Travel
Developer(s)
NinRMAX (defunct during development)
Publisher(s)
Nintendo
Platform(s)
Wii U
Release Date(s)
July 10, 2016

June 19, 2016

July 17, 2016

Genre(s)
Simulation

Sports
Wuhu Travel 
is a life-simulation for the
Wii U
. It was originally developed by 
NinRMAX
 but went defunct during development and was replaced with
Figment Software
. Similar to the Animal Crossing series, you move to a new place, get a house to live in, and make new friends. The game makes use of the Wii U's clock and calendar to simulate passage of time. It is the second best selling Wii U game worldwide, with Mario Kart 8 being the first.
In America, the game was bundled with a black Wii Remote MotionPlus. The game was also bundled with every black Wii U in Europe until its discontinuation.
Gameplay
Players control their own Mii character living in Wuhu Island with other Mii characters which have ten personality types. Players can also play sports within various locations in the island, grow trees, make friends, fish, decorate and upgrade their homes, shop for various outfits, play NES games, adopt pets, and explore the island.
List of sports
Tennis
Basketball
Table Tennis
Air Sports (Skydiving, hot-air ballooning, airplane)
Frisbee
Golf
Bowling
Archery
Jet Ski
Canoeing
Wakeboarding
Swordplay
Running
Cycling
Go-kart racing
Segway
Fishing
Balloon (reference to Balloon Fight)
List of NES games
Super Mario Bros.
Donkey Kong
Donkey Kong Junior
The Legend of Zelda
Clu Clu Land
Wrecking Crew
Urban Champion
Development
The game started off as an idea Super Mario and Legend of Zelda creator Shigeru Miyamoto had while needing to create more games for the Wii series in 2007, he wanted a life simulator similar to Animal Crossing featuring Miis. However staff at Nintendo EAD thought this idea was too similar. A year later, the Mii Mask feature was introduced at E3 2008 while revealing Animal Crossing: City Folk for the Wii. Despite criticism at Nintendo EAD, Miyamoto still created concept art for his idea and showcased it in 2009 with the working title of "Wii Life". The team were very fond of the idea and agreed to help him work on the game.
However, due to hardware limitations, the game was cancelled. Shigeru Miyamoto still kept the concept art on his desk for two years.
When the Wii U was announced in 2011, Miyamoto once again showcased his concept art for Wii Life, but in a different name titled "Wii Life U". The team accepted to work on the game with him and started development, but due to other projects Miyamoto needed to work on such as Super Mario 3D World and The Legend of Zelda: Wind Waker HD, the game was delayed. After finishing these games, the members of the team got together and worked on the game for good with the game being announced at E3 2015 with a playable demo available at the expo.
Launch Campaign
In Times Square, New York City, Nintendo of America held a launch event to promote the game simillar to Wii Sports Resort's launch event. Nintendo brought fifty tons of sand, activites like Table Tennis which could be played, various food and drinks, a steel drum band that played songs such as the Super Mario theme, a lounge area, and demo stations of the game itself.
Story
The story takes place in a plane full of Miis. In a first person view, a Mii named Miguel (who also appeared in Wii Sports Resort as a pilot flying around Wuhu Island) asks you a couple of questions such as when your birthday is (if your Mii's birthday isn't attached to the Mii itself), what your fashion sense is (used to choose your outfit, can be changed later), and more.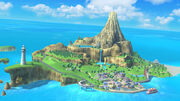 After answering the questions, you stop at Wuhu Airport. When leaving the airport, an unnamed Mii who is the owner of Wuhu Homes (a real estate agency) asks you to stop by to pick a home that are on the market in Wuhu Island. After choosing one, players are able to interact with villagers, shop for materials that allow you to fish, catch bugs, and grow flowers, play sports, and more. After gaining a certain amount of "Mii Coins" from doing certain tasks, you can upgrade your house.
Locations
Wuhu Town
Wuhu Homes is where players can upgrade their homes, buy paint colors for roofs, wallpapers and flooring.
Wuhu Island Gift Shop is a shop that consists of furniture for houses and clothing.
Bowling Alley is where players can play rounds of bowling,
Basketball Court is where players can play rounds of basketball.
Club Wuhu is a secret nightclub that can only be entered if a certain Mii gives you an invitation.
Wii Love Pets is a pet shop where dogs and cats can be adopted. Players can also buy special frisbees for the Frisbee sport.
Cocoba Hotel Property
Cocoba Hotel is a hotel Miis can stay out if their house is being expanded and can't stay in it for an amount of time.
Cocoba Beach is a beach where frisbee is played at. Players can watch fireworks in a first person view at the beach.
The Tennis Table is a table where Table Tennis is played at.
Cocoba Pool is a pool where players can watch Table Tennis matches by CPUs.
Clothing
In Wuhu Travel, you are able to purchase many clothing items from the Wuhu Island Gift Shop and Wuhu Mart. Note that this list is not finished.
Hats
Baseball Cap - Doesn't matter if you're wearing it while playing baseball or just because, it looks good either way!
Red Hero Cap - Just wearing this cap will make you feel like saving a princess in a faraway land.
Green Hero Cap - Legend has it that this cap once belonged to a tall, lanky man that once hunted down ghosts with only a vacuum!
Clown Wig - You could light up a whole room with this colorful wig! 
King's Crown - How royal!
Teddy Bear Cap - A cute cap based off a cute toy.
Light Blue Cap - Did you know that the dolphin on this cap actually resides in Wuhu Island?
Top Hat - Sadly, there's no rabbit included in this hat.
Cowboy Hat - YEEEEHAW!
Chef Hat - Wearing this hat makes you want to cook a nice, yummy meal.
Shirts/Costumes
Hawaiian Shirt - Tons of tourists wear this shirt.
Chef Outfit - There's something about this outfit that smells really nice...
Red Hero Suit - Are you craving mushrooms, (player name)?
Green Hero Suit - Are you scared of ghosts, (player name)?
White Tuxedo - How fancy!
Gift Shop Uniform - Express your loyalty of the Wuhu Island Gift Shop by wearing the shop's employee uniform.
Trivia
NPCs are the same computer Miis featured in Wii Sports, Wii Party, and more.
There is five times more dialogue in the game than the average RPG.
Gallery
Ad blocker interference detected!
Wikia is a free-to-use site that makes money from advertising. We have a modified experience for viewers using ad blockers

Wikia is not accessible if you've made further modifications. Remove the custom ad blocker rule(s) and the page will load as expected.