Wrinkly Kong
Full Name
Wrinkly Kong
Current Age
Deceased
Location
Donkey Kong Island
Current Status
Dead
Class
Ghost
Teacher
Wrinkly Kong is the wife of Cranky Kong and the mother of Donkey Kong. She appeared as a Non Playable character in Donkey Kong Country 2 and 3, Donkey Kong Land 2 and 3 and Donkey Kong 64. She then appeared as a playable character for the first time in Donkey Kong King of Swing and again in Donkey Kong Barrel Blast, Donkey Kong Knockout and DK Jungle Climber.
In her NPC appearances she offered advice to the players in various places fom the Kong College in DKC2, to a cave in DKC3 and then coming out of various caves in DK64.
She died of an unknown cause between Donkey Kong Land 3 and Donkey Kong 64 but she remained behing as a ghost. He has got a sister Bessie Kong .
Game Appearances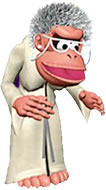 Wrinkly Kong appears a secret character in the multipler Wii boxing game Donkey Kong Knockout. Wrinkly is the slowest and weakest game in the series however as she is a ghost she is nearly impossible to hit. She is unlocked by completing the game on Hard Difficulty with Funky Kong.
Wrinkly Kong is a player on the Donkey Kong Wilds team on the multiplayer wii sports game Mario Rugby League. She is the most skillfull character in the game however she is slow and weak. Her special skill is to ghost through people to prevent tackling.
D.I.Y. Race
She's In Donkey Kong Kart D.I.Y. As A Hidden Character
Cricket Player
Wrinkly Kong appears on the Kouragous Kongs team in Donkey Kong Test Cricket.
Puke Skywalker Fake Super Smash Bros. Brawl Talk
Puke Skywalker: Eep! Who's that old, wrinkly kong?
Mr.Conductor : You already said the name.
Puke Skywalker: Wrinkly Kong?
Mr.Conductor : Yep. It can be VERY weak, but almost unstoppable to defeat.
Puke Skywalker: Sad. Must've died of old age.
Mr.conductor : I think yes. Wer've solved the death of Wrinkly Kong!
Puke Skywalker: What death?
Mr.Conductor: You are thinking of Obi Won Knowbi, are you?
Puke Skywalker: ...no.
Ad blocker interference detected!
Wikia is a free-to-use site that makes money from advertising. We have a modified experience for viewers using ad blockers

Wikia is not accessible if you've made further modifications. Remove the custom ad blocker rule(s) and the page will load as expected.