World 1-1 is an unlockable stage in the game Mario Rugby. It is home to Boom Boom and can be unlocked by winning 120 exhibition games.
Description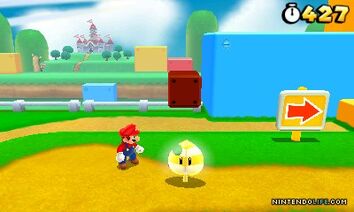 World 1-1 is a grass type and is located in World 1-1 of Super Mario 3D Land. The course has many different platforms and terrains including Brick Blocks, Question Blocks, Note Blocks, Sandy Areas and Mini-Rivers. The Stadium contains many Tail Goombas and, sometimes, Cheep-Cheeps will come through the river. There are no stands around the course but many Toads and Goombas watch from higher vantage points.
Ad blocker interference detected!
Wikia is a free-to-use site that makes money from advertising. We have a modified experience for viewers using ad blockers

Wikia is not accessible if you've made further modifications. Remove the custom ad blocker rule(s) and the page will load as expected.