"I will not allow your ruinous actions determine the fate of my people!"


— Wonder Woman in Justice: Apocalypse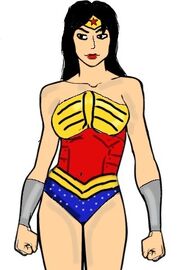 Wonder Woman is a fictional DC comics superheroine.
Appearances
Justice: Apocalypse
Princess Diana's Amazonian warriors were all annihilated in the conflict, nearly driving Wonder Woman to insanity. She still stands by Superman's side, however, and enters the time-warping portal to undo her past actions.
Gallery
Ad blocker interference detected!
Wikia is a free-to-use site that makes money from advertising. We have a modified experience for viewers using ad blockers

Wikia is not accessible if you've made further modifications. Remove the custom ad blocker rule(s) and the page will load as expected.