Ad blocker interference detected!
Wikia is a free-to-use site that makes money from advertising. We have a modified experience for viewers using ad blockers

Wikia is not accessible if you've made further modifications. Remove the custom ad blocker rule(s) and the page will load as expected.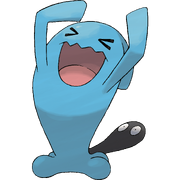 Wobbufftet is a Generation II Pokémon that evolves from Wynaut at Level 15. For an unknown reason Wobbuffet always try to keep they're black tails hidden from view which is why they are usually found in caves trying to hide they're tails in the darkness, as a result, many Trainers believe that the tail holds a hidden secret. The only moves a Wobbuffet can learn are Counter, Mirror Coat, Safeguard & Destiny Bond which is why a Wobbuffet will vever attack first.
Pikachu's Final Destiny
Wobbuffet is the second in command by Mewtwo. He is stated to be Meowth's favorite minion. He takes over fiery Volcano. Once he is defeated, he'll roll into a ball, and retreat to an unknown place.
Pikachu's Final Destiny 2
Wobbuffet will appear as an enemy again in Pikachu's Final Destiny 2, where he can carry heavy rocks to block any path. He will be the boss in Mr. Lucario's story. He stole all decorations from Mr. Lucario's shop.