Wii Sports Resort U
Developer(s)
Nintendo R&D4, Bandai Namco Games.
Publisher(s)
Nintendo
Platform(s)
Wii U
Release Date(s)
JPN: June 2016

NA: May 2016 EU: August 2016

Genre(s)
Sports
Series
Wii
Predecessor
Wii Sports Resort
Wii Sports Resort U (Wiiのパラダイス2 in Japan) is a sports game for the Wii U. It was released in 2016. The game is a sequel to Wii Sports Resort on the Wii. Wii Sports Resort U has five new sports that you can play, Such as Fishing and Swimming. It is the second game in the Wii series to be developed by Bandai Namco Games, with the first game being Wii Sports Club, It is also the second game in the Wii series to have DLC.
Gameplay
Just like it's prequel, Wii Sports Resort, Wii Sports Resort U takes place on a fictional island named Wuhu Island. When the player first starts the game, He/she will be greeted with a cutscene of Miis playing the 17 sports the game has to offer. After the cutscene is finished, The player will be able to start the game and play those 17 sports. Just like last three Wii Sports games, you control the Wii Remote in a manner similar to the actual sport being replicated. For example, In the Swimming mode, you have to use the Wii Remote and Nunchuk in a way that you would be swimming with your arms in real life. There are 12 returning sports with 5 new sports with 4 DLC sports. Those non-downloadable content sports are Swimming, Fishing, Running on Foot, Volleyball, and Surfing.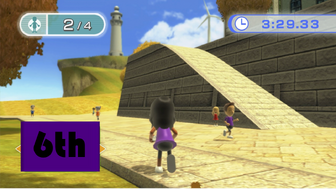 List of Sports
Bowling
Archery
Golf
Table Tennis
Cycling
Power Crusing
Basketball
Air Sports
Canoeing
Swordplay (with Story Mode)
Wakeboarding
Frisbee
Swimming
Fishing
Running
Surfing
Volleyball
Badminton
Dodgeball
Kendama
Hot air Ballooning
Development
The idea of a second Wii Sports Resort game was considered by Shigeru Miyamoto when he saw the good reviews and sales of Wii Sports Resort after releasing the game in 2009. He also noticed that Wii Sports Resort and Wii Sports was two of the best selling games of all time. Miyamoto and his team later created Wii Sports Club, the third installment of the Wii Sports series. Hoping the third installment would do as well as the other installments, It failed and recived mixed reviews. Some critics called it more of a HD remake than a sequel and the Motion Plus feature was kind of glitchy. Mr. Miyamoto stated that he would try harder if he ever did make a new Wii Sports game. Three years later, Nintendo and Miyamoto created Wii Sports Resort U. It was announced by Reggie Fils-Aime at E3 2016 and a demo for the game could be played.
Changes to The First Wii Sports Resort
The announcer of Wii Sports and Wii Sports Resort, Josh Millman, has been replaced with the Super Smash Bros for Nintendo 3DS and Wii U announcer, aka Xander Mobus.
The graphics have improved.
There are five new sports.
Wuhu Island has gotten a redesign and more areas have been added.
Swordplay Showdown now has a story mode.
Trivia
Sprites of various Nintendo characters such as Mario and Link can be found in some areas in Wuhu Island, For example, A Inkling Squid sprite from Super Mario Maker can be found in Sweet Beach.
In the Running mode, if you go near The Queen Peach and wait two minutes and five seconds, you can hear Tokata's Song.
In the files for the game, Satoru Iwata's Mii can be found.
A sprite of Pac-Man can be seen in Wuhu Town. This easter egg was most likely put in the game secretly by Bandai Namco since they are the developer of the game.
This game is the first Wii series game where you can dress up your Mii. (Not counting Wii Music where you only have six outfits and can only use them in current modes.).
Beta Elements
Nintendo wanted to put a Splatoon Turf War-like mode in the game. It wasn't in the final game for unknown reasons.
At E3 2016, A playable tech demo for the game had five sports you could play. One sport was Wrestling but it wasn't in the final game. It was most likely removed because it didn't fit with the Resort-theme the game had.
In the game's files, there is a picture of the Wii Sports logo and the text "10 YEARS" written below it. This was going to be used in the game and was most likely going to be on banners and signs. Just like the Nintendo and Wii logo being on banners and signs, The picture referenced the fact that the Wii Sports series turned 10.
DLC
On October 2016, It was announced that Wii Sports Resort would have downloadable content to purchase. So far, there has been four packs of DLC you can buy on the Nintendo eShop or the Wuhu Town Gift Shop.
DLC Pack 1 includes: A Dodgeball mode, A Badminton mode, 30+ pieces of clothing your Miis can wear, and a mode where you can explore Wuhu Island.
DLC Pack 2 includes: A Hot air Ballooning mode, 30+ pieces of clothing your Miis can wear, New Cycling courses, and a option to use your own voice to make your Miis' voice.
DLC Pack 3 includes: A Kendama mode, 30+ pieces of clothing your Miis can wear, New Power Crusing courses and a new status you gain after Pro, you can now get a Master status.
DLC Pack 4 includes: A music player where you can listen to music in the game, A mode where you can make your own clothing pieces for your Miis, 30+ pieces of clothing your Miis can wear, New Golf courses, and even more CPU Miis.
amiibo Support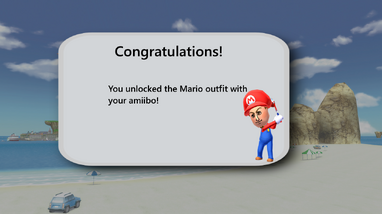 Wii Sports Resort U is the first game in the Wii series to use amiibo. If you tap in a compatible amiibo, You will get a outfit for your Mii based on that character. For example, If you tap in a Mario amiibo, you'll get a visor with his emblem on it, his overalls, his shoes, and his gloves. Here is a gallery of amiibo you can use in the game.: 
References to the Wii Series
The first seven notes of the Wii Sports theme can be heard through out the game,
A Jazz remix of the Wii Play theme is the background music for the Wuhu Town Gift Shop.
A picture of the Wii Sports Resort's Table Tennis champion, Lucia, can be seen in Wuhu Town.
If you go near this one building in Wuhu Town, you can hear the Wii Music theme.
References to Nintendo Franchises
Number of shirts, pants, and hats you can unlock are based off of Nintendo characters, consoles, etc.
In Hillside Cabins, if you get a good look at one of the cabins, you can see a Green Yarn Yoshi plush on a shelf.
If you go near Hillside Cabins at night, you can hear someone humming the Luigi's Mansion, the person humming is actually one of the developers of the game.
You can unlock a variety of planes you can use in Island Flyover. One of them is the Arwing from Star Fox.
The description for the Cycling mode references Mario Kart 7, where Wuhu Island had two separate courses. The description says "In this sport, Your Mii races with other Miis and try to get first place. Reminds me of kart racing here...".
Glitches
While this is common in most video games, If your Mii has certain headgear on that may seem big, the headgear may glitch through the ground in Mii animations like when your Mii looks down.
In Island Flyover, if you go through a small area with your plane, The plane will get stuck and it will go up and down while it is trapped in the tiny space. If you wait ten seconds, The game will make a loud horn sound and it will crash and reset the game. This glitch is rare to occur.
Bundles
There are two bundles for this game that were released. One bundle is a set that includes a Wii U console, Wii U Gamepad, Sensor Bar, HDMI Cable, A Wii U Gamepad Charger, and Wii Sports Resort U pre-installed. It costs $300. The second bundle is something you can only order via Nintendo's website. The bundle includes Wii Sports Resort U and a figure of a Mii of your choice. It costs $70.
Reception
Sales
Wii Sports Resort U was very successful and as of 2018, It was the second best selling Wii U game with Mario Kart 8 being first. So far, It has sold 21.84 million copies in the US, 17.57 million copies in Europe, and 29.63 million copies in Japan.
Critical Response
Wii Sports Resort U was well received from critics, Metacritic gave the game a 90/100 and IGN called the game "one of the best multiplayer experiences Nintendo has done in awhile". Nintendo Life gave the game a 8/10 and said that "the new modes in Wii Sports Resort U will keep players coming back for more". Many other critics were pleased with the new sports and the new Tourament Mode.
Staff
Game Design Concept
Music
Kojj Kondo
Ryo Nagamatsu
Mahito Yakota
Kazumi Tokata
Voice
Xander Mobus as Announcer
Wuhu Island Design
Futoshi Shirai
Ryutaro Kanno
Toshihiro Kawabata
Ad blocker interference detected!
Wikia is a free-to-use site that makes money from advertising. We have a modified experience for viewers using ad blockers

Wikia is not accessible if you've made further modifications. Remove the custom ad blocker rule(s) and the page will load as expected.