Wii Sports Paradise
Developer(s)
Next Step Studios in collaboration with Nintendo
Publisher(s)
Nintendo
Platform(s)
Wii U
Release Date(s)
Worldwide: 2015
Genre(s)
Sports
Series
Wii Sports
Predecessor
Wii Sports Club
Wii Sports Paradise is the 4th entry in the Wii Sports franchise, released for the Wii U and developed by Next Step Studios. Unlike Wii Sports Club, Wii Sports Paradise isn't a remake, although it includes some of the familiar games. It was released worldwide in 2015.
Sports
Wii Sports Paradise includes sports from previous games, plus new sports, too. There are 10 sports in total.
Bowling
Tennis
Baseball
Golf
Water-Skiing
Hang-gliding
Go-Karting
Rock-Climbing
Football
Basketball
Screenshots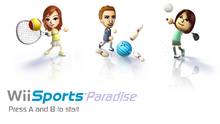 These are screenshots of the main menu, and the title screen.
Ad blocker interference detected!
Wikia is a free-to-use site that makes money from advertising. We have a modified experience for viewers using ad blockers

Wikia is not accessible if you've made further modifications. Remove the custom ad blocker rule(s) and the page will load as expected.