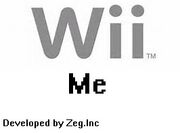 The Wii Me is a system made by Zeg  and Nintendo
Hardware
The system has two packeges, The Basic that has the system, a controller and a game. Then there is the Advanced that has the system, two controllers and two games. Both can play Gamecube, Wii, Wii U and Wii Me games and connect to Broadband Internet and Wifi. It can also connect to DS's and 3DS's.
Games
Super Smash Bros: Final Attack (TBA)
Untitled Sonic and Mario game (TBA)
Controllers
Basic Controller
It is like a Wii U Pro Controller.
Mouse
It looks like a SNES mouse but it is wireless
Keybored
It is a basic typing Keybored, it has the color of the Famicom
Old Controllers
The Wii Me can use the Wii U gamepad for some games, same with the Wiimote. 
Apps
EShop
The Eshop can download games that are made by most companies.
Game Maker
There will soon be a page for this
Google Chrome
This is Google Chrome for the Wii Me.
Ad blocker interference detected!
Wikia is a free-to-use site that makes money from advertising. We have a modified experience for viewers using ad blockers

Wikia is not accessible if you've made further modifications. Remove the custom ad blocker rule(s) and the page will load as expected.