Ad blocker interference detected!
Wikia is a free-to-use site that makes money from advertising. We have a modified experience for viewers using ad blockers

Wikia is not accessible if you've made further modifications. Remove the custom ad blocker rule(s) and the page will load as expected.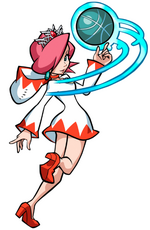 White Mage is a character class in the Square Enix series, Final Fantasy. They specialize in white magic, as in, they have brilliant healing magic, and they can damage undead creatures well. They do not excell in any other field of battle, however. The White Mage's most powerful move is the Holy Shot, which is very handy against undead, or evil enemies. They, along with Ninja and Black Mage, appeared in the original Final Fantasy, made for the NES. Although both male and female White Mages are present, the female version is more widely known. White Mage has had a long absence in the Final Fantasy series, but has started to appear alongside Nintendo characters.
Appearences
Clea, a major character, is a white mage.
Background in Mario games
Three White Mages (one with pink hair, one with purple hair, and one with silver hair) were cursed by some Black Mages and they became bigger than any normal White Mages. Their robes were now as small as hoodies. They decided to get revenge on the Black Mages by making them big also.
The pink haired one makes appearances in Mario games such as Mario Hoops 3-on-3 as a playable character. Her design in the mario games kind of resembles Rosalina.