---
WhiteWindGroup is a company that creates fangames and original games that was founded by Nick(Pluto47) on a website called sploder.com. They are working in a new series of games, as well as Mario and other games. GO HERE TO IT CHECK OUT : (http://www.sploder.com/games/members/whitewindgroup/) Check out these guys too theawsomeguy37, julan, pluto47, harradea, qwertym, and legoman763
GAMEs
---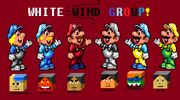 Super Charlie Bros (By theawsomeguy37)
Fast Mario
Nicklas adventures
AND MORE!
Members
---
pluto47(BOSS)
theawsomeguy37(COBOSS)
julan
harradea
legoman763
qwertym
Anyone can join, but first you have to ask the coboss.
Ad blocker interference detected!
Wikia is a free-to-use site that makes money from advertising. We have a modified experience for viewers using ad blockers

Wikia is not accessible if you've made further modifications. Remove the custom ad blocker rule(s) and the page will load as expected.