Ad blocker interference detected!
Wikia is a free-to-use site that makes money from advertising. We have a modified experience for viewers using ad blockers

Wikia is not accessible if you've made further modifications. Remove the custom ad blocker rule(s) and the page will load as expected.
Info
Weegeelover Wars is a E10+ rated fighting game featuring Weegeelover's characters.
Gameplay
This game plays very simmilarly to the SSB series.
Characters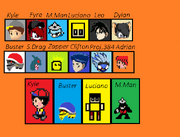 Default
Image
Name & Weight
Series
Moveset

Kyle,Medium

Earthbound/Mother

(I know that series actually exists,but he is the protagonist of a fan game in that series that I made.)

Neutral B: PK Water

Side B:PK Fire

Down B:PSI Shield

Up B: Teleport

Ultimate Move: PK Starstorm  

Fyre,Light
Fyre the Fox

Neutral B: Ember

Side B:PK Fire Breath

Down B:Fire Wave

Up B:Flame Tornado

Ultimate Move: Finishing Flame 

Matter Man,Heavy
Matter Man

Neutral B: Shiruken

Side B:Thunder

Down B:Nature Orb

Up B: Steam

Ultimate Move: Void

Lucianno,Light
Pixelmen

Neutral B:Fireball

Side B:Shell

Down B:Punch

Up B:Gravity

Ultimate Move:8-Bit Peril

Leopoldo,Medium
Magyquest

Neutral B:Slice

Side B:Dash Slice

Down B:Power Up

Up B: Flight

Ultimate Move: Super Slash 

Dylan,Medium
???

Neutral B: Punch

Side B:Wing Attack

Down B:Sound Wave

Up B: Flight

Ultimate Move: Bat Army

Buster,Light
Buster's Adventure

Neutral B:Kick

Side B:Shell Spin

Down B:Block Toss

Up B: Parashell

Ultimate Move: Block Destruction
Image
Name & Weight
Series
How to Unlock
Moveset

Shadow Dragon,Heavy
Buster's Adventure
Win as Buster 10 times.

Neutral B: Fire Breath

Side B:Head Charge

Down B:Pummeling Drop

Up B: Flight

Ultimate Move: Sacred Power

Zapper,Medium
The Elementals
Win as Buster 20 times.

Neutral B: Bolt Toss

Side B:Bolt Charge

Down B:Electric Wave

Up B: Electricity Charge

Ultimate Move: Electrifying End

Clifton,Heavy
Magiquest
K.O 100 foes

Neutral B: Glave Attack

Side B:

Glave Charge

Up B: Glave Spin

Down B:Glave Power

Ultimate Move: Super Slash

Project 384,Light
Fyre the Fox
Complete Quest Mode with Fyre.

Neutral B:Freeze

Side B:Thunder Charge

Down B:Flame Punch

Up B: Fire Charge

Ultimate Move: Flaming Finale

Adrian,Light
Earthbound (again,from the fan game with Kyle in it)
Defeat 300 foes.

Neutral B: PK Rock

Side B:PK Thunder

Down B:PSI Magnet

Up B: Teleport

Ultimate Move: PK Starstorm  
Stages
Stage & Series it is from
Unlockable

Zeru

Earthbound (again, from the fan game

No

Corruptland

Pixelmen

No

Mutant Base

Fyre

No

Mysterious Castle

Magyquest

No

Sacred Mount

Buster's Adventure

No

Home Planet

The Elementals

No

Crazy Canyon

Fyre

Yes

Bomber Base

Matter Man

Yes

Ember Volcano

Buster

Yes
Items
| Name | Series | Affect |
| --- | --- | --- |
| Mystical Slingshot | Earthbound (Mother 4) | This item allows you to launch projectiles at foes. |
| Iron Axe | Earthbound (Mother 4) | This is basically this game's equivalent of the SSB's Baseball Bat. |
| Steam Orb | Matter Man | Makes you invincible for a few seconds. |
| Void Orb | Matter Man | Creates a small void that hurts oppoments. Matter Man's ultimate move is much more useful than this item. |
| Fire Orb | Matter Man | Creates a trail of fire that harms foes. |
| Mystical Sword | Magyquest | A better version of the Iron Axe. |
| Diamond Glave | Magyquest | When this is picked up, the user will charge with the glave until it hits someone. |
| Stun Gun | Fyre | Stuns a foe for a few seconds. |
| Boulder | Fyre | When tossed, this item will roll on the ground, damaging anyone it hits. |
| Corruptor | Pixelmen | If thrown at a foe, it can have all sorts of weird affects. |
| Ice Staff | Buster's Adventure | Freezes a foe for a few seconds. |