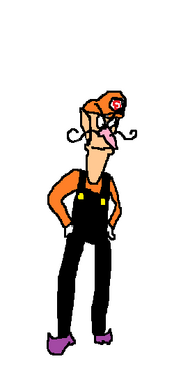 '
Wasparo is Awesome!'
--- No Games
Wasparo is Gasparo's Evil counterpart and rival he is family with Walberto and also friends with Wario and Waluigi, (He is not in a game but he will be in an Mario Game) He is making plans with Walberto to beat up Alberto and Gasparo! He is also cheating on them [Wich he fails everytime] He is in love with Lestina The different counterpart of Rosalina and hes also lame!
History
When he was 12 Years old he was doing a science fair on school he cheats he almost won but he was disquwalified, then Gasparo Won the science fair! He decided to revenge him if he is an adult.
Game Appearances
He appears in New Super Mario Bros. Pizza And Gasparo Kart: Double Dash!
Personality
Like the guys Walberto is creepy and Wario is greedy and Waluigi sneaky, he is cheaty and if people staring at them then he taunts at them, he always cheat in games like The Wario Bros
Gallery