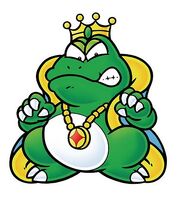 Wart is a villain of Super Mario Bros. 2, Pucca 4:Doki Doki Panic, Doki Doki Panic,  and Super Mario Retro. Wart was in the land of dreams sending out his evil minions introducing Shy Guys, Pokeys, Bob-Ombs and more for the first time. He was the final boss in the game.

The player had throw a turnip at Wart when his mouth was open a lot of times before he dies. After he is defeated by him/her, they celebrate, open cage with Pucca and her friends(in Pucca 4:DokiDokiPanic) and then a cutscene Mario sleeping and dreaming(in Super Mario Bros. 2). He also appears in New Super Mario Bros. 2 as a Major boss. He usually uses his vegetables (resembling the ones Princess Peach uses) and bubble-belching to attack. He is also an unlockable character in New Super Mario Kart.

Wart appears in Super Mario Television series too. He's the king of a group of Wartmongers.