WarioWare Works is a downloadable stadium in the game Mario Rugby. It is home to Mona and comes part of the WarioWare, Inc. Package.
Description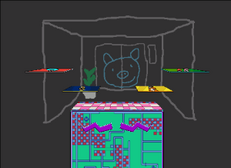 The Stadium is a metal type and is based off of WarioWare, Inc. from Super Smash Bros. Brawl. The Stadium consists of many platforms, which the player must cross instead of one main big one. Hazards include trapdoor platforms and Podoboo Snakes. The stands are full of WarioWare employees.
Ad blocker interference detected!
Wikia is a free-to-use site that makes money from advertising. We have a modified experience for viewers using ad blockers

Wikia is not accessible if you've made further modifications. Remove the custom ad blocker rule(s) and the page will load as expected.