Ad blocker interference detected!
Wikia is a free-to-use site that makes money from advertising. We have a modified experience for viewers using ad blockers

Wikia is not accessible if you've made further modifications. Remove the custom ad blocker rule(s) and the page will load as expected.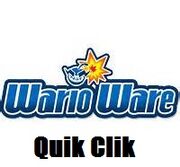 WarioWare Quik Clik is a new WarioWare game for the Wii Me
Plot
Wario is watching TV when he sees a story on Mario and Luigi's New Game, and Wario sees them say, "Seems that Wario can't catch up to the new game era!" So Wario calls the team to make more games for the Bii De (A pardoy of the Wii Me)
Games
There are many games in WarioWare Quik Clik
| Player | Genre | Picture |
| --- | --- | --- |
| Wario | Himself | |
| Mona | Toys | |
| Jimmy T | Sports | |
| 9 Volt | Retro Nintendo games | |
| 18 Volt | All Nintendo games. | |
| Kat and Ana | Ninjas | |
| Mike | Singing | |
| Dr. Crygor | Scinece | |
| Wario Man | Himself | |
Game Maker
The game includes a game maker that lets you make your own games and share them over the internet. The game maker is like the one in Warioware DIY but lets you do things like make the time of the stage 6 seconds or 1 minute or in beetween. It also lets you inport graphics from Google using the PictureGrabber, but it will give links to the source of the picture in the description of the game. You can also download games over the internet and upload yours.
DLC
The game has 3 DLC games that are $4.99 each or $14.99 for all.
| Mario and Luigi | Mario Games | |
| --- | --- | --- |
| Link (Legend of Zelda) | Legend of Zelda games | |
| Bowser | Mario Games | |