Ad blocker interference detected!
Wikia is a free-to-use site that makes money from advertising. We have a modified experience for viewers using ad blockers

Wikia is not accessible if you've made further modifications. Remove the custom ad blocker rule(s) and the page will load as expected.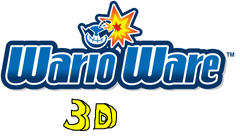 'WarioWare 3D' is the ninth installment of the WarioWare franchice. It was released for the Nintendo 3DS in late 2014.
Story
One day, Wario and Waluigi come out of a movie theater after watching a 3D movie. Wario is angry that he had to pay extra to see it in 3D and that he had to wear glasses during the film. Waluigi thinks they should go demand to Dr. Crygor to make a glasses-free 3D film. At Crygor's Lab, Dr. Crygor is working on a new invention, The Merge-Ifier 3000, he tests it out on a cat and dog and it works, merging them into a two-headed creature. The Wario Bros. come in with Wario playing a DS. Dr. Crygor, forgetting to turn off the Merge-Ifier 3000, which zaps Wario's DS and the pair of 3D glasses Wario was wearing. The result is a 3DS-like system. Wario is shocked to see the image of a mole coming out of the top screen, then he gets an idea. "With glasses-free 3D games, I bet I'd get three times as much money!!!"
Stages
| Host(s) | Type of Microgames | How to Unlock |
| --- | --- | --- |
| Wario and Waluigi | Normal microgames | Starter |
| Mona | Button-mashing microgames | Beat Wario and Waluigi's stage |
| Dr. Crygor and Penny Crygor | Gryoscope microgames | Beat Wario and Waluigi's stage |
| Kat and Ana | Touch-screen microgames | Beat Wario and Waluigi's stage |
| Jimmy T. | Remixies of Mona, Dr. Crygor and Penny Crygor, and Kat and Anna's microgames | Beat Mona, Dr. Crygor and Penny Crygor, and Kat and Anna's stages |
| Mike | Microphone-blowing microgames | Beat Jimmy T.'s stage |
| Dribble and Spitz | Camera-usage microgames | Beat Jimmy T.'s stage |
| Ashley and Red | Strange-themed microgames | Beat Dribble and Spitz, and Mike's stages |
| 9-Volt and 18-Volt | Classic Nintendo-themed microgames | Beat Dribble and Spitz, and Mike's stages |
| Jimmy P. | Remixes of Dribble and Spitz, Mike, Ashley and Red, and 9-Volt and 18-Volt's microgames | Beat Ashley and Red, and 9-Volt and 18-Volt's stages |
| Young Cricket and Master Mantis | Mythology-themed microgames | Beat Jimmy P.'s stage |
| Sal Out | Music-themed microgames | Beat Jimmy P.'s stage |
| 5-Volt | Modern Nintendo-themed microgames | Beat Jimmy P.'s stage |
| Jimmy B. | Remixes of Young Cricket and Master Mantis, Sal Out, and 5-Volt's microgames | Beat Young Cricket and Master Mantis, Sal Out, and 5-Volt's stages |
| Wario-Man and Waluigi-Boy | Wario-themed microgames and remixes of Wario and Waluigi's microgames | Beat Jimmy B.'s stage |
| Orbulon | Microgames requiring usage of the Circle Pad Pro accessory | Beat Wario-Man and Waluigi-Boy's stage |