Wario is Mario's evil doppelganger. In Wario's debut, he payed an evil alien mercenary named Tatanga to kidnap Princess Daisy. Mario headed off to rescue her upon request from Princess Peach, but what he didn't know, was that this was a diversion so that Wario could capture Mario's Castle. However, Mario managed to kick Wario out his castle, which led Wario to seek out a castle of his own. Thus, his new castle has been the central focus of most of Wario's games. Wario, in all fields, is a greedy thief. As such, he is not afraid to steal from others in order to add to his riches. Wario also has a brother named Waluigi, who is Luigi's evil doppelganger. Wario loves garlic, money, and treasure. Wario is very lazy, selfish and greedy and is not the sharpest tool in the box. Besides Mario, Captain Syrup is his worst enemy, because she's just a greedy as him.
Game Appearances
Edit
New Super Wario
Edit
Wario appears in NSMBX as a playable character.
New Super Mario Bros. U: The Lost Levels
Wario appears in New Super Mario Bros. U: The Lost Levels as a playable character, alongside Mario and Luigi.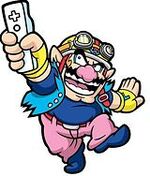 Wario made his Super Smash Bros. playable debut in Super Smash Bros. DS. He later returned in Super Smash Bros. Combat, and Super Smash Bros. Clash. He also appears in Super Smash Bros. Evolution. He was meant to be in the Classic Mode of Super Smash Bros. Adventure, but was removed when Classic Mohttp://fantendo.wikia.com/wiki/Super_Smash_Bros._Evolutionde was taken out.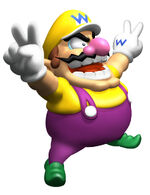 Wario will appear in Super Mario Legends. His role is unconfirmed, but it is speculated he will be a boss. He will also be playable in Multiplayer Mode.
Wario and Waluigi chase down Captain Syrup when Koga attacks Syrup and tells them of Frede and Dimentio. Upon learning of the treasures associated with the Frede Bros., Wario and Waluigi set out to stop them.
In Mario Guitar World, It has been confirmed that Wario will be the 4th boss in Story Mode on Amateur. If He is Beaten, you unlock Wario as well as other features.
Wario is a Pirate who needs his booty!
Edit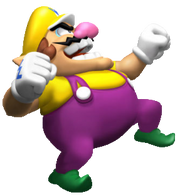 Wario and Waluigi are secondary characters in Super Princess Peach: Fusion, They are in desperate need of treasure. And they make a bet with Princess Peach. Whoever reaches the treasure first will be able to live in the Mushroom Kingdom. Unfortunately, the princess beats them to the treasure. They are banished. It's unclear what happens in the game.
Wario has an unknown role.
Wario appears as a helper in the game Waluigi World. He helps Waluigi avenge his hometown by giving more or less helpful hints. He is also a playable character in the Multi Player mode.
Wario appears as the captain of the Wario Muscles team on the Wii multiplayer game Mario Rugby League. His team has a broad range of skills, most are good at skill he is not and his special move is to fart at people as an extended tackle.
Wario is the main character of Paper Wario.
Wario & Geno
Edit
In the Wii game, Wario & Geno: Saviour of the Stars, King Dedede steals a large amount of money from Wario and kidnaps Mona, which causes Wario to go after him. Along the way he meets up with Geno, who is after King Dedede as he took over Star Road.
Singalong Superstar!
Edit
Wario appears in every game in the Mario Singalong! Series. He first appears in Mario Singalong Superstar!, then in a full in country attire Mario Singalong Country!, subsequently as a member of the boys team in Mario Singalong Boys vs Girls!, he appeared again in Mario Singalong Disney! where he becomes friends with Donald Duck and reappearing in Mario Singalong Rocks!, Mario Singalong Down Under! and Mario Singalong Legends!
He can be seen snowboarding with Bowser, Jet and Donkey Kong In Pikachu's Final Destiny. One cutscene he climbs on a tree, and flings himself to a shelter to hide, and rescues Olimar and Pikmin by pulling them into the shelter.
He will be the guide in Pikachu's Final Destiny 2, and tells Pikachu a victim being kidnapped. If Treecko is kidnapped, he will say "A green Pokemon is lost and must be found. Go and find-a him now!"
RPG Adventurer
Edit
Wario and his partner Waluigi appears on their first RPG game named Wario and Waluigi: Lost Money in the City, he and Waluigi searching gold everywhere and their goldship is cursed.
Wario, appears in the Chinese anime, partnering with Waluigi, stealing treasures. In one episode, he is turned evil by Bowser.
He is the first boss. He runs and bounces you across the screen to try to take you down.
Wario appears as the main antagonist when he take down all the trees and build a casino in order to be rich. Now it's time for Donkey Kong & Diddy Kong to save the jungle and teach Wario a lesson for messing with his home.
Wario, dressed as a pirate (from Mario Party 2) is once again as the main villain. He kidnaps Donkey Kong in order to demand him to hand over the Banana Hoard so he can sell them for money. It's up to Diddy Kong and his girlfriend, Dixie Kong to rescue him from his greedy plot.
Wario is one of the racers in Super Mario Hover Race.
Wario appears as a playable character in Mario Kart 8 Wii U. His special move is Garlic Bulb.
Stats:
Speed: 4.5
Acceleration: 3.25
Drift: 2.75
Handling: 1.75
Off Road: 3.75
Wario appears as a playable character in Mario Kart Wii 2.0.
Wario appears in his next WarioWare-game: WarioWare: 3 Dimensions. He has the theme "Begin NOT To Bad!" In the minigame Race ..... For Your Life is his partner Waluigi.
Minigames that appears
Edit
Music Muscle
Colour Shooter (Boss)
Wario makes a cameo in this game. He is mentioned by Waluigi.