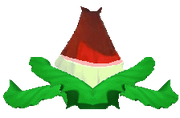 Volcanos Lotuses are enemies of the Mario Series, and members of the Koopa Troop, that first appear in Super Mario World. They are sub-species of Piranha Plants, that attack by throwing four small Fireballs which rise rapidly; and then, relapse, according a diagonal path. They are powerful enemies, rather difficult to defeat : only few Power-Ups, like the Cape Feather or the Hammer Suit allow to beat them. It is thought that Volcano Lotuses could have, at one point, been the leaves of a Venus Fire Trap.
Trivia
Gallery
Ad blocker interference detected!
Wikia is a free-to-use site that makes money from advertising. We have a modified experience for viewers using ad blockers

Wikia is not accessible if you've made further modifications. Remove the custom ad blocker rule(s) and the page will load as expected.