Vision (Originaly KeyHole Co.) also known as Vision studios is a Game Development Company based in Dallas Texas.Their first game was Zelda Maker for the Wii U. They are releasing a few more games in 2016 with some being unknown due to there withdrawing of the Fantendo Carnival Showcase in February after the first day. 
Games
April 2016 relaunch
After withdrawing from the Fantendo Carnival Showcase 2016 in February 2016. The President and owner of the company decided to rebrand the company as a smaller studio and relocated to Tulsa, Oklahoma. The name Vision was picked out and became the new name and quickly replaced the old name of KeyHole studios. The owner planned to announce the rest of the games for feedback. They are also thinking of joining in on the Fantendo 9th anniversary showcase saying that they want to try there best to do better than they did that day.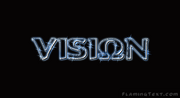 Ad blocker interference detected!
Wikia is a free-to-use site that makes money from advertising. We have a modified experience for viewers using ad blockers

Wikia is not accessible if you've made further modifications. Remove the custom ad blocker rule(s) and the page will load as expected.