Ad blocker interference detected!
Wikia is a free-to-use site that makes money from advertising. We have a modified experience for viewers using ad blockers

Wikia is not accessible if you've made further modifications. Remove the custom ad blocker rule(s) and the page will load as expected.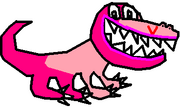 Victoria is a Pink Alligator with a V on her nose. She just happens to be the little sister of Fred and George. Her guardian is Uncle Firtsy, just like Fred and George. She enjoys getting attention with is hard to do in the jungle, but was easy back at the zoo. She enjoys playing with Fred the Purple Monkey, and beleives that he can get her back to the zoo. She doesn't understand that they are wanted by the goverment because of their strange color. George trys to explain it, but Fred keeps making her beleive it's because they are on vacation. Now she thinks George is boring and is trying to convince himself he is not actually on a vacation. She never asks when this vacation will end, due to unknown reasons. George trys to point this out, but she says that Fred is always right. This is not true at all, and George is correct.
Friends
Hannah the Monkey: Inventor, enjoys inventing with George
Jay the Gorilla: Hannah's brother, strong, dumb, making perfect match for Fred Fred and George: Brothers of Victoria
Gary the Toucan: Annoying, rule lover
Fred the Purple Monkey: Fights Fred due to the fact that they have the same name
Button: In a special episode of their show, Button helped Fred, Victoria and George save Bogwoods from becoming a supermarket site
Boris the Frog: Grumpy
Uncle Firtsy: Crocidile, guardian of Fred, George and Victoria.