Ad blocker interference detected!
Wikia is a free-to-use site that makes money from advertising. We have a modified experience for viewers using ad blockers

Wikia is not accessible if you've made further modifications. Remove the custom ad blocker rule(s) and the page will load as expected.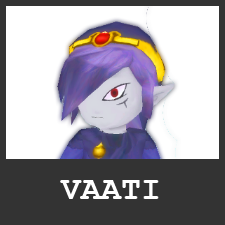 broad
Vaati (Pronounced /ˈvɑː.ti/, VAH-tee) is the main antagonist in the Four Swords subseries of The Legend of Zelda games, appearing in The Minish Cap, Four Swords and Four Swords Adventures. Vaati, much likeGanondorf, appears in both humanoid and monstrous forms, although the former only appears in The Minish Cap. In The Minish Cap, Vaati also takes on three other forms, one before his human form, one after his first monstrous transformation and one in between.
| NOM STAT | STAT  |
| --- | --- |
| Heart | 90% |
| Might | -0.5 |
| Protection | -1.25 |
| Speed | +1.5 |
| Magik | +2 |
| distance | +0.5 |
| TYPE | TECHNICAL |
Mouverest
| Type mouverest | Nom mouverest |
| --- | --- |
| Classic-Attaque: | Punch |
| Special Attack-normale | Pression |
| Special Attack-Side | anger minish |
| Special Attack-Haut | Purple punch |
| Attaque spéciale-Bas | purple bomb |
| Attaques à distance | Purple Boul |
| Attaques défensives | Purple Barrier |
| Smash-finale | Purple Triforce |