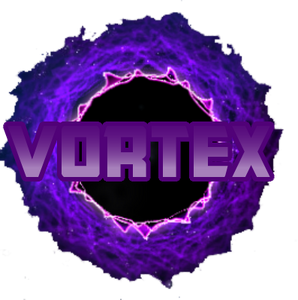 VORTEX is an upcoming fighting umbrella game hybrid being developed by Pyro Enterprises alongside its subsidiary company, LapisFire. Not much is known about it at the moment.
Gameplay
VORTEX is a third-person fighting game/shooter inspired by Kid Icarus: Uprising, Overwatch, The Legend of Zelda: Breath of the Wild, Dissidia Final Fantasy, and ARMS. Players battle in expansive 3D arenas focused around parkour and agility, battling against one another and working to fulfill mode objectives. Each character can interact with the environment and battle in different ways, giving every character a unique method of interaction with the stages in which battles take place.
The player moves about the environment via the Midas's L-pad, adjusting the camera and aiming reticle with the R-pad in Traditional Mode, gyroscopic tilt controls in Gyro Mode, or with Uprising-styled touch controls in Touch Mode. The player can also lock into targets by clicking in the left scroll wheel, locking the camera and reticle onto them and shifting into a behind-the-back view akin to ARMS.
Holding down the right bumper enables the player to dash; while the player has no stamina meter, dashing for too long renders the character tired, forcing them to rest and become vulnerable once the player stops running. Jumping is handled via the Cross button. Dashing while in midair causes the player to perform a "trick", causing them to glow golden and sparkle for a split second. The player is invincible during a trick, and gain a speed boost upon hitting the ground, sending them into a dash immediately.
All characters possess a light and heavy attack, a ranged attack, and several special abilities mapped to the D-pad. Light and heavy attacks are performed with the Circle and Triangle buttons, while ranged attacks are performed with the left bumper and aim towards the aiming reticle. Special abilities all have unique effects depending on the character being played, and slowly charge over time after being used. Characters also have unique super attacks called Infinities, which typically charge based upon damage dealt by the player but can occasionally fill by other means. Players may used Infinities by clicking the right scroll wheel.
Characters in VORTEX have a unique health system inspired by Dissidia and the Halo franchise, referred to as the Inner Health system. Players have two meters of health, listed as Armour and Will. Armour acts as a shield protecting the player's Will, which will not take damage until a player's Armour is completely drained. Armour eventually regenerates over time, while Will does not; if the player's Will is depleted, they will die. Players also gain a small percentile increase in the damage they deal as they lose Will, acting as a comeback mechanic.
Solo Modes
Ascendant
Ascendant Mode is comparable to the Arcade mode or Classic mode from other fighting games, forcing the player to make their way up a 10-man ladder of randomly selected characters in an attempt to defeat the final boss, a rival battle chosen dependent on the character chosen to play the mode.
The mode has 6 difficulty levels; Easy, Normal, Hard, Maximum, Super Turbo XL Pro Hyper Tournament Edition Deluxe, and OMEGA. OMEGA is a secret rank that can only be accessed by clearing Ascendant on Maximum at least once with any character.
The list of rounds is as follows.
Round
Description
1
A normal Deathmatch against a random opponent set in Dimension Stadium.
2
A normal Deathmatch against a random opponent set in a random arena.
3
A Glorious Deathmatch against a random opponent set in a random arena.
4
A Super Race against a random opponent set in a random racetrack.
5
A Deathmatch with a City Trial modifier on against a random opponent set in a random arena.
6
A normal Deathmatch against a random opponent set in a random arena.
7
A Glorious Deathmatch against a random opponent set in a random arena.
8
A Multi-Man Battle set in a random arena. Wave size changes depending on difficulty level.
Easy-Normal: 1-on-25
Hard: 1-on-30
Maximum: 1-on-40
Super Turbo XL Pro Hyper Tournament Edition Deluxe: 1-on-50
OMEGA: 1-on-75
9
A Glorious Deathmatch against a random opponent with higher-than normal difficulty. Random stage.
10
A Glorious Deathmatch against the player's rival set on Ruined Battlegrounds.

Ω

ERROR
A secret round that only triggers in OMEGA level difficulty. After defeating the character's rival, Kaiser Oblivion appears, challenging the player to a boss battle. This challenging boss utilizes both his own abilities and those of the defeated rival character, making for a unique final boss every time.
Ascendant Endings
Every character in the game has a unique ending when completing Ascendant mode, showcasing their end goal and final wish utilizing the Celestial Power dropped by Kaiser Oblivion after his defeat. These endings only appear if the player beats the mode on Ω Difficulty.
Character
Ending
2B
Ending V: affirmati[V]e
2B's rival battle is against Sombra.

"¡Mi amigo! It is good to finally encounter the weapon I've been looking for! That's right, amigo, I know what you are. You're some... muy avanzado creation, one that will be a very effective weapon once I hack you and make you mine! You want to take me down? ¡Apagando las luces! Let's dance!"


— Sombra

Upon Sombra's defeat, 2B steps in to presumably apprehend the criminal, but is knocked back by a blast of temporal energy as Kaiser Oblivion appears, absorbing energy from Sombra and pulling out his broadsword, silently challenging 2B to a duel.
Post-duel, the kaiser remains silent before proudly smiling and 2B, before vanishing and leaving behind the Celestial Power. 2B notices that Sombra has vanished, though does not care as she approaches the Celestial Power, absorbing it.
The post-credits cutscene showcases the effect of 2B's wish; she is seen walking down a brightly-lit metallic hallway alongside 9S, who asks her questions about her whereabouts and condition. She calmly responds to the questions, referring to it as "her duty" and asking him not to question her anymore. As the pair walk down the hallway, multiple androids and machines can be seen talking peacefully with one another, revealing her wish was to end the conflict between the two factions. The pair of androids continues walking down the hall, 2B's finger flickering with the golden light of the Celestial Power for a few seconds.
Phosphora
Ending C: [C]rashing
Phosphora's rival battle is against Gunvolt.

"Finally... Look, I've been following through these little bouts you've been having. You're almost too strong to be fighting, you know? You're gonna hurt someone with all that power. If you aren't going to stand down with your little games, then I'm going to have to end them for you."


— Gunvolt

Upon Gunvolt's defeat, the young teen collapses to his knees, asking why Phosphora is doing what she's doing. The goddess merely smiles and replies that she finds it fun, and Gunvolt expresses regret that she seems uncaring to her potential danger when a blast of temporal energy knocks back both individuals, with Kaiser Oblivion stepping from the explosion and grabbing Gunvolt by the neck, draining him of electrical energy. The kaiser points his blade at Phosphora, saying that if she so desired, he'd give her the fun she desired and then some. Phosphora seemed tempted at first, but then thought back to Gunvolt's words; if they both unleashed their full power, they'd end up destroying everything and everyone around them. Denying this proposal, Phosphora put on a serious face, determined to stop the kaiser.
Kaiser Oblivion defeated, he warped away, leaving behind the glowing mass that Phosphora recognized as Celestial Power. Phosphora realized that the primordial substance would be able to grant her any wish she desired... She could make up for accidentally ruining people's lives like Gunvolt had implied. Her mind made up, she grabbed the mass of energy.
The post-credits cutscene showcases the results of Phosphora's wish, showing her lounging on a soft bed back in the Thundercloud Temple. Viridi is shown enraged, asking why Phosphora would waste her wish on something so trivial as a bed when she could have spent it on helping people or giving the humans a taste of what they deserved. Phosphora simply yawns and says she wanted to help others by having a way of toning down her powers and avoiding hurting others; the bed was just an easy way to help her relax. Viridi groaned and facepalmed, and Phosphora merely giggled and sank into her bed.
Max Brass
Ringabel
DIO
Waka
Metal Sonic
Sombra
Lusamine-U
Gunvolt
Black Mage Evilwizardington
Ray
Xefros
Maya
Magnet Bomber
Wizzro
Fjorm
Poppi
Story Mode: Lockdown Omega
A story mode that stars a small group of characters wandering the chronologic abyss known as the Vortex, said to contain a magical wish-granting item, while also avoiding the interdimensional police force known as the Guard, who seek to keep order by keeping all dimensions separated from one another, as well as a faction of antagonistic characters who seek to obtain the item for themselves.
Lockdown Omega features more linear levels than the arenas found in the normal modes, and is comparable to Kid Icarus: Uprising's land levels in terms of gameplay. However, Boss Battles and other major fights still take place within normal arenas.
The mode also possesses multiple routes depending on player choices made throughout the playthrough, which ultimately affects the storyline and final boss that the player experiences. The routes which the player has gone through are tracked by the Activity Level setting in the mode's opening menu, and the player can also warp back to any point in the story if they so desire.
For more information, see here: Lockdown Omega.
Multiplayer Modes
Deathmatch
The standard versus multiplayer mode, Deathmatch pits up to 8 players against each other in local or online play. Items exist in this mode, and the rules are set to Point by default, so the player with the highest kill-death ratio wins at the match's end. Teams are optional.
Glorious Deathmatch
A variant on Deathmatch intended for faster-paced competitive games. Stocks are now used, and if a player runs out of stocks, they are eliminated. Timer is set to 6 minutes by default, and can be adjusted. Items are deactivated in this mode.
City Trial
This mode sets players inside a massive map with 10 minutes default time and infinite lives. The goal of the game mode is to obtain Patches, small chips that increase a character's stats, in preparation for a final battle. Defeating an opponent causes them to drop some of their Patches and respawn elsewhere, and enemy encounters can also drop large amounts of Patches.
The mode is also filled with many extra events, some hidden and in need of finding and some that may occur randomly during the natural course of the match. The list of events are as follows:
Event List
Name
Notification
Description
Double Patch
All patches are upgraded! Get as many as you can!
During this event, the stat-boosting effect of all Patches is doubled.
Oops! All (Patch Subtype)!
The higher-ups screwed up! All the Patches are now (subtype) Patches!
During this event, all Patches that are dropped will all be the same type, and as such all raise the same stat.
Patch Notes: (Stat 1) Down, (Stat 2) Up
Some competitive changes have been made! Take notice!
During this event, the stat listed in (Stat 1) is vastly reduced, while the stat listed in (Stat 2) is vastly increased, affecting all player characters and how they approach situations.
Patch Hunt
Bigger Patches mean they're rarer! Go hunt for them!
During this event, Patches stop spawning as often and now spawn in rarer and larger sizes. They also emit large beacons, which enable them to be spotted from across the map and tracked down easier.
Secret Area! (1)
A secret area has opened! Go find it!
One of four secret areas on the map opens up. Only one Secret Area event can trigger per round.
Secret Area! (2)
A secret area has opened! Go find it!
One of four secret areas on the map opens up. Only one Secret Area event can trigger per round.
Secret Area! (3)
A secret area has opened! Go find it!
One of four secret areas on the map opens up. Only one Secret Area event can trigger per round.
Secret Area! (4)
A secret area has opened! Go find it!
One of four secret areas on the map opens up. Only one Secret Area event can trigger per round.
Bounty Hunter: (Enemy)
Go round up an enemy for a chance to win big!
Highlights a random enemy with a beacon. If this enemy is killed, it drops a large amount of Patches.
Thunderstorm
Not a thunderstorm! Stay dry, everyone!
During this event, a thunderstorm picks up, resulting in rain and lightning strikes. The rain makes everything extremely slick, causing traction issues, and the lightning occasionally targets and strikes a player is they are not out in the open. Cover is key to avoiding the storm- or you can risk the rain and attack defenseless opponents.
Low Gravity
Gravity's been turned off! Watch out!
During this event, gravity is vastly reduced. Jump height is increased, knockback from attacks is increased, and fall speed is reduced.
High Gravity
Gravity's been turned up! Watch out!
Bomb Battle
Battle time! Enjoy some explosive weaponry!
During this event, explosive items spawn at an extremely fast rate.
Heat Vision
You can see your opponents through walls! Use this to your advantage!
During this event, all players become visible through walls, enabling opponents to track each other.
String of Fate
How spicy~
Watch your partner! Your life is in their hands!
This event connects pairs of players with a red string of energy, visible across the map. Unlike the similar string found in ARMS, this does not drag the two players together; rather if one of the pair is damaged, this deals 75% of that damage to the other partner, with no status effects or knockback being dealt. Partners also share every Patch they collect.
Rudania Run
Another mode taking place within the City Trial maps, this mode takes place exclusively at night, and has the distinction of having the mighty behemoth known as Divine Beast Vah Rudania lurk among the highest peaks of the map. Sentries now roam the map, shining spotlights on the ground; if a player is spotted by a Sentry, Rudania will launch a powerful volley of fireballs on them, killing anything in that player's radius if they are not under cover.
The end goal of this mode is to find the randomly spawning cannons found across the map, using them to fire cannonballs at Rudania and depleting its HP. The Divine Beast has 30 HP by default, and every cannon shot takes 1 HP away. Occasionally, golden cannons may spawn, which require a larger charge time as well as summon a beacon to inform other players of the cannon's location, but if a shot is fired, it deals 3 damage. At 15 or lower HP, Rudania will become more aggressive, using more attacks and spawning more Sentries.
Every player gains 1 point for normal cannon shots, 3 for golden cannon shots, 3 for being the shot that brings Rudania down to half health, and 5 for being the shot that defeats the Divine Beast. The player with the most points by the game's end wins.
Salmon Run
Salmon Run mode teams 4 players with each other in an attempt to stave off a horde of Salmonid and Boss Monsters. Defeating Boss Monsters will cause them to drop Golden Eggs, which must be carried to a central drop point in the center of the map. Map events periodically shift the game and affect how people play, and all the while, a quota per round mandates that the team collect a specific number of eggs to win, based around the difficulty setting.
Mr. Grizz hosts this mode.
Boss List
Name
Description

Springtron Replica
FILE
A cybernetic organism built in the image of a famous fighter from its home dimension, Springtron is an agile fighter with extendable arms and fire-based weaponry implanted in its gloves. This seems to be a mass-produced model, with all the power and abilities of the true Springtron but with vastly inferior durability due to cheap materials. They still manage to pack a punch, and the original's dreaded shockwave attack remains in full capacity. Corner the replica so it has nowhere to escape before destroying it.----

STRATEGY
Springtron Replicas dart back and forth to avoid combat, extending their arms to attack from afar. Their punches are fire-elemental and are capable of knocking down those they strike, leaving them vulnerable. Periodically, the replica will pause their typical pattern and begin charging a shockwave before emitting it. This shockwave deals no damage, but will paralyze anybody caught within. The charging period is an ideal time for the player to strike the replica, as it will not dodge attacks. Springtron Replicas only have a little HP, making them easy to defeat when cornered successfully.


Heavy Flamefighter
FILE
Eggman Enterprises developed this robot both as a weapon and as a public service tool to throw off detractors and enemies from realizing their true purpose. Equipped with high-pressure water cannons, Heavy Flamefighters use their tools to both combat fire and combat Sonic. These Flamefighters were repurposed by the Guard as service androids, but they seem to have gone on the fritz.----

STRATEGY
Heavy Flamefighters hover in the air, targeting one player at a time and firing high-pressure water blasts at them. They are usually surrounded by a shield, but if another player strikes them from behind, their jetpack will fail and they will crash to the ground, vulnerable and open to attack. The Flamefighters can still deal massive damage to targets due to the force behind their attacks, so fighting them 1-on-1, is almost always a loss for the player.


Nymphic Pheromosa
FILE
A specially-bred variant on the Alpha-class Dimentiform referred to by our scientists as Cancrelove, though it is commonly named after its home dimension's designation of "Pheromosa". Nymphic Pheromosa was bred as a weapon of warfare, trading offensive power for the additional traits of natural camoflage and the unique and destructive psychic abilities known as "Vision Twofold", retaining the speed and accuracy the original creature possessed as an assassin. These entities, under orders from Genetic Advisor [NAME REDACTED], who also supplied genetic material for the creatures, has sent them out to test their capabilities.----

STRATEGY
Nymphic Pheromosa have the capability to turn invisible, and typically stalk a player before quickly darting in for an ambush, then disappearing again. While invisible, their shadows can be seen darting about, leaving alert players able to surprise them and take down their small amounts of health easily. Be warned, however, as their Vision Twofold can be channeled into a very deadly suicide attack, which summons a blue-and-red sphere around them that does massive damage to everything it touches. Be careful!
Contractual Obligations
Hoard Mode
Battle Party
Characters
Full Roster

2B

Phosphora

Max Brass

Ringabel

DIO

Waka

Metal Sonic

Sombra

Lusamine-U

Gunvolt

Black Mage Evilwizardington

Ray

Xefros

Maya

Magnet Bomber

Wizzro

Fjorm

Pyra
Default
Name
Description

2B
YoRHa No.2 Type B (Battle)
FILE
A sword-wielding android operating under the YoRHa militia as an infantry unit. Like all androids in her line, she serves the remnants of her world's humanity in an effort to reclaim Earth from a horde of mechanical lifeforms, having taken over by some means. This unit, referred to as "2B" by herself and by the Guard out of simplicity, wields a vast arsenal of bladed weaponry as well as an automated combat drone. Her combat prowess is vast, and while she is not hostile unless threatened, she still represents a safety hazard.


THREAT LEVEL: DANGER

----

PLAYSTYLE
2B is less reliant on her abilities than most, preferring to act as a combo-oriented character that utilizes her basic attacks in chains for maximum efficiency. She possesses the Pod as a ranged weapon with machine gun fire, and as it is autonomous, she can freely move while firing, enabling her to focus down one target while firing at another. 2B is a very technical character, so newcomers may be offput at first, but players with intense concentration- or those who've played her game- will be right at home. While 2B is powerful, she does have one major weakness in terms of her customization factor. 2B possesses a unique Chip called the YoRHa OS, which takes up space in her Deck and cannot be removed under any circumstances, as she would perish otherwise.

---

ABILITIES


Charge Attack- 2B summons her heavy blade and charges for as long as the button is held. When the button is released, she dashes forward, swinging the sword in a wide arc do deal heavy damage. The more she charges, the farther she dashes forward when released.
Pod Blaster- Utilizing the Pod, 2B fires a long, thin beam in the direction she is aiming. The beam deals heavy damage and can inflict Knockdown on opponents when hit.

Flight Unit

- 2B's Infinity. Utilizing a Flight Unit, a large jetpack-like contraption, the player takes to the skies, temporarily able to rain down machine gun fire and missiles without repercussion. After a short period, the Flight Unit explodes, and 2B safely jumps back down to the battlefield.

Self-Destruct

- A secondary hidden Infinity, this move can be triggered at any time with a special button combination. This ability causes 2B to explode, reducing her HP to 1 and leaving her in a defenseless state while dealing extremely heavy damage to everything around her. A last-resort move.


Phosphora
Goddess of Lightning
FILE
Phosphora is her world's "goddess of lightning", a deity-class individual with the power to manipulate, summon, and take on the form of electricity. She has no real alliances and seems to be working with Viridi, the "goddess of nature" that resides in her world, merely in order to keep housing as well as out of kinship. She has no real goals and is effectively an aimless drifter, which may be how she found access to the Vortex. At any rate, her power level alone deems her a threat, along with all other deity-class individuals. Take down on sight at all costs.


THREAT LEVEL: PRIORITY

----

PLAYSTYLE
Phosphora is what can loosely be defined as a "bullet hell" character- she zips to and fro across the battlefield, firing a multitude of various projectiles at her foes that, while weak individually, can quickly overwhelm a target if they are not careful. Phosphora has very low defense and health, and can be defeated easily if she cannot easily evade a foe. In addition, her greatest source of power stems from chip damage via projectiles and melee- as a result, she has no truly strong moves.

---

ABILITIES


Thunder Dash- Phosphora transforms into an electric current and dashes forward, phasing through objects and barriers. Deals minor damage and Stuns enemies she contacts.
Ion Scatter- Fires a gatling gun-like barrage of electric shots out in a cone that spreads as the move goes on. Each shot deals minor damage but the sheer amount of them can overwhelm opponents.
Lightning Blast- Phosphora fires a shotgun-like blast of electric pellets forward with a shockwave. The shockwave can inflict Stun on opponents, and the pellets will fly forward while slowly losing momentum, eventually stopping and exploding at the end of their path.

Goddess Storm

- Phosphora's Infinity. After charging energy for a short period, Phosphora begins glowing with radiant electricity and spinning in circles. This creates a flurry of small bullets that strike and destroy everything in her general vicinity. Phosphora can slightly move herself while spinning, and every bullet is guaranteed to inflict Stun.


Max Brass
The Commish
FILE
Maxwell Brass is the commissioner of the ARMS League, a combat tournament held in his world for the individuals who suffer from a condition known as ARMS, short for Acute Recoil Mutation Syndrome. This condition seems to absorb aspects of the victim's environment and transform parts of their body into long, coiled, stretchy material; in Brass's case, his arms have transformed into leather championship belts, which he bears as a mark of pride. While Brass is boistrous, loud, and egotistical, and despite his impressive physical capabilities, he ultimately only fights for sport, so Guard agents should leave him alone unless alternate conditions arise.


THREAT LEVEL: NON-THREAT

----

PLAYSTYLE
Max Brass plays how one who has played his hone game should expect. He is an extremely bulky heavyweight character who combines melee and ranged attacks into one via his extremely stretchy arms, relying on power more than a rapid punch rate. He has three gloves that he can freely swap between for each individual hand: the Nade, a fast glove with exploding properties, the Roaster, a stronger mid-speed glove with darkness properties, and the Kablammer, a slow but powerful hammer that also shares explosive properties. Max Brass is powerful, but his attacks come slow, so players need to ensure every strike counts. To ensure the player has some assistance if they aren't too good at aiming, Max can also bulk up at will by performing certain actions. Bulking up makes him immune to flinching, meaning he can take hits and line up punches with ease.

---

ABILITIES


Left Arm- Max cycles to the next glove in the rotation for his left arm.
Right Arm- Max cycles to the next glove in the rotation for his right arm.
Shockwave- Emits a split-second shockwave that acts like an attack parry, negating most melee attacks and many projectiles.

Rush

- Max Brass's Infinity. This stat boost temporarily increases not only the power of his punches, but causes them to extend and retract far quicker than usual. This enables him to unleash a massive flurry of punches onto a single target in a short period, dealing massive damage.


Ringabel
Amnesiac Dark Knight
FILE
"Ringabel" is the alias by which this individual prefers to go by; in truth, his name is Alternis Dim, and he is not only one of the greatest heroes that his world possesses, but also the bearer of a strange artifact that allows him to utilize his own life force as a dark weapon. This artifact is known as a "Dark Knight Asterisk", and has been classed as a Beta-level contraband item. "Ringabel" puts on a suave and charming personality the vast majority of the time, but Guard agents be warned; Dim is a covert member of the Planeswarden organization, a rival group who seeks to tear down the Guard by any means possible. Attack on sight if possible.


THREAT LEVEL: DANGER

----

PLAYSTYLE
Ringabel is an agile character who utilizes the sword Darkbringer as his main weapon. He's not overly strong or defensive, but is quick and has high amounts of both varieties of health. The reason for his high HP comes from his Dark Knight skills, which take up his special abilities. Under normal circumstances, his specials have very little cooldown time, but have the extra cost of draining Ringabel's health as a cost. Cautious usage of these special moves is the key to victory while playing as Ringabel, and so is dodging attacks at all costs. However, his Infinity, Life or Death, negates the health cost for a short period, allowing the user to spam these abilities without cost.

---

ABILITIES


Dark Bane- Ringabel fires a strong sniper-like shot of dark energy from his sword. Absorbs 10% HP.
Black Bane- A far more powerful close-range attack, this ability works like a strong shotgun blast of energy. Absorbs 30% HP.
Absorb Magic- Ringabel sheathes his sword while blocking incoming attacks, creating a swirling darkness shield. Any projectile that hits the shield is absorbed and refills his health. The shield has a resource meter that drains the longer it is held.

Life or Death

- Ringabel's Infinity. Imbued with a dark aura, the abilities Dark Bane and Black Bane lose their HP-absorbing aspects, and their cooldown is reduced. This enables the user to spam the moves as much as they want as long as the buffed state remains.


DIO
Vampiric Stand Master
FILE
Birth name Dio Brando, DIO is an extremely powerful individual with a truly massive amount of power at his disposal and a thirst for blood, quite literally. Accounts state that the man was born into poverty and taken in by a family called the Joestars, and during his teen years, attempted to poison his adoptive father in an attempt to inherit the Joestar fortune. After this attempt failed, Dio became a vampire through exposure to the Alpha-level contraband item referred to as the Stone Mask, granting him immense power. Across the years, DIO has also gained the ability to summon a spiritual entity referred to as a "Stand", being specifically called "The World" by its master. Between his vampiric abilities, The World's ability to temporarily halt the flow of time, and the man's general bloodlust, DIO has become one of the few mortals to have actually been classed as a deity-level figure. Detain on sight.


THREAT LEVEL: PRIORITY

----

PLAYSTYLE
DIO is a force to be reckoned with in both offense and defense, utilizing both his vampire abilities and the raw physical might of The World to decimate his foes. His attacks have long amounts of reach most of the time, and by using his Stand as a shield and summoning it with his Stand Gauge mechanic, he can take many a hit without damage. DIO's primary weaknesses are his speed and his inherent stylishness; many of his moves are powerful and have wide areas of effect, but the animations are long and leave plenty of time for them to be dodged. While DIO does actually possess the ability to teleport freely and glide short distances, his actual walking and running paces are quite slow, meaning many characters can outrun the deadly vampire.

---

ABILITIES


Space Ripper Stingy Eyes- A laser-like technique where DIO fires a beam of pressurized fluid from his eyes. Takes a bit to go off, but the beam deals decent damage and is able to pierce through terrain.
Vapor Freeze- Draining thermal energy from his hand, DIO releases a powerful punch that is capable of inflicting Freeze. Grants superarmor until the punch is thrown.
Stand Out/Stand In- Toggles whether or not The World is currently active. While it is on, DIO has access to its alternate moveset and it will take damage for him, draining from the Stand Gauge, but while it is off, the Stand Gauge refills and DIO uses his normal moveset.

The World

- DIO's Infinity. Summoning The World, he uses its power to stop the flow of time for all opponents as well as the environment for a time span of 9 seconds. During this time, objects and opponents all suffer from the Stasis status effect.


Waka
God's Gift to Man
FILE
Waka is supposedly the final surviving member of his race, the Moon Tribe, who were killed in a massive battle that once took place in his world. Since then, the man has wandered the world, sharing prophetic "visions" and generally just spending his time idling. He is incredibly flamboyant and generally seen and friendly and non-threatening, but he possesses keen swordsmanship as well as great knowledge of ancient abilities known as "Celestial Brush Techniques". Waka will most likely never be a source of conflict due to his pacifistic nature, but it is wise to watch him regardless.


THREAT LEVEL: NON-HOSTILE

----

PLAYSTYLE
Waka's graceful style of combat lends well to aerial tactics, and as such, his combat style is built around aerial strikes. He passively possesses the ability to glide and hover around by holding jump, and can even perform his dagger-throwing and slash attacks while doing so. His choice of footwear makes his running a tad slow, but he can also climb walls to evade his foes as well. Waka's special abilities are based on his home game's Celestial Brush Techniques, which are powerful abilities that take a bit of channeling time, but act extremely well as airstrike-like attacks.

---

ABILITIES


Vine- Using a vine summoned from nowhere, Waka latches onto and grapples towards the nearest ledge.
Fireburst- Waka draws an infinity symbol on a chosen location, spawning a small sun there that deals rapid damage to everything in the area for a few seconds.
Thunderbolt- Waka draws a lightning bolt on a chosen location, summoning an identical bolt to strike the area a few seconds later. The bolt is powerful, and inflicts Stun on those around the blast zone.

Power Slash

- Waka's Infinity. Drawing a horizontal line across the screen, Waka releases a powerful strike that hits every enemy that the lie passed through for massive damage and heavy knockback.


Metal Sonic
Mad Metal Overlord
FILE
One of the many inventions of renowned scientist Doctor Ivo "Eggman" Robotnik, this is the latest version of the android known as "Metal Sonic", a robotic duplicate of a being from Robotnik's home dimension. Metal Sonic is extremely advanced, possessing incredible technological abilities as well as a Copycat system, which enables him to slowly learn the abilities of any opponent he faces with repeated trials. Metal Sonic seems to have autonomous thinking from Robotnik, so his extensive power levels make him a grave threat.


THREAT LEVEL: THREAT

----

PLAYSTYLE
Just like anything built in the image of Sonic would be, Metal Sonic is extremely fast. His melee range is rather short and he is only able to strike things very, very close to him, but his speed and flight enable him to rush down single opponents and beat them to death quickly with his fast melee attacks. Metal Sonic has extremely high momentum-based gameplay, meaning he might be hard to control for many players, but those who know how to exploit his interesting physics can use his powers to make deadly hit-and run maneuvers.

---

ABILITIES


Spark Ring- Strike the immediate area around Metal Sonic with an electric pulse. Deals heavy knockback and makes Metal Sonic unable to attack for a few seconds after discharging. Ideal for a finishing move.
Black Shield- Surrounds Metal Sonic with a black crystal that deals contact damage. The shield remains up for a short time, but while active, Metal Sonic can't move. However, he retains all of his momentum and glides forward using the shield, enabling for some creative bouncing attacks.
Boost- Dash forward with jet engines in a quick burst, dealing heavy damage to those Metal Sonic rams into.

Metal Overlord

- Metal Sonic's Infinity. Temporarily transforming into the gargantuan Metal Overlord, he becomes massive in size and strength, having all of his abilities upgraded as well. The largest downside to this form is that his size prevents him from entering certain areas; however, the form is so powerful that nowhere is truly safe.


Sombra
Agent of Talon
FILE
Sombra's identity could not be tracked- she has deleted all traces of it from her world's data banks. As such, we can only go off of what we know; she is a hacker who works under terrorist organization Talon, though appears to have a modus operandi of her own lying in wait. Despite being a normal human with low-level cybernetic augmentations, she is incredibly dangerous due to her level of intellect alone, and seemingly discovered the existence of both the Vortex and the Guard long before we did her. She now seemingly aims to topple our organization- Sombra is a major threat not to the multiverse, but to the Guard specifically.


THREAT LEVEL: DANGER

----

PLAYSTYLE
Sombra is not a character meant to be in the thick of the action; she's below-average in her defensive capabilities, offensive damage output and maneuverability. However, her primary gimmick is stealth and ambush attacks. Using her power to turn invisible, she can sneak up behind enemies and use her Hack ability to deactivate their special abilities, reduce their stats, and make them generally more vulnerable, leading to a more balanced fight in her favor. For offense, she does possess a custom submachine gun, but generally it's wise to Hack an enemy to weaken them first.

---

ABILITIES


Thermoptic Camo- Sombra turns invisible and gains a speed boost for a short time. Her cloak is disabled early is she shoots, is attacked by an enemy, or utilizes an ability other than Hack.
Hack- While playing as Sombra, small reticles may automatically target opponents within range. Holding down the Hack button while one of these reticles is up causes Sombra to hack them, reducing all their stats and preventing them from using abilities for a short period.
Translocator- Sombra throws a small grenade that sticks to walls. Utilizing this ability again within the next 15 seconds causes Sombra to warp back to where the grenade stuck, emitting a shockwave that can Stun enemies.

EMP

- Sombra's Infinity. The player charges up energy and emits a massive shockwave around themselves, which instantly hacks any opponent within range for a longer duration than normal.


Lusamine-U
Corrupt Aether President
FILE
Lusamine is the president of the Aether Foundation, a noble group dedicated to wildlife preservation within her homeworld. However, this appears to be an alternate universe incarnation of the woman, who succeeded in her plans to enter a pocket dimension where the prime Lusamine failed. Becoming the effective master over the Alpha-class Dimentiform referred to her as "Nihilego" and by her world's network as "UB-01", her dreams of spending a lifetime with her ideal of perfection have lead to her roaming the universe with the dimension-hopping beast. UB-01 is the primary threat here and should be contained if given the chance, but overexposure to the beast's genetic code has also augmented Lusamine. Be wary of both targets.


THREAT LEVEL: DANGER

----

PLAYSTYLE
Lusamine, having absorbed genetic qualities of Nihilego after extreme exposure to Ultra Space, has inherited some of its abilities and is able to utilize them when in close proximity to the Ultra Beast. She acts like a sniper character, utilizing powerful projectiles with massive range in order to catch her opponents off-guard. Her specialty is inflicting Poison on opponents, dealing damage over time. Nihilego floats behind her at all times, and effectively acts like a shield with limited HP. Nihilego can be killed temporarily, but eventually another will emerge to protect its mistress. As a normal human (and a frail one at that), Lusamine possesses very little HP and can be defeated easily without the use of Nihilego as a shield. Also take note that Nihilego needs to be alive in order to use her special abilities.

---

ABILITIES


Power Gem- Nihilego locks onto a target and summons four small gemstones, which each fire a single laser beam at the target in succession. The move is powerful, but easier to evade than one might think, making it ideal for ambushes.
Toxic Spikes- Nihilego spawns a circular reticle on the ground which the player can move about while holding the button down. Releasing the button spawns toxic purple spikes in the area inside the reticle, which both Poison and Snare opponents who walk into it.
Sludge Bomb- Nihilego spits out a bouncing ball of slime that explodes into a burst of poisonous sludge. The ball bounces off of terrain and detonates after hitting an opponent or after 3 bounces.

Acid Downpour

- Lusamine's Infinity. Using a massive acidic rainstorm, every floor surface on the map temporarily becomes toxic sludge that attempts to drown and suffocate the opposing team. The acid floor deals poison damage over time and slowly drags victims in, forcing them to continuously hop in order to escape. In addition, this move will instantly revive Nihilego if it is downed.


Gunvolt
Azure Striker
FILE
Gunvolt is an adolescent "Adept", which is a term utilized in his home universe to describe an individual capable of psychic powers. Adept powers can manifest in many different ways, and with Gunvolt, they have resulted in an ability to transform kinetic energy into electrical energy as a form of offensive power. Gunvolt is volatile and dangerous given the extent of his abilities, though time will tell if the vigilante is a noticeable threat. Examine with caution.


THREAT LEVEL: THREAT

----

PLAYSTYLE
Gunvolt is a rushdown character who specializes in taking on whole hordes of enemies all at once. His primary weapon is a small energy pistol which, while shooting rapidly, deals very little damage. However, the pistol can be charged, in which case the shot will always inflict the unique status effect Tagged to the target. Gunvolt can then use his Flashfield ability in order to deal debilitating damage very quickly to any opponents who happen to be Tagged- up to 3 opponents can be Tagged at once. The Flashfield also works defensively, providing a shield that blocks non-energy projectiles, as well as providing a hover jump.

---

ABILITIES


Flashfield- Gunvolt summons a sphere of electrical energy around him by holding down the button. This shield relies on a resource meter rather than a cooldown, and charges rather quickly. The shield is a multipurpose tool, dealing minor damage to targets inside of it as well as heavier damage to any Tagged enemy on the map, guarding against non-energy projectiles, and providing hovering capabilities.
Galvanic Patch- Gunvolt emits a burst of energy in a short area around him. This burst restores his own HP and buffs his movement speed temporarily, and provides the same benefits to allies within range.
Luxcalibur- Gunvolt summons a large blade of electric energy and slams it down in front of him. This attack deals massive damage and knockback to any target within range.

Atmasphere

- Gunvolt's Infinity. The player temporarily gains a permanent Flashfield for a short time with vastly increased power and slightly increased range. Atmasphere does not attack Tagged enemies, unlike the normal Flashfield, but its main purpose is to allow Gunvolt to push enemies out of areas he doesn't want them in.


Black Mage Evilwizardington
Warrior of Light
FILE
Despite looking like what appears to be a traditional title denoting his abilities and occupation, this individual's full name is actually "Black Mage Evilwizardington". He is seemingly harmless due to his below average intelligence at first glance, but studies have determined that he possesses very little sanity and nary a concept of morality, acting on his own whims not out of a quest for selfish gain, but merely because he finds pleasure in murder and destruction. Despite this, he has managed to become a "Warrior of Light" for his iteration of the Kingdom of Corneria, possibly due to his magical strength; being a living nexus of magic itself, to the point of it twisting his face into something non-Euclidean in nature, alongside his general lack of morals, has granted him incredible magical might. Apprehend if able to approach from behind, but DO NOT PROVOKE.


THREAT LEVEL: DANGER

----

PLAYSTYLE
Black Mages have no need for finesse or strategy, especially not this one. While playing as this nutso, your job is nothing but attack, attack, and more attack. His skills with a dagger grant him fast but very short-ranged strikes capable of inflicting Backstab, and his abilities are massive AoE attacks with varying effects. His Infinity, the Hadouken, has tremendous power and charges in comparatively little time. Evilwizardington's biggest issue is that he is a glass cannon; he takes tremendous amounts of damage from everything.

---

ABILITIES


Fire-2- An AoE burst of fire around BM. Large range, low power, knocks opponents away. Chance to inflict Burn.
Thunder-2- An AOE reticle appears, and the player is able to guide it and move it around before releasing the button to strike everything in the reticle with a lightning bolt. Deals heavy damage and inflicts Stun.
Float- An AoE reticle appears and can be manipulated similarly to Thunder-2. Any targets caught in the blast of Float are subjected to the Zero-G status, caught in the air and rendered unable to move freely or attack. This tool is ideal for rendering opponents helpless for further attack.

Hadouken

- BM's Infinity. This massive laser pierces through terrain, dealing damage to whoever it hits, friend or foe. It also charges extremely quickly for an Infinity, meaning it can be launched very rapidly. The biggest downside is that the Hadouken leaves a rather large area that broadcasts where it will strike, meaning it can be easily evaded. In addition, it has friendly fire turned on by default.


Ray
Mighty Number Null
FILE
A synthetic lifeform referred to as a "Mighty Number" constructed of a nanorobotic system known as Xel to effectively create a living robotic fluid. Ray is a failed experiment by her creator during the first draft of this technology's development, and as such is an unstable mechanism seeking revenge against the heartless creator that left her unfinished.

Ray is an extremely unstable creature, constantly seeking violence and chaos. She possesses the ability to corrupt most forms of technology with her Xel body structure, and as such should be taken as a major threat.
THREAT LEVEL: DANGER

---

PLAYSTYLE
Ray is a berserker character, meant to dive into combat and bash any and all opponents to death with her powerful melee abilities. Ray's health is constantly draining, leaving her able to take heavier damage than usual. This is remedied by the fact that her melee abilities cause her to regain health, encouraging players to stay active and in the thick of battle for maximum sustainability. She also has a wide array of pursuit options to chase down unsuspecting prey.

---

ABILITIES


Pyrogen Smash- A massive fiery clap that generates a series of explosions in front of Ray. Deals extreme damage in a very close range of effectiveness.
Seismic Drill- Ray fires a drill on a chain forward as an attack. Deals damage and latches onto both terrain and opponents, pulling Ray closer to the object it latches onto.
Aviator Scan- Hold down the button to generate a slowly expanding radius around Ray. Every valid target for attack appears blue inside the radius; release the button to have Ray dash into and attack every highlighted object. Smaller radius results in less cooldown.

CounterCloak

- Ray's Infinity. Utilizing advanced technology, Ray temporarily turns invisible. This allows her to sneak behind enemy lines and create deadly ambush attacks; the cloak lasts potentially forever and only ends when Ray attacks.


Xefros
Rustblood Pusher
FILE
This teenaged alien is a member of a race referred to as both "Alternians" and "trolls", and as his blood is a dark red coloration, he is considered a member of one of the lowest castes in his world's society. This has lead him to become entangled in a rebellion by the lower castes to strike down the Heiress, the fuschia-blooded teenage ruler of Alternia. Xefros, despite his desire to help others, suffers from pacifism, low self-esteem issues brought on by an abusive relationship, and his burgundyblood telekinetic powers are remarkably weak. Do not engage, as target is not hostile or threatening.


THREAT LEVEL: NON-HOSTILE

----

PLAYSTYLE
Xefros is not an inherently strong fighter, and is more of a support character to teammates and a hinderance to enemies via one primary ability- his rustblood telekinesis abilities. He is able to propel allies up to great heights via a telekinetic lift, disrupting enemies and knocking them away with the same ability, and is also able to halt projectiles mid-flight if they come near him. His greatest actual offensive ability comes from his Alternian cuebat, a powerful bludgeoning weapon that despite its long wind-up time deals extremely high damage.

---

ABILITIES


Toss-Up- A field of psychic energy is generated around Xefros, lifting him and anything around him into the air. Opponents are also thrown backwards and stunned by this move, while allies are merely lifted.
Hold-Up- Generates a psychic field around Xefros that deletes enemy projectiles that enter it. The longer the button is held, the longer the field is held up and the longer the cooldown will be after it is released.
Bang-Up- Use Xefros's psychic abilities to launch a small bent spoon forward quickly. The spoon ricochets off of terrain and objects, building power with every ricochet.

Slam Poetry

- Xefros's Infinity. Playing a sick background beat, Xefros starts performing a sick round of slam poetry. It's... not all that great, to be frank. But hey, at least Xefros's teammates seem to be motivated by it, as being near him while the song plays grants a bonus to attack power.


Maya
Parallel Entity
FILE
Maya is an example of what is known as a "malformed" universe, a splinter timeline forged when a strange event occurs within a universe to drastically change the route it takes. Maya at first seems like a powerful, near-Amazonian warrior figure, eager to help those in need, but she occasionally has "flashbacks" to being a man in another universe; Maya's timeline is a malformation of the universe Sombra is native to, and she herself is a malformation of famed archer Hanzo Shimada. Maya sees herself as a hero and does not aim to harm anyone, but her status as a malformation makes her an extreme risk to existence outside her own timeline. Bring her in.


THREAT LEVEL: DANGER

----

PLAYSTYLE
As expected of a malformation of Hanzo, Maya plays almost identically to the Overwatch character. A sniper character who utilizes a bow, she is capable of climbing up walls in order to gain an ideal sniping perch, though she is frail and ineffective in close-quarters. She essentially possesses all of Hanzo's skills; players who have played him in his home game before will be right at home.

---

ABILITIES


Scatter Arrow- Maya fires an arrow that seperates into three smaller projectiles on contact with terrain. These projectiles bounce around terrain for a few seconds, harming enemies on contact.
Sonic Arrow- Maya fires an arrow that emits a sonar pulse on contact with terrain. This pulse inflicts Reveal on enemies caught in it, letting them be seen through walls.
Snake Arrow- Maya fires a poison-tipped arrow. The attack deals more damage than her usual arrows and inflicts Poison on contact, slowly draining the target's health.

Ancient Spirits

- Maya's Infinity. Charging energy, she fires an arrow that transforms into a pair of intertwined snake spirits after a few frames. These snake spirits travel through walls and deal rapid damage to enemies, but the arrow can be deflected, turning the tide back on Maya.


Magnet Bomber
Dastardly Magnetic Arsonist
FILE
Magnet Bomber, despite his diminutive size, is a powerful cybernetic individual who forms part of the terrorist organization known as the Dastardly Bombers. Magnet Bomber is considered the lowest level member of this group, and is among the weakest; despite this, his high-level magnetic manipulation abilities and the sheer rage this robot can display makes him a deadly threat. This is not to mention the near-infinite supply of bombs he is able to somehow carry. Guard members are instructed to keep an eye on Magnet Bomber, as he presents a very real danger to civilians if left unchecked.


THREAT LEVEL: THREAT

----

PLAYSTYLE
Magnet Bomber is a zoning character meant to herd or separate opponents by means of their explosive or magnetic abilities. He is able to lay down bombs and then perform various attacks on them to affect them; he can remotely detonate them, pick them up to throw them, kick them to send them flying, or use his Magnetic Pulse on them to make them hunt down enemies for a short time. He is reliant on his bombs, to the extent it could be detrimental to play without using them.

---

ABILITIES


Bomb Throw- Magnet Bomber throws a bomb that explodes a few seconds later. Using this move nearby a bomb lets him pick it up and throw it again.
Magnetic Pulse- Magnet Bomber jumps up in the air slightly and blasts a large shockwave of electromagnetic energy around him. Opponents who are hit by this attack are inflicted with Break, and bombs in the pulse's radius are magnetized and begin to quickly home in on opponents.
Kick- Magnet Bomber performs a sweeping kick in front of him, damaging opponents. This kick also launches any bombs it hits forward as extremely fast projectiles that explode on contact.

Iron Gauss

- Magnet Bomber's Infinity. The player pulls out a large silver bomb with a crab symbol on the side and is able to throw it like a normal bomb with a very slightly longer fuse. Upon detonation, a large metallic claw falls from the sky and punches the bomb, causing it to emit a large shockwave. The claw deals heavy damage on contact, while the shockwave Paralyzes opponents and leaves them open for attack.


Wizzro
Accursed Artifact
FILE
Despite the organic appearance, the organism known as Wizzro is not actually an organism. Rather, it is an Omega-class contraband item we have tentatively coined the Red Ring, an object capable of consuming souls and merging them into the organism that refers to itself as Wizzro, gaining more power the more souls it harvests. Wizzro itself is a powerful dark mage, capable of summoning eldritch creatures to serve its will, and without a master holding the ring hostage, presents a very real threat to everything around it. Obtain the ring at all costs.


THREAT LEVEL: DANGER

----

PLAYSTYLE
Wizzro is both a support and offense character who is based around the concept of draining life from his enemies. His bullet hell-like projectiles drain away HP from his foes bit by bit, and he can then expend the stolen health on himself or cast it onto the body of an ally to revive them on the spot. He's not a very fast character, but he is tanky, and can summon eldritch creatures to serve as an offensive backup and guard him while he heals.

---

ABILITIES


Roto-Shot- Wizzro spins around, firing projectiles from his hands as he does so. Like his normal projectiles, these steal HP and give it to Wizzro to expend at a later date. The projectiles are not very strong.
Dark Restoration- If used with a fallen ally nearby, Wizzro expends all of his stolen HP to revive the target with however much HP he had previously stolen. If used without a target, Wizzro instead heals himself using the stolen health. Longer animation can leave Wizzro potentially vulnerable.
Summon- Wizzro summons two Eldritch Horrors, servants that seek out enemies and rush at them with their gnarled teeth. The Horrors deal heavy damage but have very little HP themselves, and are more or less meant to act as temporary distractions to help Wizzro's survival.

Dark Awakening

- Wizzro's Infinity. Triggering this ability causes a purple circle to expand from Wizzro's location as he bleeds a puddle of darkness, Eldritch Horrors leaping out of it to deal heavy damage. The circle cannot be escaped once entered, and being inside restores HP of allies and drains it from enemies. After a short time, Wizzro explodes with dark energy, emerging from the ground after destroying the circle.


Fjorm
Princess of Nifl
FILE
Fjorm is one of the two rulers of a kingdom named Nifl, who seemingly fled to the Vortex due to being pursued by a malevolent warlord who destroyed her kingdom, and is unsure where she is or what has happened to her friends. This is merely according to interrogation; out searches have found no trace of any "Nifl", nor can we take anything this woman says at face value. Even her memory seems to have been wiped by some outside force. We have allowed to Fjorm to remain a free woman while she remains in her compound; despite her strange magical powers and weaponry, which we have also been unable to track down the source of, she is completely willing to go along with requests.


THREAT LEVEL: NON-HOSTILE

----

PLAYSTYLE
Fjorm is a support character who utilizes her Ice Mirror abilities to shield her allies and herself from attacks and projectiles, turning major assaults back at the enemy in one fell swoop. Though she wields a spear, the mystical weapon actually has the propety to extend vast distances, making her lunges almost like a sniper weapon in practice. She also possesses generic ice magic, used to freeze enemies in place and leave them vulnerable. Though a strong support, Fjorm is not the best character for direct confrontations.

---

ABILITIES


Ice Mirror- Fjorm summons a clear sheet of ice in front of her that remains in the air for a short period. The mirror reflects all enemy projectiles back at the user, and negates physical attacks outright.
Winter Breath- Fjorm blows a kiss forward, summoning a puff of diamond dust that both heals allies and raises their defenses. Deals minor damage over time to enemies caught in the cloud.
Ice Spires- Fjorm creates a line of ice spikes in front of her that extends until it hits a wall, with every segment eventually breaking in turn. The spikes do not deal damage, but act as a wall that prevents enemies from going past it, while allies phase right through the spikes.

Ice Armor

- Fjorm's Infinity. Channeling for a few seconds, Fjorm then releases a burst of ice magic across the map, covering all of her allies in ice armor. The armor renders her team immune to a decent amount of damage, taking all damage until the ice's HP is exhausted and it breaks off.
NPCs
Name
Description

Esna
Water Spirit
A meek and gentle water spirit plucked from an offshoot timeline from her own universe, where she remained the last of her species and never met an individual necessary to her continued survival. Guard agents were sent out to retrieve her, and she has remained in our custody for two years since her retrieval. Kept in top condition but unable to leave the confines of her habitat, she's taken the habit of monitoring the battles across the Vortex and offering her own words of encouragement.----

Esna effectively acts as the player's co-pilot in story mode as well as a commentator for normal multiplayer modes, commenting on the action and doing her best to cheer players on. Her commentary will occasionally alude to her own thoughts and emotional state, revealing her current trapped situation and feelings of loneliness.


Biff
Energetic Robot Commentator
A robotic organism who seems to have a close connection to that of Maxwell Brass, seemingly having a romantic connection of unknown definition. Biff is a commentator over various combat sports, and has arrived in Guard HQ specifically to ask to commentate. We saw no issue with this, and he has been allowed to commentate the conflict seemingly for fun.----

Biff is a more multiplayer-oriented commentator, managing the menus as well as commentating over multiplayer matches alongside Esna. Biff also has more of a role in the story mode, acting as a player ally.


Mr. Grizz
Anonymous Black Market Manager
The anonymous Mr. Grizz has never been seen, but we've found and destroyed many of the strange wooden radio devices he uses to communicate across space, as well as many of the man's highly illegal creations. These include the Grizzco Blaster, an Alpha-class contraband item with immense power. Grizz's self-run company, Grizzco, seems to thrive off of such illegal activity, meaning the man stays as elusive as he can. All evidence towards Grizz's capture will be rewarded.----

Mr. Grizz is the commentator and manager of the Salmon Run mode, and is also implied to be behind the existence of many contraband items including the Grizzco Blaster.


Oru
Timespace Oracle
"Oh, hello there! My name is Oru! I'm what you might call an oracle, and I use my miraculous powers to see through space and time and predict things! Of course, that sort of got boring after a while, so now I've decided to have a little fun and sell some of my special cards to you all. I hope you enjoy browsing my wares!"----

Oru runs the shop that sells Cards, which are equippable artifacts that bestow passive attributes on characters and allow for customization options. He also runs the Oru Tester, which is a simple minigame that measures the (false) romantic or platonic bond between two unlocked characters.
Items
Various forms of contraband that can be found in the Vortex. Items come in four tiers, which can be activated or deactivated individually or manually adjusted to toggle specific items.
Gamma-tier Items are stat-modifiers, which either boost or otherwise adjust the stats and abilities of a character.
Beta-tier Items are weaponry, and can be picked up to be used against opponents until they run out of energy.
Alpha-tier Items are incredibly powerful, and are comparable to the Smash Ball or Dragoon from Smash Bros. in terms of raw power. Very rare unless they have their intensity turned up.
Omega-tier Items are items which have their own modes and fighting styles dedicated to them. Though they do not appear in normal matches, they will be described here regardless.
Gamma
| | |
| --- | --- |
| Name | Description |
| Food | A generalized terminology for any edible matter that comes from any universe. It heals the user based on the food's calorie count. Higher calorie foods restore more health. |
| Couple's Cake | A fancy cake meant for wedding couples. In normal modes, this is merely a Food item that restores a greater amount of health than normal. However, in battles with Teams turned on, this item will restore health to every person on the user's team. |
| Golden Rose Perfume | A fragrant metallic perfume sold by a famous actress, acting as her signature scent. Picking this up grants the user the STYLISH status for a short time, which enables them to float in the air while midair dashing. This also generates a small forcefield that slows down most attacks to a crawl, allowing the user to dodge with ease. |
Beta
Alpha
Omega
Poll
What do you think the game should focus on!
Past Polls
Who is your favorite out of the starting six characters?

2B- 1
Phosphora- 2
Max Brass- 0
Ringabel- 3
DIO- 2
Waka- 1