Yeah, I kind of agree. -- Lumoshi (talk) 02:00, September 3, 2014 (UTC)
Notice
Congratulations! Your Smash Bros. game, better known as Super Smash Bros. Havoc, is part of the final 20 candidates for my Top Ten Fantendo Super Smash Bros. Games! Be sure to reply soon for approval of your possible spot on the list! Thank you!

I'm corrupted, yet alive.

Community Draw
I've been doing this thing called Community Draw, where I say what fanon character to draw and people draw it.
This week's character was Speedy, if you want to see all the speedies click on this link
Questions
I have 2 questions for you. One, are you ever going to continue Super Smash Bros. Havoc? And two, can I use Speedy in Fantendo Brawlers?Matthew the great! (talk) 02:10, January 27, 2015 (UTC)
Celebration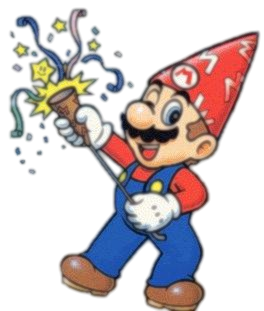 Happy boopday Jasper!

I'm corrupted, yet alive.

My Bad
I didn't know about the badge protocol- I had no intent of getting badges whatsoever. I apologize for unintentionally alarming you. SupremeKibitoKai
Roster Evolution
Could you please put in your roster for my game? Thanks! LaserVP7 (talk) 20:11, March 14, 2015 (UTC)
happy birthday
hey, i was looking back at old games and shit and came across one of ur old ones that id always been pretty into a few years back. im not even that educated on the mario series at this point but i want to do a bit of fan game contribution so i figured it was worth a shot - could i adopt super mario world: wii? jw, ~ TechBreloom (Talk)
ya np TechBreloom (Talk)
Dude-- I need your roster for the next round. I know you are here, I just saw you in the chat room LaserVP7 (talk) 23:02, March 22, 2015 (UTC)
Hey,  you have been selected as a jury member #3 in LaserVP7's Roster Elimination game. Come one over and vote for the Winner LaserVP7 (talk) 00:27, April 2, 2015 (UTC)
Add me to your Wii U
My Nintendo ID is MegamanX20100. The brackets are about to be made for this weekend's Smash tourney.
Star Warrior Terra (talk) 17:21, March 27, 2015 (UTC)
Hey Jasper.... I have a feeling that you may not be ok with this and that you may say no. But I'm gonna take a gamble and request this.... I know that you were one of the people that called me out on the skimply dressed girl cosplaying as Mario... so I wanted to ask if you can help the character look more appropriate by editing it in Photoshop. I tried to do it myself in Paint.NET, but its completely failed. I don't know of anyone else to ask anywhere about it, and you came into mind because you were one of the first to call me out on it. Can you please help? If not its alright. Please respond ASAP. Thanks in advance! I'm a kid with an afro... what else did you expect? (talk) 03:55, March 31, 2015 (UTC)
It's all good! Thanks for responding, and don't worry I'm determined to make that character look more appropriate for the F-Zero universe! Although.... the midriff may stay... but the clothes will be fixed somehow! I'm a kid with an afro... what else did you expect? (talk) 04:07, March 31, 2015 (UTC)
Hey
Um, wikia is glitching on me again when I try to make blog, can you fix it?
Werewoof16 (talk) 12:13, April 6, 2015 (UTC)
Warning Response
I'm sorry for doing that to Doodlefox, I won't flame at users again... Should I send him an apology message?
I feel like it is the right thing to do.
Werewoof16 (talk) 23:32, April 14, 2015 (UTC)