Yeah, I kind of agree. -- Lumoshi (talk) 02:00, September 3, 2014 (UTC)
Notice
Congratulations! Your Smash Bros. game, better known as Super Smash Bros. Havoc, is part of the final 20 candidates for my Top Ten Fantendo Super Smash Bros. Games! Be sure to reply soon for approval of your possible spot on the list! Thank you!

I just need a little bit of love...

Community Draw
I've been doing this thing called Community Draw, where I say what fanon character to draw and people draw it.
This week's character was Speedy, if you want to see all the speedies click on this link
Questions
I have 2 questions for you. One, are you ever going to continue Super Smash Bros. Havoc? And two, can I use Speedy in Fantendo Brawlers?Matthew the great! (talk) 02:10, January 27, 2015 (UTC)
Celebration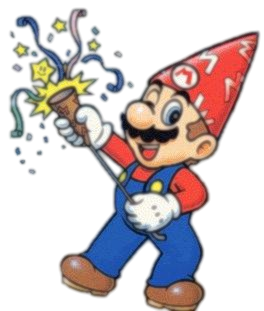 Happy boopday Jasper!

I just need a little bit of love...

My Bad
I didn't know about the badge protocol- I had no intent of getting badges whatsoever. I apologize for unintentionally alarming you. SupremeKibitoKai
Roster Evolution
Could you please put in your roster for my game? Thanks! LaserVP7 (talk) 20:11, March 14, 2015 (UTC)
happy birthday

hey, i was looking back at old games and shit and came across one of ur old ones that id always been pretty into a few years back. im not even that educated on the mario series at this point but i want to do a bit of fan game contribution so i figured it was worth a shot - could i adopt super mario world: wii? jw, ~ TechBreloom (Talk)
ya np TechBreloom (Talk)
Dude-- I need your roster for the next round. I know you are here, I just saw you in the chat room LaserVP7 (talk) 23:02, March 22, 2015 (UTC)
Hey,  you have been selected as a jury member #3 in LaserVP7's Roster Elimination game. Come one over and vote for the Winner LaserVP7 (talk) 00:27, April 2, 2015 (UTC)
Add me to your Wii U
My Nintendo ID is MegamanX20100. The brackets are about to be made for this weekend's Smash tourney.
Star Warrior Terra (talk) 17:21, March 27, 2015 (UTC)
Hey Jasper.... I have a feeling that you may not be ok with this and that you may say no. But I'm gonna take a gamble and request this.... I know that you were one of the people that called me out on the skimply dressed girl cosplaying as Mario... so I wanted to ask if you can help the character look more appropriate by editing it in Photoshop. I tried to do it myself in Paint.NET, but its completely failed. I don't know of anyone else to ask anywhere about it, and you came into mind because you were one of the first to call me out on it. Can you please help? If not its alright. Please respond ASAP. Thanks in advance! I'm a kid with an afro... what else did you expect? (talk) 03:55, March 31, 2015 (UTC)
It's all good! Thanks for responding, and don't worry I'm determined to make that character look more appropriate for the F-Zero universe! Although.... the midriff may stay... but the clothes will be fixed somehow! I'm a kid with an afro... what else did you expect? (talk) 04:07, March 31, 2015 (UTC)
Hey
Um, wikia is glitching on me again when I try to make blog, can you fix it?
Werewoof16 (talk) 12:13, April 6, 2015 (UTC)
Warning Response
I'm sorry for doing that to Doodlefox, I won't flame at users again... Should I send him an apology message?
I feel like it is the right thing to do.
Werewoof16 (talk) 23:32, April 14, 2015 (UTC)
About Featured Articles
I want to nominate Peter Pika for FA again. How do I do this with something thats already been nominated once?
Thank you, didn't expect to reply that fast. I won't be spending most of my time on this wiki because I write most of my articles on Sonic Fanon Wiki. They are more sonic related. --Juely 08:15, May 2, 2015 (UTC)
Oh, sorry about that. I thought that it was just an actual Paper Goomba sprite, and I just recolored it. Sorry, I'll make new ones as soon as I can.
Didn't do any trolling
I've already explained myself.
666Euphoria666 (talk) 19:24, May 4, 2015 (UTC)
Ban
This was already solved with a different admin, there was really no need to ban me with no evidence.
666Euphoria666 (talk) 00:18, May 5, 2015 (UTC)
About ban
http://fantendo.wikia.com/wiki/User_talk:Star_Warrior_Terra
And a different admin who I cannot find.
666Euphoria666 (talk) 01:06, May 5, 2015 (UTC)
Okay
Thank you.
666Euphoria666 (talk) 12:29, May 5, 2015 (UTC)
Please
Can you please unblock Emerald the Dark Wolf please? She has been acting a bit rudely because her life has been quite tough along these last days for a reason I know (I´m not telling, she asked to keep it private) and she is very sorry.
Thank you,
.,-TOPaz ,.-
Gary was here
This is a warning to stop being jealous of my girth. YOU CAN'T RUN FROM IT
Gary Mothering Oak (talk) 04:09, June 10, 2015 (UTC)
>loves Cough Syrup and Kill Your Heroes
>SonicWiki instantly becomes senpai
The definition of plagerism, and why you have no foot to stand on.
According to dictionary.reference.com, plagerism is defined as an' act or instance of using or closely imitating the language and thoughts of another author without authorization and the representation of that author's work as one's own, as by not crediting the original author.
With that said, uploading this again, because it was NOT plagerised. Credit was given, link to the original was provided. I will admit, ORIGINALLY, as a gag, I edited the original, but he asked me to refrain from doing that (and I acknolodge that, I have not edited his original article since), so I made my own article. Fair use. Parody. Checkmate. Ban me? I'll post it somewhere else. Learn what plagerism is before accusing me of doing it. Thank you.
How can I get my Nintendo NX page revived? I planned on adding onto it. I thought Fantendo was the perfect place to include a fan-made version of what the NX will be like, with a clear statement that it was not the official information at the top. Please help.
OrdinLegends (talk) 23:26, June 28, 2015 (UTC)Splatoon 2 is my own fangame for NX, and I was hoping to have it as well as all other game designs I do on one page for the NX, including a Super Mario Galaxy 3 game I've made. Each already has the NX logo on it, and is intended as a fangame for the NX. Advice?
Do you know if user subpages are deletable? Because I have a ton and they're kinda annoying to see in the search bar but I remember hearing from somebody that you couldn't. thx

Middy (talk)

Oh, alright. But still, as I keep on saying, a lot of what happened in the past two days has been a lot of misunderstanding. Hopefully nothing like this will happen again. Outside the government, beyond the police...

The 21st century is when it all changes. 02:21, July 8, 2015 (UTC)
jasperbot
what i mentioned ~ TechBreloom



Why did you delete my voting page?
It was rude considering i was being serious about it the whole time, and it was deleted after on,y one vote was in. I'm not going to remake it, but for future reference, don't do it again. If you do, I'll report you for vandalism.
Warnings
I've been getting warning about breaking rules multiple times when I've broken them once. Is this a glitch or a mistake on you're part? Could you help me out here?
A Reminder! (To all Fantendo Smash entrants)
The tournament is starting tomorrow, and I plan to have it begin at around noon, EDT (Eastern Daylight Time). I know we have different schedules and time zones, so please notify me as soon as possible so I can accomodate for that.
A friendly reminder as well; you must be on the Fantendo chat, at the very least, and I suggest you move to my Twitch stream's chat during your matches. Moreover, at least have your full username as a ping. If you do not know how to enable pings, please ask one of the regulars on chat. This is so we can keep very solid communication throughout the tournament, instead of us searching each other out (as was what happened last time).
Good luck to everyone, and happy Smashing!
Star Warrior Terra (talk) 16:38, July 17, 2015 (UTC)
Could you contact your opponent for the Pokémon Showdown tournament (if you don't know, check here) and attempt to find a time when both of you can be on chat to do your match? It'd be much appreciated, as the tournament's been quite stagnant (probably due to incompatible time zones). -- Lumoshi (t • c) 17:03, July 17, 2015 (UTC)
Half an hour until the tourney begins!
Just a small reminder once again that the Fantendo Smash tournament begins in half an hour. If you're around, please make your way to chat!
Star Warrior Terra (talk) 15:36, July 18, 2015 (UTC)
I didnt though, From jaipom
nevermind read it wrong sorry, From jaipom
I dont really care
Im not going to go back and forth with you. Please leave me and my artwork alone. And honestly the guy could have said that alot nicer. But saying someone's artwork who has spent time, and effort on it creepy, is just downright rude. And i dont really care about your opinion. Never negativley comment on my artwork, is you have somethign to say leave it on my talk page. Thank you and have a wonderful day, or not. I really dont care
~~rickster1~~
---
and when did you say that?
Simpson55 clone (talk) 20:09, July 27, 2015 (UTC)
---
but it's not the same problem here...
Simpson55 clone (talk) 20:50, July 27, 2015 (UTC)
---
but it's not spam....
Simpson55 clone (talk) 20:59, July 27, 2015 (UTC)
---
who are you to judge? 
Simpson55 clone (talk) 21:04, July 27, 2015 (UTC)
---
you're a coward -_-
Simpson55 clone (talk) 21:11, July 27, 2015 (UTC)
nice job with 8 or more lucky edits
nice job with 8 or more lucky editsDawnoftheplants (talk) 03:57, August 3, 2015 (UTC)
Hey there, SonicWiki!
We, the FF2015 Development Team, noticed that you signed up your original series, iPenguin and August Blade, for the abandoned project Fantendo Funfair, but have not yet signed up for Fantendo Funfair 2015. We were wondering if we had permission to create an attraction based on your old submission for you, if you would not like to participate in FF2015. If you would not like us to create an attraction for you based on your old submission, that's alright. Just let us know on TechBreloom's talk page whether or not we have permission to create this attraction for you by August 16, 2015; if you do not reply by then, we will assume we do not have permission to create this attraction. You still have time to sign up if you were unaware about the new project; just leave your submission here! Thank you.
Yours truly, the FF2015 Development Team
i was doing it thoughtlessly and ig there's no reason not to ~ TechBreloom



ight sounds good ~ TechBreloom



hello, just wondering if u had any preference abt the genre/details of the ipenguin attraction before i get into development, as in like if u want it to be more mainstream w speedy/climber, based more on the mission subseries, etc ~ TechBreloom



whatev u want that sounds good ~ TechBreloom



22:43, August 7, 2015 (UTC)
spam his name is ????????
I MEAN about the pokemon I made you removed
You're an Inhuman Monster!
Every time I remove what I removed, you put it back in by force! I asked you a zillion times to leave it alone, and you didn't listen to me even once! Why won't you leave my edits alone?!  
...
Please stop intentionally abusing people younger than you by spamming on their talk page messages that are not under their own category, thanks to your message, I'm already thinking on archiving my talk page for the third time. Sorry if this offended you. Chill Out! From Kirbystar247 (talk) 19:49, September 12, 2015 (UTC)
Admin Request
605619: I am requesting temporary promotion because I want to be admin too. I can get everything done within everyone.

--605619 (talk) 03:03, September 27, 2015 (UTC)
...
Please DON'T post on my message wall - especially if it's a warning without me knowing - without putting a header above it. Such breaks the official rules, offends me (The warning, not no header) and, quite frankly, I'm just about to post a 3rd Archive :( Hi! I'm KirbiMiroir! (talk) 18:48, October 3, 2015 (UTC)
What exactly qualifies as a "spam blog"?
User:MarioFan5050(talk · edits) 23:30, October 4, 2015 (UTC)MarioFan5050
Ah, I see.  I just happen to go on another wiki, that, you know.
Well then I do formaly apologize.
User:MarioFan5050(talk · edits) 23:36, October 4, 2015 (UTC)MarioFan5050
LOOK! I am just a publisher, for those that are making the games!
RE:
Sorry
---
Yeah, I knew that it was going to inevitably happen after seeing the messages. I appreciate you waiting until after my birthday though; that was really kind. The administrator tag as well as the other custom tags are still showing up on my page though (the border is gone); I've tried refreshing a few times and I'm not sure if that's just a glitch or if it's something that needs to be manually removed. Thank you for the birthday wishes by the way!
Sorry
I was trying to make a math joke there
You know, multiplication and exponentiation and stuff… ~AgentMuffin:)
Okay, I guess that makes sense. But I don't do this kind of thing often so it's kind of a big deal to me… I'll figure something else out
Sorry again. I'm really not trying to cause trouble. I guess I just post too much and make too many jokes. Then again, I pretty much tend to only come on here when I'm bored and have nothiActually, never mind, who cares

~AgentMuffin

:)
Delete my blog post
Hello, SonicWiki
Can you please delete one of my blog post here: (http://fantendo.wikia.com/wiki/User_blog:763492/My_fan_artworks_of_Nintendo_characters#WikiaArticleComments)? It shows my fan pictures of Nintendo characters. The reason I asked this is because I forgot to copyright my fan arts (although those Nintendo characters are not my original material) so nobody can steal them. I was afraid of that. I shouldn't post my drawings on wikia if they're not copyrighted and protected. And I should copyright my artworks, including my fan artworks, before I post them on this site. I don't want everyone or everybody to steal my arts.
So can you do that for me please?
From, 763492
Delete my fan arts too
Thanks for deleted my post with my fan-made Nintendo arts, but can you also please delete all of my 9 Nintendo characters fan arts (http://fantendo.wikia.com/wiki/File:Animal_Crossing_-_Mr_Resetti.png), (http://fantendo.wikia.com/wiki/File:Splatoon_-_Judd_the_cat.png), (http://fantendo.wikia.com/wiki/File:Splatoon_-_Inkling_girl_%28orange%29.png), (http://fantendo.wikia.com/wiki/File:Splatoon_-_Inkling_boy_%28blue%29.png), (http://fantendo.wikia.com/wiki/File:Pokemon_-_Psyduck.png), (http://fantendo.wikia.com/wiki/File:Pokemon_-_Cyndaquil.png), (http://fantendo.wikia.com/wiki/File:Pokemon_-_Bulbasaur.png), (http://fantendo.wikia.com/wiki/File:Mr._Resetti.png)(which's the same, but I accidentally replaced the other Mr. Resetti), and (http://fantendo.wikia.com/wiki/File:Animal_Crossing-_Tom_Nook.png) from a "News files on This Wiki" page (http://fantendo.wikia.com/wiki/Special:NewFiles)? Sorry to bother you again, but I just needed your help to delete my uncopyrighted pictures that I shouldn't have post. Also, that I forgot to mention that I would get permission from Nintendo to use the rights of their characters before posting my fan arts of them on Wikia.
Thank You
From, 763492