Welcome to the page where you can tell me all your problems, all what you want to rant at me and all your love to me. Here you can talk about all what you want, but be careful with all that you write here. I can heeeear youuuuuu...
If you want to see all that was written until September of 2012, visit this page. Go ahead, respect all the paragraphs and write in the correct ones. If you want the add a subject, use the ===<add subject>=== format.
Steli's Section
Edit
K'ay. I will be on from 4pm as I normally am. I hope to see you then bro'! :D Thanks.

Stelios7

(talk)

YoshiEgg's Section
Edit
Mason's Section
Edit
Mapman's Section
Edit
MY's Section
Edit
Halfy's Section
Edit
Spark's Section
Edit
Cobweb's Section
Edit
You signed up to write an episode of Fandemonium a while ago. Still wanna do it? I'm using Google Docs to collaborate with people on episodes and if you're interested I'll link it to you next time you're on chat. :) Beth/Rest - It's not a promise, I'm just gonna call it.
Tom's Section
Edit
A Christmas Story
Edit
This message was sent to DohIMissed (Talk), SDMK (Talk), HBB (Talk), Toad'ShyGuy (Talk), Arend (Talk), Mason (Talk), Sora (Talk), Mapman (Talk), and Alange (Talk).
What? A Christmas story? It's September! Yup, that's right. Suddenly, I got really excited for Christmas yesterday, and I have decided to write a Christmas story about me and my best friends around here. What I got so far, is that everyone gathered together to celebrate Christmas. However, one is missing, and the others decide to go on a dangerous quest to save him. It'll be posted around Christmas time, but I decided to start now since I can't work on it very often. So, guess what, you, as one of my best friends, are selected to be in it. The only things you'll need to do is:
Say what you'll be like, what personality etc.
Give me a picture of your Mii if we not already are 3DS Friends (or just add me), since I'm gonna make an artwork for it based of your Mii like I did with mine.
Tell me what your main weapon will be (f.e.: a bracelet for Alange, smelly cheese for SDMK, a paint brush for Arend etc.). Not a very large object like a bazuka or something please.
If you do not want to take part of it, just message me. Also, I didn't include Baby Yoshi (Talk) because he left like a few months when it'll be posted. You also won't hear something from it in months, since I'm working on it in silence. Also, it is okay I created my own section, right? Thanks. T0M.V.12

Christmas Story Update
Edit
Okay, what I got so far about the characters (random order).
Doh
Calm, shy and happy, loves videogames and sometimes a little awkward.
Uses a Mallet as weapon
Baby Yoshi (yes, he joined :D)
Quiet and logical, loves mysteries and puzzles.
Uses Bow and Arrow as weapon
SDMK
(still unknown, but he will take part of it).
Toad'ShyGuy
Stubborn, but also logical and happy.
Uses Ice Shurikens as weapon
Arend
(Tries to be) calm and silent (sometimes fails), just follows the crew around but sometimes takes opportunities.
Uses a Magical Paintbrush as weapon. Things he draws with it gets real.
Mason
Didn't hear anything from him. If you do not wish to take part of it, just tell me.
Sora
I got a message from him, but still not sure if he joins.
Alange
Calm, with a strong (maybe excessive) sence for justice, but has some anger attacks.
Uses a katana as main weapon, but also has a bracelet.
Mapman
He said he will join, but he didn't tell me something else.
HBB
Heroic and strong.
Uses Giant Gumballs as weapon
Tom
Tricky and sometimes mysterious.
Uses Blue Magic as weapon

To the ones I didn't get info from, please tell me soon. You may have noticed pretty much of your characters' personalities are shy, calm etc., so I might change some. Also, please give two people you would like to team up with in the story. And I need a character that misses in the beginning (that's why they start the quest), but saves the crew at the end. Please tell me if you want to be that. If you don't care about it, or if you do not wish to take part, just tell me. Thanks for your interest. T0M.V.12

Hi Alange, could you create me as if I'm in the BoB series (like you did with these)? He looks like my Mii but got blue magic. That means his fists are glowing a bit (blue colored). He also holds a floating blue fireball, like you did with Ella. Thanks in advance and take your time. I can repay you by making a 3D art of one of your characters like I did with Aingeru. Also, your 3D art of your Mii for the Christmas Story will be posted soon. Thanks. T0M.V.12

Nah, that one was for your wikiversary so I don't think that counts. But anyway, thanks a lot. If you could change the name of your character (perhaps Thomas?) that would be great, otherwise it shouldn't be a big problem to think of a name for myself. But I have to think of it, and now I'm gonna sleep, tomorrow I have school... so tomorrow you'll hear more. Thanks! :) T0M.V.12

Wait... I forgot the abilities and weapon. My element can be either Light or Thunder. My abilities are shooting Blue Balls (similair to Fireballs, only floating/anti-gravity) and something similair to Pikachu's B-down in SSBB, but less powerful. My main weapon is my magic. Thanks again. T0M.V.12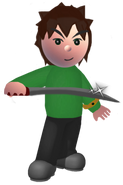 I finished your artwork! It's also on the Mii Artworks blog. And about the name for my character, Tomas or Thomas is good. Thanks.
T0M
.V.12

Wow! That art really looks very epic! I love the way you turned a simple Mii into an interesting character, and that book... wow! Great work! Thanks a lot! I owe you a big one! T0M.V.12

Hey buddy, I need your help. I want to improve on my 2D arts, and I'll need some sort of drawing-tablet for it. Since I thought you're using one as well, which one(s) do you recommend (not to expansive plz)? Thanks a lot! :)

Doh's Chat Section
Edit
Hey Alange!, i already added you to my 3DS Friend List, i wasn't able to add anyone before because i don't have Wi-Fi anymore, but i got a way to have internet in my 3DS so now i added some from here. Yay! :D

DohIMissed

Hey Angel, could you give me a favor Please ban Lana reid (Talk). I know she only has one warning, but she doesn't stop flaming/offending/spamming/trolling/whatevitis. Please do it.

Exploding your Mind!

Other people's Section
Edit
I'm a little upset that you tagged my article a "stub" when I was going to improve it.
From Flowergirlz3
Coming.
Well, I suppose that you're right. I'll move the timeline after The Cursed Death. Samtendo09 (talk) 13:11, September 10, 2012 (UTC)
Hello.
I am Lee Eric Etchisen, The Creator of Legend Adventure
I would like to know why you deleted it.
Thank You
What's your damn problem dumbass? Why did you delete my game?
You have to say it to me.m Don't delete it like that.
Beacause seriously i lost 3 hours of my life by doing that.
Can you do the artwork for Zouméras from The Forbidden Light? The one I made is...a little messed up. Samtendo09 (talk) 16:52, September 19, 2012 (UTC) By the way, his left hand is not attached like his right hand.
How's your drawing of Zouméras going? I hope he will looked good. =) Samtendo09 (talk) 18:12, September 25, 2012 (UTC)
Mr. Alange, it would be an honor if you did some art for the new game I am working on called Fantendo Fantasy. Sr.Wario (talk) 22:07, October 10, 2012 (UTC)
Thank you so much. And time doesn't matter. You will have TONS of time. Sr.Wario (talk) 22:21, October 10, 2012 (UTC)
How is Zouméras drawing going (again)? Can't wait to see what he looked like. Samtendo09 (talk) 17:00, October 12, 2012 (UTC)
Gotcha. I hope he looked better than mine. No need to try the God Form because I found it good enough. Samtendo09 (talk) 18:09, October 12, 2012 (UTC)
Hey Alange95. Will you like to sign up a robot (or a special guest if you don't have any ideas) in my Meta-Form 2 announcement blog? Thanks. =) Samtendo09 (talk) 16:32, October 18, 2012 (UTC)
Hey Alange. Do you have any ideas for Overlight Truth? If not, I'll give you these informations:
Athena will be playable in this game (if this does not disturb you)
Zouméras, Opaluke and all other Overlight Bracelets (let's not forget the headsome Samty, the main character of the DLC) will be in this game.
Ager will be the main antagonist of the DLC (of the Present)
The story will be splitted into two parts: Past and Present. The Past have 3 chapters while the Present have more (or the rest).
The main antagonist of the Past will be Alange, who was behind of Samty's stepfather manipulation.
In the Past, Opaluke gives Samty vigorous training to make each other stronger.
In the Present, Ager teams up with traitors of the Hades (you decide who are them but I recommanded that it is up to three), who wanted to overpower both the Divine and Overlight Bracelets to make Athena the prisoner of the Hades.
What do you thinks? =) Samtendo09 (talk) 17:17, November 14, 2012 (UTC)
Alright then. Try to figure out who will be the main antagonist for the present then. Samtendo09 (talk) 14:14, November 15, 2012 (UTC)
So...When we will start the Overlight Truth DLC?
Future Pokémon Game
Edit
I'll make a future Pokémon game with users as stars (all users will become Pokémon, plotwise).
So all you have to do is to talk with me by filling these spaces (such as what Pokémon you want to be). There are rules, however.
You cannot choose side. Most of the users will be main heroes and few will be antgonist (explaination later), but only I will decide. Atleast 3 antagonist will be enough and no more.
If there are more than 2 Pokémon with the same type (Dual-Typed counted), I will denied this, so please check my talk first before choosing a type.
The Pokémon don't have to be able to evolve (Chatot, Tauros, Emolga) but must be at the basic level if it can (Totodile, Pichu, Snivy...). Don't worry, as you can also personalize your stat if you considered such total stat too low. It must not be a legendary, and the total stat cannot exceed 300 (for basic Pokémon).
It must not be a fanon Pokémon. I will only accept Pokémon from all canoncial regions (which is Kanto, Johto, Hoenn, Sinnoh and Unova).
Have fun with your imagination!
<Nickname>
<Pokémon you will be>
<Starter Moves (Must have two)>
<Default or Unlockable?>
<Good or Bad?>
<Starting Lv>
<Stat> (Optional, put the word "Original" if you prefer to not to modify some stat).
Samtendo09 (talk) 17:41, December 13, 2012 (UTC)
Would you like to take requests? It's about Overlight Bracelets.
Opaluke wears a silver mask, and when unmasked, have pale skin and black hairs and white stripes, spiky too. Have Wings (an angel) and have grey colored shirt.
Ron have an bananda (red), dark red shirt and dark blue jeans. His hairs is black.
Sophia have cyan dress and have blue woman shoes. She is pretty and have two ponytails, and to forehairs with crystals attached. Her hairs is green.
Doug is sumo-sized and have a cream towel around his belly, and have brown shirt. He have a brown hair and  have yellow gongs.
Ray have green shirt with yellow thunder stripes. His hair is limegreen and have red shoes.
Jetsu wears a dark blue ninja costume. His hairs is black and his eyes are yellow.
Finally, Helga have a big scarf (dark green) that covers her mouth, purple dress, white pants and magenta boots. Her hairs is gold and is black-eyed.
I hopw this is suffisently informing. Phew!
Okay let's go! We can do it now, I'll let you starts first. Remember, all original 9 Overlight Bracelets (Zouméras, Samty, Opaluke, Ron, and others in the page) should be in.
Hey Tenshi. Would you like to sign up to my TV Show-type fan fiction? You need to give a hero and a villain but this is easy for you since I know two who are frequents rivals.
Darth's Section
Edit
Yea I'm fine, I just decided to get rid of the series. I'm going to write up an original series soon, and my characters will appear in the new series as the supporting cast. Darthtankengine Studios, "We Do Stupid Stuff" 18:06, September 18, 2012 (UTC)
SDMK's Section
Edit
I honestly thought you were going to add me to BoB. You did Arend, you did MP, you even did Osaka, and yet you promised you'd do me.
I'm sorry if you find me 'over-reacting'.
SDMK Talk to sword-weilding cheese, bro!

What the heck do you mean by 'Too much Yoshis'?
SDMK Talk to sword-weilding cheese, bro!

All right, I changed my nickname. Now are you going to do my character? If you do, I think I could try to find a role for you in one of my [upcoming, maybe current] series.
SDMK Talk to sword-weilding cheese, bro!

Look, I just thought you meant it like you said once that I had too many mudkip boxes.
But anyway, I'm trying to think about how you can be in one of my upsoming series.
SDMK Talk to sword-weilding cheese, bro!

My B-day is July 12th, and my zodiac sign is lobster. I dunno if that's the correct word, but it's translated from Dutch. Thanks. :) T0M.V.12

-- Seriously, are you jealous when i make a game? I don't care : My game are on a copy. I have just to copy and paste. I don't know what's your problem. I'll post my games in a better site. You make shame on that one. Kick me if you want, I DON'T CARE. --
Dude, totallylegit is a spammer! He vandalized greeny michael wiki for no reason!
AVAST THE FUN (talk) 20:26, October 12, 2012 (UTC)
Thanks, Alange, you're awesome -

Big Yoshi,

Small Yoshi,

Baddie Box
-- Me? A Spammer? OMG get outside man... --
-- Sorry. I was really annoyed.
If you want, i can help you In Mario games. I'm good for customization, items,ennemies etc...
-- Hi. How can i add a content box? And add files on it for go to the right place? And heading 2 isn't working. Can you help?
~~ Uh no it's ok. I've found it myself. ~~
Clover's Section
Edit
I was thinking if it'd be OK if I could put Godzilla as one of the enemies? Because I think it'd be a tough challenge for Angel or whoever you play as. Plus, it could be good promotion for my upcoming game, Godzilla: King of Monsters.
Cloverfield monster (talk) 20:18, October 26, 2012 (UTC)Cloverfield monster
By ban,do you mean I can't go on fantendo or I can't edit?76.111.184.229 13:04, October 27, 2012 (UTC)TheFlamingBeast87
Wait,do you mean both of them? If not,which one?
And I'll stop editing user pages
The top of your talk page reminds me of Genji form Okamiden......
How come SuperRex didn't make the cut for Fantendo Lords? Edit
I signed him up and he was rejected. Do you know why?
Cloverfield monster (talk) 20:51, November 4, 2012 (UTC)Cloverfield monster
Why you delete my page: Paper Mario and the Mystery of the Shadow Queen?
Megamaster's Section
Edit
Hey, Alange. I just finished adding you on Skype, just so that we can just know each other as friends and partners a little bit better. Just reply to my contact request, and just add me back. Thanks.

| | |
| --- | --- |
| | |
| | |
| --- | --- |
| | |
Name: Brock, Age: 14, Birthdate: December 1st (1998)
Kind of Bracelet: Silver, Name of the bracelet: Scarlet
Physical Appearance: Tall for his age with short, brown hair. He always wears red gloves and shorts with t-shirts. He also wears tan sandals. His eyes are blue. Usally has scratches on his arms and legs, caused by himself to try and look cool (and because he has eczema)
Weapon: South Hammer
Ability: Desert Clime
Brock is definatly not humble and will commonly boast about something regular. Despite this, he isn't mean and will try and help people in need. He likes to try anything, like acting, even if he admits he isn't good at it, but will sometimes overreact at people telling him he is bad.
Brock has lived in muiltiple houses throughout his life, most of which were destroyed by natural weather. At one house he lived with his evil aunt, who did many mean things behind his parents back, but when he told them about it they wouldn't belive him. One day, he attacked her while she was annoying him, but a few weeks after he was sent to boarding school they found out about the aunt and he came back. He was not traumatised, and learned to only attack people that were hurting others.
SMB64's Section
Edit
Hey, I saw that you gave that Lana reid person a warning, but I've noticed that he/she must've ignored it. He/She's still doing those rude things. Just thought I'd tell you.

SuperMarioBro64

~Happy Birthday dude! :D (even though I've already told you on Skype, I might as well do it on Fantendo. :P)

SuperMarioBro64

Locky's Section
Edit
Can I have a character in the BoB series??

Merry Christmas to You!

Okay, when you have space to the characters plz contact me.

Merry Christmas to You!

15:43, November 26, 2012 (UTC)
lol she wasnt unbanned. she was banned for a day. you should actually check the block logs --jasper

idk, spark's the one that banned her --jasper

Can you ban this guy? He is spamming on pages and commentaries and his already have the final warning. So, you are going ban him? 

Adventure

Time!

MGC's Section
Edit
Hey Alange, this is just a recommendation but you should check out the Percy Jackson series of books. I dunno if there's a Spanish translation but it's themed on the Greek myths and it seems that you like that.
Also why are you so flippin good at art?


Merry Christmas!

~MGC

Thanks for the tips man.


Merry Christmas!

~MGC

STM's chat section
Edit
Hey Alange, i have a fovour to ask... can you please make Katie in your style 2D please it would realy meen alot to me, please? <:) SuperToadMan56 (talk) 21:13, December 19, 2012 (UTC)
I can have a character in the BoB series? plz. 

The Purple Mystery...

well, let's see... well, he looks like the SMB64's artwork of me, do you can make his suit looks like more, y'know, a BoB style?. 

The Purple Mystery...

kay:
Birthday: February 11.
Age: 16
Weapon: Crossbow
Elements: Light and Water.
Abilities:

Light Arrow
Wave Control.
Hey, are you all right, man? On chat you said your brother was dead. Beth/Rest - It's not a promise, I'm just gonna call it.
Oh, phew. :) Beth/Rest - It's not a promise, I'm just gonna call it.
Plazzap's Talk Section
Edit
"Whould it be O.K to adopt Mario Party 3D when the user has left a has barley put any effort into it?"

—
Me

I was just wondering about that . It's really the only question I have about this place (right now at least).



Please stop tagging my stuff for deletion. This isn't a warning, and it's possible that you made a mistake by accident or without realizing it; this is simply a reminder for your information. If the action continues deliberately, then a warning will be issued. Thanks for reading and keep contributing.
This is your warning; my Selena Gomez fan friends will invade your house if you tag some of my pages for deletion. SonictheHedgehogBoy200 (talk) 00:26, March 6, 2013 (UTC)
I have a cool idea you could do.
Edit
What if you did a Battle of Bracelets TV Show? Would you want to do something like that? I'd like to read an article like that.
Cloverfield monster (talk) 17:16, March 29, 2013 (UTC)Cloverfield monster
Another Question
Edit
I was going to make a game called Super Mario Galaxy U but It has been redirected to Super Mario Galaxy: Ultimate Quest. So if I replaced it whould It make a whole new page or take it's place? Sorry to bug you again.



I whouldn't let me make that page so I tried renaming Super Mario Hyper. But it said: You do not have permission to move this page, for the following reason: "The page could not be moved: a page of that name already exists, or the name you have chosen is not valid. Please choose another name, or ask an administrator to help you with the move. Please do not manually move the article by copying and pasting it; the page history must be moved along with the article text." I didn't copypaste it. So if you know how to move pages like that can you please help me? Thanks :D



Remember me?
Edit
Hey, it's me, SkipperThePenguin100, the reason why i left this wiki because i had to do things in other wikis.
AVAST THE FUN (talk) 10:47, April 13, 2013 (UTC)