Monolith? What?
Monolith is a new series that will involve a completely different cast of characters and universe from Doodleland.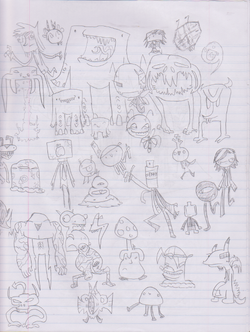 So yeah, what is Monolith about, story-wise?
Monolith is about a man named Jalck and his girlfriend Marissa finding a strange suitcase on their new home. In effort to translate the messages and symbols inside, they assist aid from many wacky creatures and intelligent humanoids.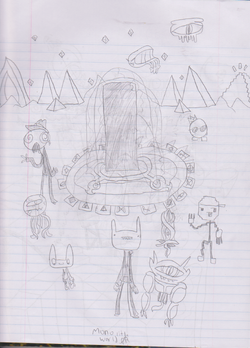 It all adds up to a Monolith that has been placed on Mars. Meanwhile, other happenings in another universe may change the goal entirely, as well as some of the wacky creatures.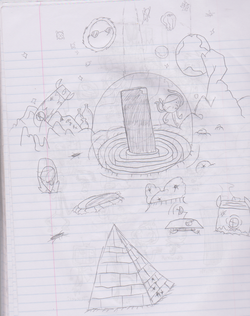 Some of the characters
Edit
Jalck is boyfriend of Marissa, and the two have decided to move to a nice town in Ohio. Of course, the only nice thing about it is the rent and locations. They meet their next door neighbor Spray, who's job is to make graffiti.
Hooly is a billionaire looking to monetize the area. Brock Bee has problems with his own flaws, while Keoro has problems looking away from Jalck's girlfriend. And with a Sprite getting flirty with Jalck, this causes some problems in their relationship.
What does NRFAQ mean?
Edit
Not Really Frequently Asked Questions.
Are you a boy or girl?
Edit
That's a question that can be answered at another time.
Hooly's not new! He's a Doodleland character!
Edit
It has to do with the fact this is a different universe and the plot.
What does the titular Monolith do?
Edit
Increase the mind-fuckery that happens.
What is Jazz and other Doodleland things doing in that Moon Concept Art?
Edit
Plot.
Why is there two Monoliths? We see one on the moon and then on another planet.
Edit
Plot.