"A puppet that can no longer be used is mere garbage. This puppet's role has just ended…"


—The Legend of Zelda: Majora's Mask

Shadow Link Battle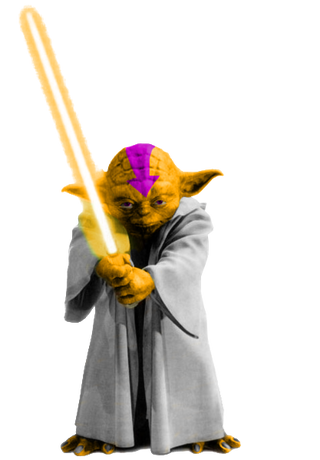 Twitters

·

Tumbumblers
Yellow! My name is Mirai Moon (as you can plainly see above), but I have been known as many other usernames before this one: Animal Crossing Leader, SpooksMaster88, Orange Yoda, TimeSoul... and a few others. Some people tend to call me Jake or ACL. Anyway, I'm some loser geek who goes on Wikia because he has nothing else to do. Anyway, I make Mario games on this wiki, as well as my own series of games too, like "Game Freak"/ "HACKED" and "Kid Kiba", among others. You can see all my games by looking at this crummy little page.
So, what do I like to do? Mainly sketch, read, write and play video games. For video games, I'm usually playing any Wind Waker HD, Super Smash Bros. Brawl or any other Wii [U] game, Halo: Reach, Black Ops II Zombies or Plants vs. Zombies: Garden Warfare on Xbox 360 and either Ni no Kuni or Kingdom Hearts 1.5 HD ReMIX for the Playstation 3. My favourite game ever (of all time) would have to be Super Mario World for the SNES (which just so happens to be both Shigeru Miyamoto and Reggie Fils-Aime's favourite game too ;P).
I mentioned up above that I write. Yeah. You can go check out my Fanfiction.net profile page, my RWBY Fanon user page or this page, here. In my opinion, they suck. But to some other people, they're pretty good. I don't really care.

If you want to contact me anywhere, my talk page is probably the best place to start. You can contact me on Xbox Live, Nintendo Network or PSN if you want. My usernames are OrangeYoda (Nintendo Network), zjCHICKEN12 (Xbox Live), and OrangeYoda64 (PSN).
Oh yes. Since, I use the monobook skin (which looks 100% better than that Oasis crud) my articles may look a little... broken. I'll try and remember to put the monobook template should they get messed, but chances are I'll forget. Even for this page, it looks different in Monobook than Oasis. Check it out.
So, check me out on my other main Wiki for more fanon craziness: Video Games Fanon
According to a quiz, my spirit Pokémon is Alakazam.

According to another quiz, my spirit animal is an owl.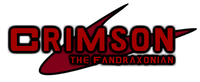 This tab shows all of my avatars for 2015. To see all of them, go to my avatar archive. Also, I just change my avatar at random, usually when I get bored of my current one, or to match one of the games I've been playing a lot at the time.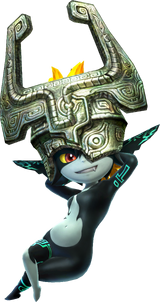 Puella Magi Madoka Magica

Puella Magi Madoka Magica: Rebellion

Death Note
Future Diary
Pokémon (casually; various episodes)
Fairy Tail (up to episode 24)
Bleach (up to episode 156)
The Devil Is a Part-Timer! (episode 1)
Danganronpa the Animation
Soul Eater (up to episode 2)
Sword Art Online
Persona 4: The Animation
Phi Brain: Puzzle Of God (up to episode 25)
The Melancholy of Haruhi Suzumiya

The Disappearance of Haruhi Suzumiya

Higurashi When They Cry

Deadman Wonderland
Death Parade (episode 1)
Btooom! (episode 1)
Highschool of the Dead
Steins;Gate (episode 1)
Accel World (up to episode 19)
Lucky Star
Assassination Classroom (up to episode 14)
Here are a few animes that I'm probably going to watch in the future:
Sword Art Online II
Tokyo Ghoul
Attack on Titan
No Game No Life
World War Blue
I play a lot of video games. Most of them I suck at, but I still play them. Here is a list of every game I own: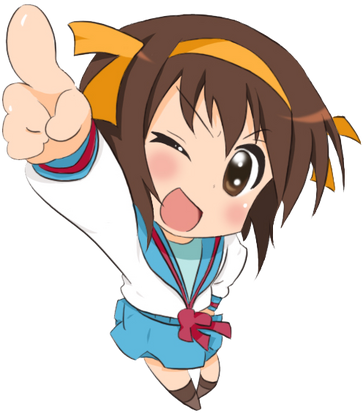 SNES

Super Mario World
Sim City
Mario Paint
Super Mario All-Stars

Super Mario Bros.
Super Mario Bros. 2
Super Mario Bros. 3
Super Mario Bros.: The Lost Levels
Game Boy Color

Tetris
Game Boy Advanced

Pokémon LeafGreen Version
Pokémon Ruby Version
Pokémon Sapphire Version
Donkey Kong Country
Super Mario Advance 3: Yoshi's Island
Mario vs. Donkey Kong
Mario Kart Super Circuit
Lady Sia
Mario Party Advance
Mario Pinball Land
Mario Gold Advance Tour
LEGO Star Wars II: The Original Trilogy
GameCube

SpongeBob SquarePants: Battle for Bikini Bottom
Eternal Darkness: Sanity's Requiem
Star Wars Jedi Knight II: Jedi Outcast
Wario World
Pac-Man World Rally
The Legend of Zelda: Twilight Princess
SpongeBob SquarePants: Lights, Camera, Pants!
Super Mario Strikers
Kirby Air Ride
Nicktoons: Battle for Volcano Island
Star Fox Assault
Mario Superstars Baseball
Looney Tunes: Back in Action
Pokémon Colosseum
Mario Party 4
F-Zero GX
Simpsons Hit & Run
Codename Kids Next Door: Operation V.I.D.E.O.G.A.M.E.
LEGO Star Wars: The Video Game
Surf's Up
Disney's Magical Mirror Starring Mickey Mouse
I-Ninja
Mario Party 7
Harvest Moon: Magical Melody
Taz: Wanted
Barnyard
Scooby-Doo! Night of 100 Frights
Madagascar
Batman Vengeance
Super Smash Bros. Melee
Pokémon Channel
Lara Croft Tomb Raider: Legend
Animal Crossing
Mario Kart: Double Dash!!

Pokémon XD: Gale of Darkness
Super Mario Sunshine
Custom Robo
SSX: On Tour
Amazing Island
Luigi's Mansion
Shrek Smash n' Crash Racing
TMNT
Scooby-Doo Unmasked
1080° Avalanche
Metroid Prime
Star Fox Adventures
Dance Dance Revolution: Mario Mix
Whirl Tour

Mario Golf: Toadstool Tour
LEGO Star Wars II: The Original Trilogy
Geist
Donkey Kong: Jungle Beat
DS

Animal Crossing: Wild World
New Super Mario Bros.
Mario Kart DS
Pokémon Diamond Version
Pokémon Platinum Version
Pokémon Dash
Mario & Luigi: Bowser's Inside Story
Mario & Luigi: Partners in Time
Super Princess Peach
Scribblenauts
Pokémon SoulSilver Version
LEGO Battles
Mario Hoops 3-on-3
WarioWare D.I.Y.
Super Scribblenauts
Pokémon Black Version
Pokémon Pearl Version
Pokémon Black 2 Version
999: Nine Hours, Nine Persons, Nine Doors
Trace Memory
Hotel Dusk: Room 215
Pokémon White Version
Need for Speed Carbon
Monster Trucks DS
The Suite Life of Zack & Cody: Circle of Spies
Fossil Fighters
The World Ends With You
Wii

Wii Sports
Wii Play
Super Paper Mario
Mario Strikers Charged
Donkey Kong Barrel Blast
Super Mario Galaxy
Mario & Sonic at the Olympic Games
Mario Super Sluggers
Mario Kart Wii
Super Smash Bros. Brawl
Wii Music
Animal Crossing: City Folk
Excitebots: Trick Racing
Wii Sports Resort
Super Mario Galaxy 2
Donkey Kong Country Returns
Super Mario All-Stars 25th Anniversary Edition

Super Mario Bros.
Super Mario Bros. 2
Super Mario Bros. 3
Super Mario Bros.: The Lost Levels

Mario & Sonic at the London 2012 Olympic Games
Mario Party 9
Kirby's Dream Collection

Kirby's Dream Land
Kirby's Adventure
Kirby's Dream Land 2
Kirby's Super Star
Kirby's Dream Land 3

Kirby 64: The Crystal Shards

My Pokémon Ranch
Tomena Sanner
Pokémon Rumble
MySims
MySims Kingdom
MySims Racing
MySims Party
MySims Agents
The Munchables
Xenoblade Chronicles
Pandora's Tower
The Last Story
Bleach: Shattered Blade
LEGO Indiana Jones 2: The Adventure Continues
Jeopardy
Mini Desktop Racing
Billy the Wizard: Broomstick Racing
Spectrobes: Origins
Boom Blox: Bash Party
Boom Blox
Rampage: Total Destruction
Wipeout the Game
Mountain Sports
Nicktoons: Attack of the Toybots
Phineas & Ferb: Across the Second Dimension
M&M's Kart Racing
Monster Jam: Urban Assault
Madagascar Kartz
The Munchables
Pac-Man Party
Donkey Kong: Barrel Blast
LEGO Indiana Jones: The Original Adventures
LEGO Star Wars: The Complete Saga
CounterForce
Wii Music
Tiger Woods PGA Tour 12: The Masters
uDraw Studio
Elebits
Klonoa
Disney: Think Fast!
Sin & Punishment: Star Successor
Rhythm Heaven Fever
Samurai Warriors 3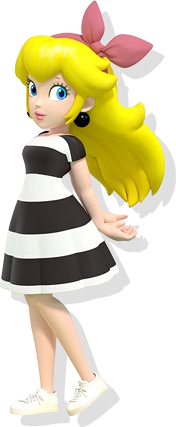 3DS

Face Raiders
3D Classics: Excitebike
Pro Evolution Soccer 2011 3D
Metroid
Super Mario Bros.
Ice Climber
Balloon Fight
The Legend of Zelda: Ocarina of Time 3D
Pokémon Rumble Blast
Yoshi
Wrecking Crew
The Legend of Zelda
Mario Kart 7
Kirby & The Amazing Mirror
Mario vs. Donkey Kong
Super Mario Advance 3: Yoshi's Island
Metroid Fusion
Super Mario 3D Land
Kid Icarus: Uprising
Mario Tennis Open
New Super Mario Bros. 2
Luigi's Mansion: Dark Moon
NES Open Tournament Golf
Mario Kart: Super Circuit
Animal Crossing: New Leaf
Wario Land 4
The Legend of Zelda: Four Swords Anniversary Edition

Fire Emblem: The Sacred Stones
Pokémon Y Version
Zelda II: The Adventure of Link
F-Zero Maximum Velocity
WarioWare, Inc.: Mega Microgame$
Tomodachi Life
Donkey Kong Jr.
The Legend of Zelda: The Minish Cap
Super Mario Land 2: 6 Golden Coins
The Mysterious Murasame Castle
Steel Diver: Sub Wars
Super Smash Bros. for Nintendo 3DS
Professor Layton VS. Phoenix Wright: Ace Attorney
Fire Emblem: Awakening
Persona Q: Shadow of the Labyrinth
The Legend of Zelda: Oracle of Seasons
Kid Icarus: Of Myths and Monsters
Wii U

Nintendo Land

Scribblenauts Unlimited
ESPN Sports Connection
New Super Mario Bros. U
LEGO City Undercover
LEGO Marvel Super Heroes
The Legend of Zelda: The Wind Waker HD
Super Mario 3D World
Donkey Kong Country: Tropical Freeze
Wipeout: Create 'N' Crash
Mario Kart 8
Pikmin 3
EarthBound
Mario & Luigi Superstar Saga
Pokémon Rumble U
Hyrule Warriors
Super Smash Bros. for Wii U
NES Remix Pack
Metroid Prime Trilogy
Golden Sun
Splatoon
Xbox

Sonic Heroes
Codename Kids Next Door: Operation V.I.D.E.O.G.A.M.E.
Simpsons Road Rage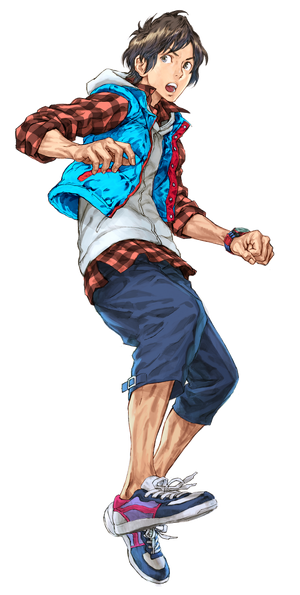 Xbox 360

Halo: Reach
Dishonored
Plants vs. Zombies: Garden Warfare
Call of Duty: Black Ops II
Minecraft: Xbox 360 Edition
Motocross Madness
Dust: An Elysian Tale
Tony Hawk's Proving Grounds
n+
Battleblock Theatre
Halo 4
Worms 2: Armageddon
Saints Row: The Third
Harm's Way
Sonic & All-Stars Racing Transformed
Payday 2
Call of Duty: Black Ops
Plants vs. Zombies
Peggle
Castle Crashers
Halo 3
Worms Revolution
Full Auto
Worms Ultimate Mayhem
MySims SkyHeroes
LEGO Lord of the Rings
LEGO Batman 2: DC Super Heroes
Call of Duty: World at War
Need For Speed: Undercover
LEGO Harry Potter: Years 5-7
Call of Duty: Modern Warfare 2
Banjo-Tooie
Disney Universe
Raskulls
Assassin's Creed: Brotherhood
Halo 3 ODST

Worms
Split/Second
Game Room
Burnout Paradise
Sonic & SEGA All-Stars Racing With Banjo-Kazooie
Soul Calibur IV
The Fancy Pants Adventures
Doritos Crash Course
Doritos Crash Course 2
Ben 10: Galactic Racing
Sonic Generations
Kinect Sports: Season 2
Banjo-Kazooie: Nuts and Bolts
LEGO Pirates of the Caribbean
LEGO Batman: The Video Game
'Splosion Man
Kinect Adventures!
HeXic
Halo: Combat Evolved Anniversary
The Sims 3
Jimmie Johnson's Anything With an Engine
Saints Row IV: National Treasure Edition
Tomb Raider
The Witcher 2: Assassins of Kings
Persona 4 Arena
Mirror's Edge
PlayStation 3
ModNation Racers
LittleBig Planet Karting
Ni no Kuni: Wrath of the White Witch
Fuel
PlayStation All-Stars Battle Royale
Kingdom Hearts 1.5 HD ReMix
Minecraft: PlayStation 3 Edition
Far Cry 4
Grand Theft Auto V
Persona 4 Arena Ultimax
The Ico & Shadow of the Colossus Collection

Ico
Shadow of the Colossus

Buzz! TV Quiz
Divekick
Pain
Parasite Eve
PlayStation Portable

Shin Megami Tensei: Persona 3 Portable
PlayStation Vita

Borderlands 2
Danganronpa: Trigger Happy Havoc
Danganronpa 2: Goodbye Despair
Persona 4: Golden
MIND≒0
Zero Escape: Virtue's Last Reward
Danganronpa Another Episode: Ultra Despair Girls
Other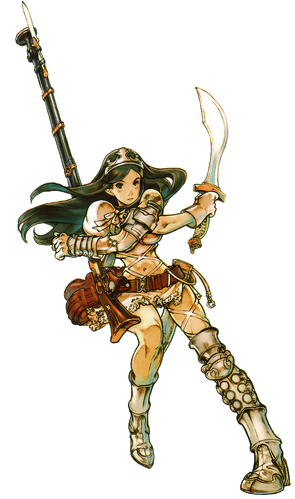 Pac-Man
Mappy
Rally-X
Galaxian
Dig Dug
Bosconian
Ms. Pac-Man
Galaga
Xevious
Pole Position
Minecraft