{{infobox-tabber |infobox1=
#??? Ultimateon
Category
Normal Pokémon
National Dex Nr.
#???
Generation
Unknown
Pokémon Color
Grey
First Appearance
Pokémon
Latest Appearance
Unknown
Type(s)
Normal
Ability/ies
Fusion Bead
(Hidden: Fusion Bead)
Average Height
3'08"/1.1m
Average Weight
63.9 lbs./29.0kg
Evolves From
Eevee
Evolves Into
N/A
Ultimateon, known in Japanese as 究極の永劫 (Kyūkyoku no eigō), is a Normal (type) Pokémon that has yet to debut in a Pokémon game. It was originally intended to be introduced in Generation 7 although has been announced as being the last Eeveelution with its current debut being estimated at Generation 12. It evolves from Eevee after having obtained all 18 other Eeveelutions and having an Eevee reach Level 50 in any Foggy Weather Conditions.
Ultimateon is generally portrayed as a noble Pokémon although extremely uncommon in nature, it is reflected in the games as having a near legendary status due to its rarity.
Ultimateon has yet to be known on whether it can Mega Evolve yet, although it is highly speculated. It was hinted that Ultimateon could evolve when hackers found an item in Generation 8's coding called the Ultimatite. It is not seen to rival any other Eeveelutions due to its requirements to obtain one.
Appearance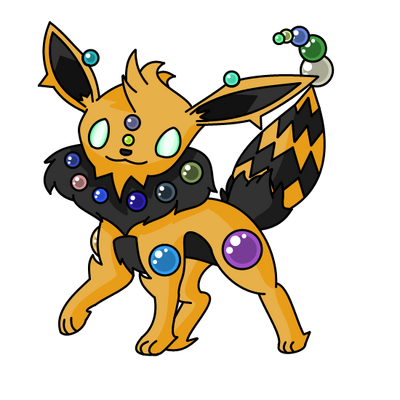 Ultimateon bears a strong resemblance to its pre-evolution evolution, Eevee. It features a very similar face, albeit with longer ears and a mowhawk style frill instead of Eevee's tuft. Additionally it appears to have a more full and wider collar than Eevee. Its legs have several spikes on them, with there being one on the back of every foot as wel as two on the front legs. It has a brown coloured underbelly that is the same colour as its collar. Its tail has appears to have two distinct parts, at the base is an erratic tuft of fur while as it reaches the tip it forms a striped zig-zag pattern to it. Additionally, Ultimateon has 19 coloured orbs on its body that each represent one of the types in the game (the new type being Mythical Type). These orbs are located on its; ears, forehead, collar, shoulder and hip joints as well as five on the end of its tail. In most artwork the Myth (type) or Grass (type) are not visible due to it's stance.
Game Appearance
Ultimateon is speculated to start appearing in every main series Pokémon game from the twelth Generation as well as various Spin-Offs from there onwards.
Television Series
If speculation is correct then Ultimateon will be intended on appearing in the Pokémon Anime Series at some point, it is possibly hinted that Ultimateon will make its screen debut in the Pokémon Movie, Pokémon: The Silent Mountain, possibly as a major character. This has been supported by the revealing of every Eeveelution up to the 11th Generation appearing as characters.
Stats
Ultimateon
Base Stats

HP

88
Attack

88
Defense

87
Sp. Attack

88
Sp. Defense

87
Speed

87
Total

525
Mega Ultimateon (Speculation)
Base Stats

HP

88
Attack

108
Defense

107
Sp. Attack

108
Sp. Defense

107
Speed

107
Total

625
Trivia
The 19 Beads on Ultimateon reference the 19 Types as of Generation 12
Unlike other Eeveelutions, Ultimateon's stats are almost completely evenly distributed with the base stat total still at 525, however the stats are all at 87 or 88.
If the speculation is proven true, Ultimateon will be the last Eeveelution to appear in Pokémon
Ad blocker interference detected!
Wikia is a free-to-use site that makes money from advertising. We have a modified experience for viewers using ad blockers

Wikia is not accessible if you've made further modifications. Remove the custom ad blocker rule(s) and the page will load as expected.