This is the story mode for Ultimate Fighters.
Chapter 1: Arrival of Heroes
Stage 1: Rumble in the Mushroom Kingdom
Playable characters

Claus/Goomy the Mighty

Mario
Enemies

Pigmask

Goomba

Koopa
Events
Mario is jumping around in the Mushroom Kingdom going to rescue Princess Peach when strange looking men in what seems to be a pig outfit appear and attack Mario. Due to there being many Pigmasks Mario can't beat them alone and then Claus the Mighty appears to help Mario in his battle against the Pigmasks but then Bowser and Porky come out with a ray gun that K.O.s both Mario and Claus flying to other places.
Stage 2: Green Hill Battle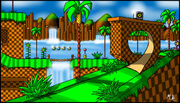 Playable Characters

Matthew

 Sonic

Claus/Goomy the Mighty
Enemies

Evil Ness Clones
Bosses

Head3000
Events
Sonic is rolling around at the speed of sound when he finds Claus K.O.ed so he helps Claus but then a bunch of Evil Ness Clones surround the two so they now have to fight the Evil Ness Clones but there's simply too much for the two to handle until out of nowhere Matthew comes and joins the fight. In the end all of the Evil Ness Clones were defeated but then Head3000 appears. The three fight Head3000 and win but then a ship appears and takes the unconscious Head3000 and leaves. The three follow the ship knowing something bad is going to happen.
Stage 3: Swamp Chaos
Playable characters

Mario
Pink Gold Peach

Shrek
Enemies

Motobug
Bosses

Porky Minch
Events
Mario lands in a swamp and he get's up to the odd smell of... Onions? He then sees Shrek about to attack him but he get's rescued by Pink Gold Peach since she rammed Shrek with her car. After that Mario, Shrek, and PGP see a bunch of badniks surrounding them so Mario, PGP, and Shrek fight back for survival. After that Porky lands in and attacks but then Mario and friends defeat Porky and see a ship passing by holding an unconcsious Head3000 and find Sonic, Matthew, and Claus following it.
Stage 4: An Oily Battle in the Neighborhood
Playable Characters
Dwid
Zorua
Finn
Enemies

Oil
Bosses

Shadow Latios
Events
Dwid walks outside of his house only to see it surrounded by Oils so he has to fight them but notices that one looks odd then it's revealed the the Oil was a Zorua taking the form of one and then the Zorua fights alongside Dwid but then a Shadow Latios comes and attacks so Dwid and Zorua try to fight him but he's too much then Finn joins in and together they defeat the Shadow Latios and then the darkness comes out of the Latios and then the Latios agrees to help Finn, Dwid, and Zorua.
Stage 5: Meetings

Playable Characters

Claus/Goomy the Mighty

Mario

Matthew
Pink Gold Peach

Sonic

Shrek
Dwid
Zorua
Finn

Latios

Goodra
Enemies

Octorok
Bosses

Shadow Goodra
Events
When Finn and Dwid are trying to look for the Latios and Zorua's homes they bump into  Claus and the others. They inform Dwid that something bad is going to happen and that they need as much help as they can get so Dwid, Latios, Finn, and Zorua join forces with Claus and the others to stop this mysterious force. As they chase the ship they get ambushed by a bunch of Octorok and lose track of the ship. When the battle was finished they were stuck in the woods with no way out. Then as if there was an earthquake the team looked behind themselves and see... A giant Goodra! Once they defeated the Goodra it shrunk down to normal size and it was revealed that it was under control. The Goodra agrees to help the group but now they have to find a way out of the woods. Once they do they see a fleet of the same ships from earlier heading different directions so the team splits up.
Ad blocker interference detected!
Wikia is a free-to-use site that makes money from advertising. We have a modified experience for viewers using ad blockers

Wikia is not accessible if you've made further modifications. Remove the custom ad blocker rule(s) and the page will load as expected.