Triforce Slash
is
Link's
Final Smash
in
Super Smash Bros. Global Apocalypse
. It is exactly the same as it was from SSBB. The attack starts with the Triforce Symbol glowing on the back of Link's hand. A ray of light will stunn anyone who is standing horizontally in front of it. Link will then dash towards anyone who was striked by the ray of light and commence a flurry of slashes for an immense amount of damage (75%). After that, Link delivers the final blow and the opponent caught inside it will be instantly blown away.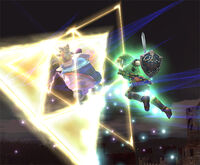 Origin
Wii - Super Smash Bros. Brawl (2008)
Ad blocker interference detected!
Wikia is a free-to-use site that makes money from advertising. We have a modified experience for viewers using ad blockers

Wikia is not accessible if you've made further modifications. Remove the custom ad blocker rule(s) and the page will load as expected.