Ad blocker interference detected!
Wikia is a free-to-use site that makes money from advertising. We have a modified experience for viewers using ad blockers

Wikia is not accessible if you've made further modifications. Remove the custom ad blocker rule(s) and the page will load as expected.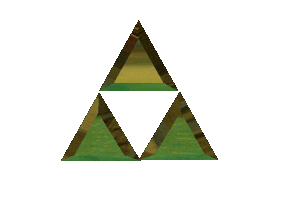 The
Triforce
is a mythical triangle, composed of three smaller triangles, which lies in the
Sacred Realm
which can be accessed through the
Temple of Time
. The three wielders of the three parts of the Triforce are
Link
with the
Triforce of Courage
,
Princess Zelda
with the
Triforce of Wisdom
, and
Ganondorf
 with the
Triforce of Power
.
Trivia
Groose was jokingly tweeted as the fourth part of the Triforce.