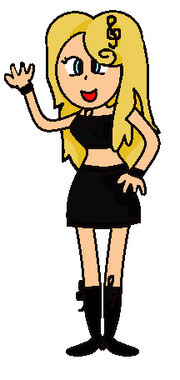 "Well, looks like we're trapped... MIMI LOOK OUT FOR THE WA... never mind."


— Treble Clef, Super Mario Land 6 Reigonal Explorers
Treble Clef is the younger sister of Princess Mimi and is the ruler of Boom Box Peak.
Aperance
She has long blond hair and a hairclip in the shape of a Treble Clef in her hair she has a treble clef on her top and some on her boots. She dose not have a crown despite being a Princess.
Personality
She loves to sing and she also loves to dance. She is the cleverest out of her eight siblings and is also the third born.
Gallery
Trivia
She is based upon another one of SuperToadMan56's Sisters - Amy.
Ad blocker interference detected!
Wikia is a free-to-use site that makes money from advertising. We have a modified experience for viewers using ad blockers

Wikia is not accessible if you've made further modifications. Remove the custom ad blocker rule(s) and the page will load as expected.