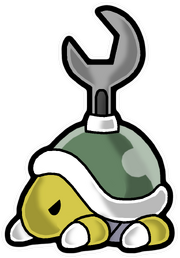 "

The only reason I lent

him

my rig was 'cause he got on his knees and begged. And what happens? He's in it for one second before he completely totals it! Idiot!

"

— Torque, Paper Mario: The Thousand-Year Door
Torque is a Spike Top, a sub-species of Buzzy Beetle, who is a mechanic, one of Luigi's Partners, and resident of Circuit Break Island. When Luigi arrived on Circuit Break Island, he discovered that the champion of the kart races would earn a trophy with a piece of the Marvelous Compass embedded in the plaque. Luigi claims that he entered the contest and was paired with Torque. Together, they won the race and earned the piece of the Marvelous Compass. In reality, however, at the beginning of the race, Luigi accidentally went in reverse, destroying all the karts in the competition, winning the race. Torque decides to tag along with Luigi until he can pay Torque back for all the damage he caused on the island. He normally has a bad attitude.
Appearances
In the upcoming game, Torque, still hating Luigi, reluctantly tags along with him to repair a special clock that can control and alter time. He develops a sort of alliance with Blooey because of their rivalry with Luigi, as did Jerry and Hayzee for their defending Luigi.
In Paper Luigi: The Thousand-Year Compass, Luigi travels to Circuit Break Island, in order to win the trophy containing a piece of the Marvelous Compass. Luigi pairs with Torque, but at the beginning of the race, Luigi went in reverse, smashing all of the other cars. He won the trophy by default, but Torque just wants his money back.
Gallery
Ad blocker interference detected!
Wikia is a free-to-use site that makes money from advertising. We have a modified experience for viewers using ad blockers

Wikia is not accessible if you've made further modifications. Remove the custom ad blocker rule(s) and the page will load as expected.