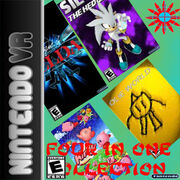 Topline's 4-in-1 Collection for Nintendo VR (or Simply Topline's 4-in-1 Collection)
is a collection featuring four Topline games for
Nintendo VR
, it's only released in North America and Japan. A
3DS
and
Wii
Version game is made for Europe, but this version only contains
Kirby VR 10th Anniversary
(Wii Version) and
The Legend of Zelda : Anniversary Edition
(3DS Version).
Games
Changes
Silver the Hedgehog
Amy is a playable character in she's sidequests.
The Mowrd (symbol of Topline) is a secret cameo
New achievement , TopHero , you won this achievements after find the Mowrd.
Bossplayer Mode , a multiplaye rmode , in this multiplaye rmode one player control Silver or Blaze and the other control a boss of game (except Iblis)
Kirby VR 10th Anniversary
Plasma and Sword Kirby added.
Meta Knight playable after completing the game once.
King Dedede playable after completing the game with Meta Knight.
New enemy , the Mowrd Flower
New ability , Mowrd Kirby , Kirby transforms into a flower like the Mowrd and shoots petals.
The Legend of Zelda - Anniversary Edition
The Legend of Zelda : A Link to the Past added
New artworks for the three games
New item , the Mowrd Flower
With the Mowrd Flower :
In the original Zelda , give petal arrows.
In the second Zelda , give more health
In the a Link to the Past , give you more damage in spin attack.
Olie World
New abilities for Olie
Elio and Golied is playable after complete the game once.
Battle Mode (Local and Online)
The Mowrd Spell added for all three characters (The Mowrd Spell make a giant energy ball with petals.)
Other Versions
3DS
The 3DS version is not a 4-in-1 , is a eShop downloadble update for The Legend of Zelda - Anniversary Edition. This update added A Link to the Past , new artworks and Sound Test. The Mowrd Flower is not added.
Wii
The Wii Version like the 3DS Version , is a update of Kirby Wii 10th Anniversary , added Plasma , Sword and Mowrd Kirby , and also playable Meta Knight and King Dedede.
Ad blocker interference detected!
Wikia is a free-to-use site that makes money from advertising. We have a modified experience for viewers using ad blockers

Wikia is not accessible if you've made further modifications. Remove the custom ad blocker rule(s) and the page will load as expected.