The North American boxart

Developer(s)
Alpha Generations, Inc.
Publisher(s)
Fantendo Publishing Ltd.
Platform(s)
Nintendo 3DS
Genre(s)
Adventure/Strategy
Release Date(s)
October 31, 2012
November 3, 2012
November 9, 2012
November 13, 2012
November 18, 2012
Mode(s)
Single Player
Age Rating(s)
E for Everyone (ESRB)


3

(PEGI)
E (ACB)
A (CERO)
Media Included
Nintendo 3DS Cartridge
Tokage Adventures! is a video game for the Nintendo 3DS that stars Tucker Palli, a young Drailegon on a quest to save his girlfriend and sisters from the evil Therence wizard Cosmic Waundd. The game marks the first appearance of Tucker Palli, and will be released late 2012.
Story
One, peaceful day in the country of Ancennia, everyone was happy, the small village of Legaden was hosting the yearly "Festival of Fun!", a festival that celebrates the first day of summer.
Everyone was happy, except for an evil wizard who lived atop Mount Bunkbidt, a large mountain that is almost all the way across Ancennia from Legaden, who hated everything about Legadan, and today would mark the day that he will take over Ancennia.
In order to be feared, the evil wizard Cosmic had to do something evil, he decided that it would have to be quick and simple. He cast the Lightning Spell on Legaden, and swoops in during the chaos to kidnap C., Jazz and Julie, Tucker Palli's sisters and girlfriend.
Tucker, who saw Cosmic kidnap the three girls, ran off in the chaos to save them from Cosmic, while stopping his plans for World Domination.
Characters
Items
Throughout the game, there are a total of 6 different "Qubes" found in Ancennia. The Qubes act as power-ups, and give Tucker different abilities depending on whichever Qube he uses.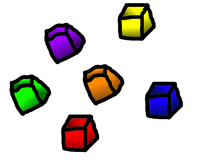 Red Qube - The Red Qube grants Tucker the ability to attack enemies with fire-related moves: throwing fireballs, shooting jets of lava and all his punches give fire-elemental damage.
Blue Qube - The Blue Qube grants Tucker the ability to attack enemies with water-related moves: throwing water balls, can spin with a watery diamond around him and all his normal attacks have water-elemental damage.
Yellow Qube - The Yellow Qube grants Tucker the ability to attack enemies with electric-related moves: throwing lightning bolts, flying and all his punches give electric-elemental damage.
Orange Qube - The Orange Qube grants Tucker two abilities: he attacks with Ground-elemental attacks, like a rock blast, or can create a small earthquake, and he turns into a ball, enabling him to go in smaller spaces.
Green Qube - The Green Qube grants Tucker the ability to attack enemies with Grass-related moves: can control vines and plants, fire thorns and can use vines as grappling hooks. In addition, all his normal attacks get a strength upgrade.
Purple Qube - The Purple Qube grants Tucker the ability to attack enemies with poison-related moves: Throwing poisonous thorns, shooting jets of poisonous water at people and has a poisonous kick. None of his normal moves get poison-elemental damage, except for his punch.
Gallery
Artwork
Other