Toads are a race native to the Mushroom Kingdom they appear to be the dominant race despite the fact that their monarch is a Human. They seem to be native to almost every major city in the Mushroom Kingdom including Rogue Port and Shroom City but predominantly in Toad Town, which is either named after the race or the character. There are many colors of toads including Green, Blue, and Red.
Many Toads serve Princess Peach as retainers or guards in her castle, they appear to be very good at mundane activities however whenever Bowser, Bowser Jr. and the Koopa Troop comes in to kidnap the Princess they seem to become angered.
Athleticism
Toads appear to be keen athletes who are very good at many sports such as Kart Racing, Tennis, Baseball, Golf, Hockey, Soccer and Rugby League. Despite their keen physical fitness they are rarely seen as the heroes of games and are often depicted as victims.
Mushroom Caps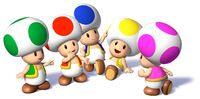 All Toads have special mushroom caps as the top parts of their heads (just like actual mushrooms). It is debatable whether these mushroom caps are actually parts of the Toads or sorts of hats. It should be noted that the movements of Toads' mushroom caps in Super Mario Strikers suggest that they are more like hats than parts of the Toads.
The coloring of the spots on any respective Toad's mushroom cap reveals intimate details about their personality, especially in the Paper Mario series and the games that follow it. In fact, if Mario or another character talks to any Toad, they will behave like other Toads with the same colored cap as them.
Green Toads: Shy and always happy to talk to Mario. Second most common coloration.
Blue Toads: The smartest or youngest Toads have blue spotted caps. An example is Toadbert.
Yellow Toads: Loves to tell jokes. Also cowardly and sleepy. This coloration first appeared in Super Mario Sunshine.
Purple Toads: This coloration loves to give Mario hints, and most deliver mail. First appearance was Super Mario Sunshine.
Cyan Toads: Likes to swim or to sail. Can hold a lot of air underwater.
Orange Toads: Very brave. First appeared in Paper Mario: The Thousand-Year Door.
Pink Toads: Most of the time, those are female. Male ones, however, likes to be rough and tough. Toadette seems to be one of the Pink Toads, but has pink cap and white spots.
Brown Toads: Either Toads who like to dig and have a passion for holes. Elderly male Toads have this coloration.. A possible example is Toadsworth.
Lavender Toads: Either Toads who loves to invent or like to learn alchemy. Elderly female Toads have this coloration.
Indigo Toads: These like to draw doodles.
Lime Toads: These love to eat, drink, sleep, and eat. They are quite lazy.
White Toads: These Toads are very unfair to each other.
Black Toads: These Toads are a little mischievous.
Gray Toads: The silent type of Toads.
Tail Toads: Toads powered up by a Super Leaf.
Bomb Toads: Like to explode, black notifies they are normal, and red notifies they are about to explode.
Glowing Red Toads: They have caps that can glow frequently. So far only in New Super Mario Bros. 8.
Types of Toads
There are very few variations of Toads, as they seem to be a very basic species. However, there are also some sub-species. There's an extraterrestrial variant known as Cosmic Toads, which have stars on their caps instead of spots. They were set to appear in Super Mario Galaxy, only to be replaced by the Toad Brigade and the Lumas at the last second. However, promotional artwork for a new Paper Partners game shows a Cosmic Toad. Another desert variant are the Dryites, which have turbans instead of Mushroom Caps. Their only appearance was in the N64 game Paper Mario.

Gallery
Ad blocker interference detected!
Wikia is a free-to-use site that makes money from advertising. We have a modified experience for viewers using ad blockers

Wikia is not accessible if you've made further modifications. Remove the custom ad blocker rule(s) and the page will load as expected.