Tippi
Universe
Paper Mario
Appearances in canon
Super Smash Bros. Brawl (sticker)
Debut
Super Paper Mario (Wii)
Status
Unlockable
Final Smash
Pure Hearts
Tippi is an unlockable character in Ham's Super Smash Bros., from the Paper Mario series. From an aesthetic point of view, Tippi remains mostly the same as in her home game - Super Paper Mario - albeit shinier. Like the other Paper Mario characters and Mr. Game & Watch, Tippi is a flat character. Unlike other 2D characters, Tippi retains the same pose from all angles, referencing the ability to flip between dimensions in her home game. In her debut game, Tippi is Mario's primary partner, holding the ever-essential Tattle ability. She was once a human - by the name of Lady Timpani - but became a Pixl after Merlon found her wandering through dimensions without memory.
Attributes
Tippi is a lightweight character. She is in fact the lightest character in the game, second only to Jigglypuff. She is very floaty and thus specializes in air combat. Tippi has a high jump and can jump several times. She attacks primarily by separating into various triangles and receiving help from the other Pixls - mostly Thoreau. By using Tippi's down taunt on Flipside, a Tattle is able to be used.
Tippi is rarely used in competitive play. Her small stature allows for easy dodging, as does her Barry attack. The fact that she is easily tossed around prevents her from being popular, as do her tricky tilts and aerials. However, when mastered, Tippi can be devestating due to her quick movements and combo moves.
Moveset
| Name | Description | Type | Name | Description |
| --- | --- | --- | --- | --- |
| Boomer | Boomer is placed on the ground below Tippi. Boomer explodes after a short time, or can be exploded manually by pressing the special button again. | Neutral | Barry | Barry appears and creates a spiky barrier around Tippi, reflecting projectiles and harming any nearby opponents. |
| Dottie | Dottie appears and shrinks Tippi, making it harder to hit her. Tippi is much quicker in this form but cannot hit as hard. Lasts for a matter of seconds. | Side | Cudge | Cudge appears alongside Tippi and slams the ground in front of her and behind. |
| Carrie | Tippi rests on Carrie, who carries her upward. This move deals no damage but has good vertical and horizontal recovery. | Up | Fleep | Fleep appears and draws a frame around Tippi. It flips around and Tippi vanishes, reappearing in a frame a distance away. The direction of this attack can be controlled. |
| Thudley | Thudley appears and comes crashing to the ground, with Tippi in hot pursuit. If this attack is used on the ground, the two will hop into the air first. | Down | Piccolo | Piccolo appears and plays a song. If Tippi is not attacked during the duration of the song, 15% damage will be healed. |
Pure Hearts
Tippi gathers all 8 Pure Hearts, which fly in a circle around the middle of the stage, damaging anyone who comes into contact. Tippi becomes the shadow of a lady, covered by the other Pixls.
Trophies
| Trophy | Description |
| --- | --- |
| Tippi | Tippi is Mario's first Pixl partner in Super Paper Mario and quite the helpful gal! She has the uncanny ability to gather information on any foe, friend or object Mario encounters on his journey to collect the Pure Hearts. Through this, she can also discover secrets. In this game, she's a lightweight brawler who's better in the air than on the ground. ...Er, above the ground. She never lands, unless she's too hurt. You wouldn't dream of hurting her though, would you? |
| Pure Hearts | When Tippi breaks the Smash Ball, she gains the power of all 8 Pure Hearts. Once they combine to make the Purity Heart, they have the power to defeat even the Chaos Heart. In this game, the 8 Pure Hearts will fly around the stage in a circle while Lady Timpani, covered by Pixls, attacks on her own. |
| Tiptron | Tippi's alternate costume. When Tippi and Count Bleck restored the Purity Heart, Tippi was reverted to her former self, Lady Timpani. Timpani and Blumiere went off together, leaving Mario without Tippi to guide him. You can buy Tiptron from Francis for a high price, she essentially serves the same function. |
| Thoreau | TBA |
| Boomer | TBA |
| Slim | TBA |
| Thudley | TBA |
| Carrie | TBA |
| Fleep | TBA |
| Cudge | TBA |
| Dottie | TBA |
| Barry | TBA |
| Dashell | TBA |
| Piccolo | TBA |
Victory Theme
A short rendition of Super Paper Mario's title theme.
Palette Swaps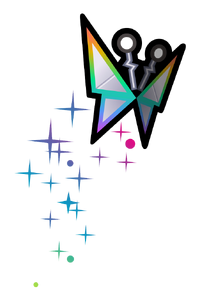 Tippi's first recolor gives her a pure blue body, based on Boomer
Tippi's second recolor gives her an orange body with blue antennae, based on Thoreau
Tippi's third recolor gives her a blue and green body, based on Dottie
Tippi's fourth recolor gives her a brown body, based on Slim
Tippi's fifth recolor gives her an orange and purple body, based on Cudge
Tippi's sixth recolor gives her a pink and purple body with orange antennae, based on Dashell
Tippi's seventh and final recolor gives her a dark blue and purple body with white antennae, based on Count Bleck
Tippi's alternate costume is Tiptron, her robotic replacement made by Francis
Tattle
"Hey, it's me! This is... odd, that's for sure. I've dealt with clones before, so I'll surely be fine. I guess it's time to use my own weaknesses against me. I'm really light and best in the air, so the same applies for this girl!"
Kirby Hat
After swallowing Tippi, Kirby gains butterfly wings, much like those belonging to Tippi. Kirby can use Boomer or Barry, dependant on what move Tippi had equipped.
Reveal Trailer
TBA
Trivia
Her Final Smash was supposedly going to be based around her ability to Tattle, controlling her cursor similarly to Snake's Final Smash in Super Smash Bros. Brawl. This was scrapped for unknown reasons.
Tippi is the only character in this game to have a special taunt