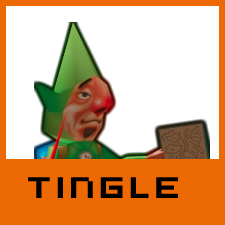 Description
Tingle made his first appearance in Majora's Mask. He wears green tights accented with red, and appears in various The Legend of Zelda games to help out - usually in bizarre ways. He is a talented map maker. His catchphrase is the supposedly magical words Kooloo-Limpah. In Majora's Mask he states that he invented these words himself, and asks Link not to steal them.[1] His appearance is believed by some to be based on Koji Kondo, Nintendo's lead composer.
Role in ZBR
Tingle it is the arbiter of Zelda Battle Royal and deals to choose the field participants and handles Rating and finally you just clone a gift but by that he has not used much!
Ad blocker interference detected!
Wikia is a free-to-use site that makes money from advertising. We have a modified experience for viewers using ad blockers

Wikia is not accessible if you've made further modifications. Remove the custom ad blocker rule(s) and the page will load as expected.