Timmy Tick Tock: Block Breaker
Developer(s)
Piranha Plant Inc.
Publisher(s)
Fantendo
Platform(s)
DS, 3DS
Release Date(s)
Unknown
Mode(s)
1p Mode
Age Rating(s)
E
Genre(s)
Puzzle
Timmy Tick Tock: Block Breaker is a game in the Timmy Tick Tock series. It is the first game in said series.
Story
The game takes place in the past before Timmy became evil. Timmy is a young Bob-omb who goes to an elementary school. On the last week of school, Timmy had to take a big test to pass the grade. The test was to align the same colors of blocks to destroy them. His friend Bumper promised to help him train for the test.
Gameplay
To beat the levels, you have to find blocks of the same color and tap them to destroy them. The more blocks aligned, the more points you get. The levels are not randomly generated, so it make the game less luck-based. There is also special blocks to give you an edge.
Types of Blocks
Red Block-Standard Block
Blue Block-Standard Block
Green Block-Standard Block
Yellow Block-Standard Block
Silver Block-Doubles the amout of points you get for 30 seconds
Bomb Block-Destroys all blocks with a one-block radius
Flashing Block-Changes Color to any block you want!
Characters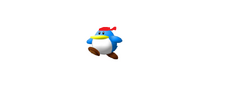 Bumper
Timmy's Teacher
Modes
Standard Mode-Take different tests to see who if you are the smartest!
Training Mode-Train for the big test!
Boss mode-Take on challenging bosses!
Theater-Watch the trailer for the game, and watch trailers for other Piranha Plant Inc. games.
Trivia
In training mode, if you clear all of the blocks, you can see artwork for a random character. Some examples are: Timmy, Bumper, an 8-bit Mario, Doug Piranha, and a Red ScoutBot.
The standard mode takes place in the classroom, the training mode takes place in the gym, the boss mode takes place in the P.E. field, and the theater takes place in the lunchroom.
Ad blocker interference detected!
Wikia is a free-to-use site that makes money from advertising. We have a modified experience for viewers using ad blockers

Wikia is not accessible if you've made further modifications. Remove the custom ad blocker rule(s) and the page will load as expected.